10 Chic Curly Hairstyles For Black Women
Curly Hairstyles For Black Women
The distinctive hair texture of many black women, characterized by tight and dense curls, has given rise to plenty of stylish hairstyles that are specifically designed to suit African-American hair. Curly hair has been making waves in the beauty world for a while now, and it's not difficult to see why. With its volume, texture, and natural bounce, curly hair can create a stunning look that's both effortless and stylish. If you're looking to embrace your natural curls or just switch up your current hairstyle, here are the latest top 10 trendy wavy hairstyles for women.
1. Long-layered curls
Long layered curls are a classic look that will never run out of style. This hairstyle works particularly well for those with thick, curly hair, as the layers help to add dimension and shape to the curls. To achieve this look, ask your hairstylist for long layers that start around your chin and gradually get longer toward the ends. Each strand of hair seems to be delicately placed to create a beautiful and flowing style that is both eye-catching and alluring. Use a curl-defining cream or mousse to enhance your natural curls and create a defined, bouncy look.

2. Side-swept Bangs on black curly hair
Side-swept bangs with loose curls is a stunning hairstyle that's both flirty and feminine. This hairstyle is appropriate for those with naturally wavy or curly hair and those with an angular or square-shaped face. The side-swept bangs soften the angled framing and draw attention to your eyes. To make the most of this hairstyle, it's imperative to embrace your curls and work with their natural texture. Use a curl-enhancing shampoo and conditioner, and apply a leave-in conditioner or curl cream to keep your curls defined and moisturized.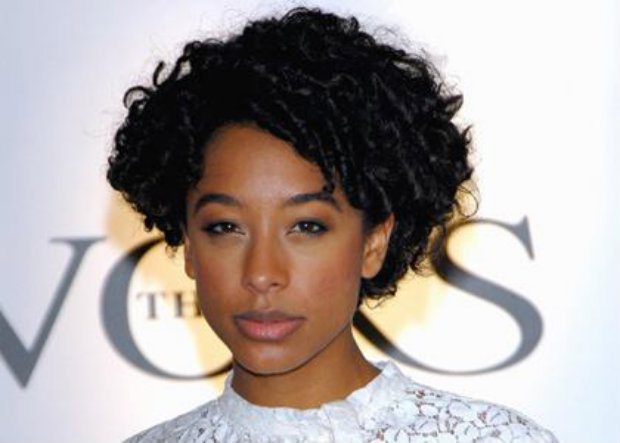 3. Bouncy Curly Bob
If you're looking to chop off your locks, a curly bob is an ideal option. A bouncy curly bob is a playful and flirty hairstyle that exudes energy and confidence. This style is ideally suited to those with naturally curly or wavy hair, as it helps to define and showcase your natural texture This hairstyle typically features layers of tightly curled hair that fall just above the shoulders, creating a voluminous and dynamic look. The curls in a bouncy curly bob are characterized by their buoyancy and elasticity, which give the hairstyle a lively and youthful vibe. Ask your hairstylist for a bob that hits just above your shoulders and features layers that help enhance your curls. Use a curl-enhancing product to keep your hair looking defined and bouncy. A bouncy curly bob is a fantastic choice for those looking to add some personality and vibrancy to their hair. It's a style that's both fun and versatile, making it perfect for any occasion.

4. Black curly hair with highlights
Black curly hair with highlights is a stunning and unique look that can add depth and dimension to your locks. The contrast of the dark black color against the vibrant, eye-catching highlights can create a striking and head-turning appearance. The curly texture of the hair adds to the dynamic nature of the style, giving it a playful and carefree vibe. The curls can bounce and move with every step, catching the light and drawing attention to the highlights. Whether you're looking for a sophisticated evening look or a fun and flirty daytime style, this hairdo is sure to turn heads and leave a lasting impression.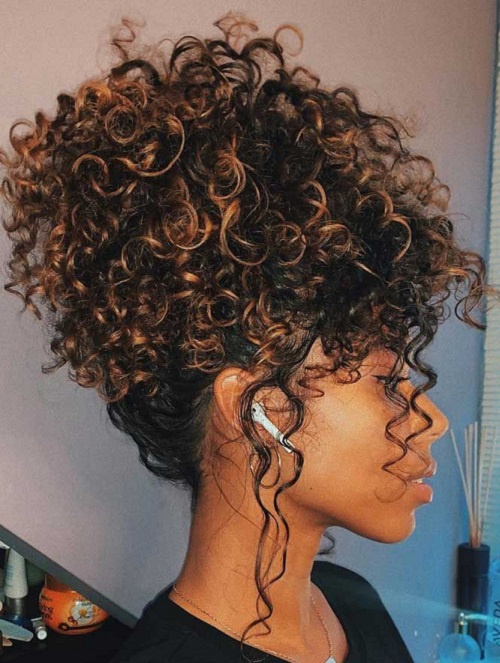 5. Curly Pixie Cut
If you're looking for a bold and daring look, a curly pixie cut might be just what you need. It's a short and sassy hairstyle that's full of texture, movement, and personality. The curls add a touch of playfulness and femininity to the style, while the short length keeps things modern and edgy. What's more, it's a low-maintenance hairstyle that is ideal for busy girls and lazy girls. Washing, drying, and styling a curly pixie cut takes less time.
Use a curl-enhancing product to keep your curls looking defined and bouncy. It's a fun and fresh hairstyle that's just right for anyone who wants to shake things up and try something new.

6. Spiral Curly Hair
Spiral curly hair is a stunning and unique hair type that features defined and tight curls that coil around each other in a spiral shape. This type of hair is typically associated with a natural and carefree aesthetic, evoking images of sunny beach days and windswept tresses. The curls are tightly wound and springy, giving the hair a bouncy and lively appearance. The texture also adds volume and body to the hair, making it ideal for creating a variety of styles and looks.

7. A curly messy updo
A messy updo is an excellent option for women with curly hair who want a style that's chic and easy to create. It is a chic and effortless hairstyle that is perfect for any occasion, whether it's a casual day out or a formal event. This hairstyle is an ideal option for those with curly or wavy hair, as it allows you to show off your natural texture while still looking put together.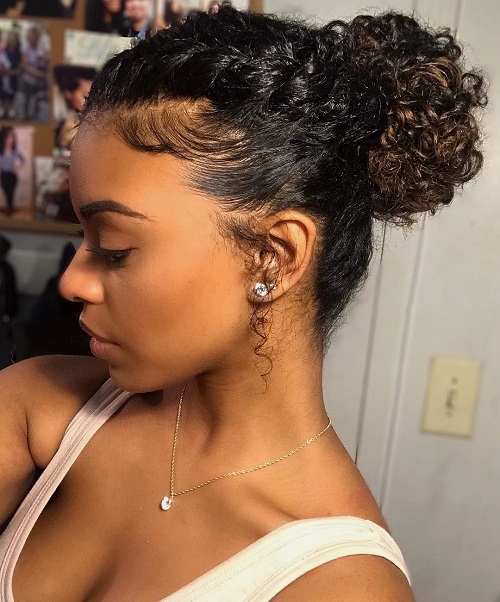 8. One Side Braid curly hair
One-side braid curly hair is a hairstyle where you create a braid on one side of your head and leave the rest of your hair curly. To achieve this look, wash and condition your hair, then apply a leave-in conditioner or styling cream. Use a diffuser to dry your hair, create a deep side part, and braid a small section of hair from the opposite side. Continue braiding until you reach the nape of your neck and secure with an elastic. Use your fingers to fluff and separate your curls, and finish with hairspray. This style is perfect for showcasing your natural curls while adding stylish and sophistication.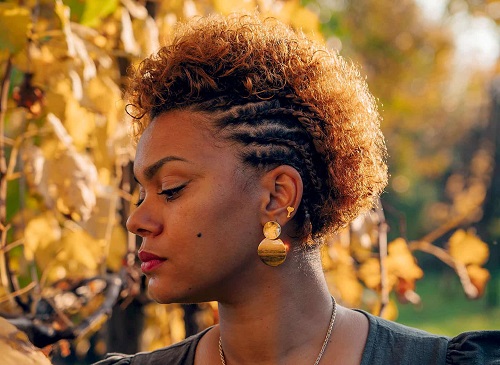 9. Bantu knots
Bantu knots are a popular and versatile hairstyle that originated from the Bantu people of southern Africa. They involve twisting sections of hair into small, tight knots, which can create a variety of looks depending on the size and placement of the knots. Bantu knots can be worn as a protective style, as they help to keep hair neat and minimize breakage. To create Bantu knots, the hair is first washed and conditioned, then sectioned into small parts. Each section is twisted tightly, from the roots to the ends, and wrapped around itself to form a knot. The knot is then secured with a hair tie or bobby pin. The process is repeated until all sections of hair are knotted. Bantu knots can also be customized with different styling products, such as gels, creams, or oils. This will create a variety of finishes, from sleek and shiny to fluffy and voluminous.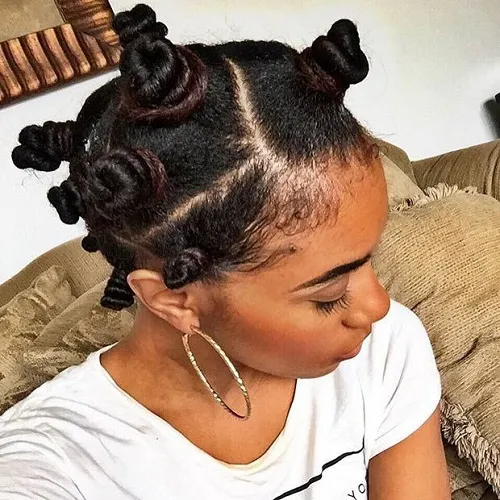 10. Short afro hair
The short fluffy afro curls are striking, making them the perfect choice for those who want a bold and dramatic look. It has an exquisite texture that is both soft and springy and has natural buoyancy that gives it a voluminous look. Fluffy Afro hair celebrates the natural texture and beauty of tightly coiled hair and allows individuals to express their individuality and personal style in a multitude of ways. This is a stunning and stylish hairstyle that is both versatile and low-maintenance, making it an ideal choice for anyone looking to express a bold and stylish statement with their hair.

In conclusion, there are many different trendy curly hairstyles for women to choose from, ranging from classic styles like the bob to more modern styles like the messy updo. With the right tools and products, you can create an attractive and stylish curly hairstyle that works for your hair type and personal style. Explore various curly wigs of 100% human hair at Elfin Hair and get your next hairstyle inspiration!
Related Posts:
Butterfly Locs: The Hottest New Trend in Protective Styling
Fun and Flirty Peekaboo Braids: How To Create & 5 Chic Peekaboo Styles For Inspiration
How To Stop A Wig From Shedding?