How to choose your best wig density?
When someone is searching for a human hair wig, the purpose is the same, to find out the perfect-fit one, cause normally a high-quality human hair wig is not cheap. So we consider a lot of aspects to find out the best human hair wigs for us, such as price, texture, glue needed or not, human hair or not, etc, and one of the key points is that the wig density. The proper wig density that matches you can help to create a more natural and realistic appearance. So what exactly does wig density mean? And how to choose your best wig density?
What does density mean in wigs?
The wig density is a percentage that the amount of hair present in the wig cap, which is to tell you how much hair is actually on your wig. The higher the value is, the fuller the wig looks, the lower the density percentage, the thinner the wig looks. Here may come another problem, is that the wig density higher is the wig better is?
180 Density wig vs 150 density wig vs 250 density wig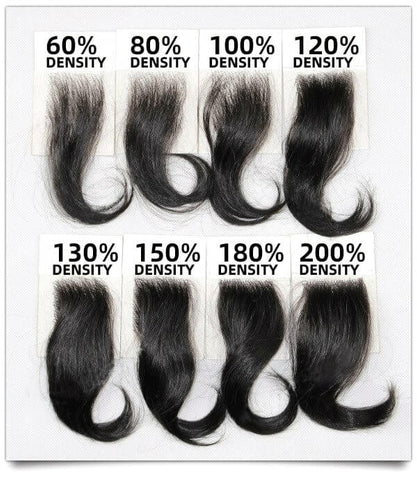 Now among the wig market, the most popular wig density range from 150%-250%. What is the difference between 150% density wig, 180% density wig, and 250% density?
150% Density wig (medium-density wig) can add volume to your hair and create a natural-looking without overwhelming. It is an ideal density for full lace wigs, offering more hairstyle optionally.
180% Density wig (heavy-density wig), a little bit heavy to wear, more suitable for long wigs to create a more full and voluminous look. It's popular among bloggers on Ins and Tiktok.
250% Density wig (Extra-heavy density wig), quite heavy to wear, more suitable for artists. Long-length wigs are recommended for this density.
What is a good density for a wig?
Actually, it's difficult to determine which density is good in one standard. It doesn't exist that one is always better than another. While we are considering which density is good for us, we need to pay attention to the following points:
The length of the hair: The high-density is more suitable for the long-length wig. For example, the 180% wig density may not look good on a 10 inches wig, but look wonderful on a 24 inches wig.
The density of natural hair: Pick the wig density that closes to your natural hair density will make your look more realistic. The average hair density range from 100%-120%. This means that 120%-130% density will help to create the most realistic appearance.
The hairstyle you want to achieve: If you want to make a curly or wave hairstyle, lower density can also achieve a full look. If you want to make a straight and long hairstyle, you may need more density to achieve the full effect. If you are searching for a vocation-ready wig or gym-ready wig, a lower density may be a good option, cause it's easy to pull back and make a ponytail.
High-density Elfin Hair wigs
Elfin Hair offers high-quality human hair wigs which are 100% made with human hair, with no shedding, no shedding. Explore the latest collection of 360 lace wigs at Elfin Hair. Choose from different densities and hairstyles.
Don't miss these straight lace wigs with baby hair, in long length and high density, are available to create a natural and invisible hairline. These pre-plucked 360 lace wigs are available to make a ponytail, the hair length range from 10-30 inches, made with 100% virgin human hair. With no shedding no tangling.
If you are searching for a natural-looking wig, don't miss these 150% density short bob wigs. These glueless human hair wigs are easy to install and remove, an ideal option for lazy girls and busy girls, made with 100% human hair, with a natural shine, soft, with no smell, no tangling, and no shedding.