Gorgeous Hairstyles For 14-Inch Hair
How long is 14-inch hair?
14 Inch is a fair length for hair, it's about 35.56 centimeters long. At this length, your hair would fall around your lower back or just above it depending on the texture and thickness of your hair. It's generally considered long hair.
8 Chic hairstyles for 14-inch hair
Here are a few hairstyle options for 14-inch hair:
Long layers:
This style can add movement and volume to your hair while keeping its length intact. Layered hair is a hairstyle in which the hair is cut in layers of different lengths. Layers are typically cut to add volume, texture, and shape to the hair. This style can be achieved on hair of any length but is most commonly seen on medium to long hair. Using it gives you an effortless, exquisite touch. The layers can be cut in a variety of ways, such as graduating from short to long or having choppy layers of varying lengths. This hairstyle is popular as it creates a more versatile look and can also help to make hair look thicker.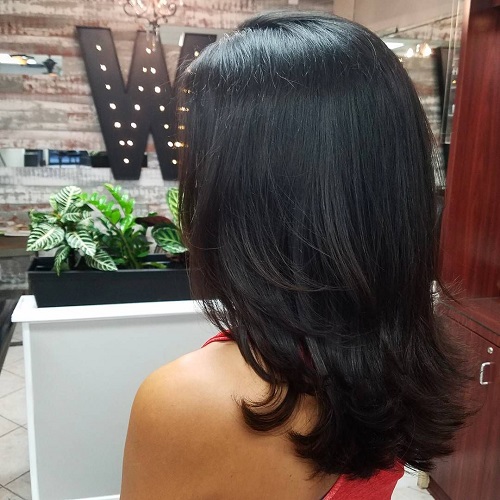 Long bob:
A long bob is a hairstyle where the hair is cut to a length that falls between the chin and the collarbone. It is longer than a traditional bob but shorter than a shoulder-length cut. This style can add shape and structure to your hair while still keeping length and can be worn straight or with waves or curls. Explore human hair bob wigs at Elfin Hair and choose from various textures.

Short curls:
If you have naturally curly hair, embracing your curls and letting them grow out can make for a beautiful style. A short curl style is typically around the chin or shoulder, with curls added to add length and volume. This style can create a soft, feminine look and can be styled in a variety of ways, such as with loose, bouncy curls or tight, defined curls. It can also be paired with bangs or a side part for added style. This look can be achieved through a perm or by using a curling iron to create curls. If you don't like applying heat to your natural hair or spending so much time styling your hair, a curly short bob wig can solve all your problems in an instant.

Half-up, half-down:
This style is a cute way to keep your hair out of your face while still showing off its length.
Shoulder length half up half down is a versatile hairstyle that can be dressed up or down depending on the occasion. It's a smart option for those who want to keep their hair out of their face but still want to show off its length. To style this look, simply gather the top half of your hair and secure it with a hair tie or pins. Leave the bottom half of your hair loose and style it as desired. This look works best with layers and can be paired with curls, waves, or straight hair.
Ponytail:
A sleek ponytail can be a simple and elegant way to show off your long hair. It's easy to style and ideal for those who desire a quick and chic hairstyle. To create a mid-length ponytail, gather all of your hair at the nape of your neck and secure it with a hair elastic. You can also add volume to the crown of your head by teasing the hair before securing it in a ponytail. This hairstyle is versatile and can be worn with a variety of different outfits and occasions.

Braids:
Braids can add texture and interest to your hair, and there are many different types of braids to choose from, such as French braids, Dutch braids, or fishtail braids. For a long braid, feed in hair extensions to add length. Elfin Hair provides high-quality human hair extensions for braiding styles.
Sleek straight hair:
A sleek and straight style can be both classical and elegant. Sleek straight hair can be achieved by using a flat iron or straightening iron to smooth out any curls or waves in the hair. By the way, it is imperative to apply heat protectors before using heat styling tools to prevent damage to the hair. Additionally, using a brush and massage a small amount of light oil into the hair while straightening can help achieve a smooth and polished finish.

Waves:
Loose waves can add movement and texture to your hair. Wave hairstyles can be achieved with a curling iron or natural methods such as braids or Bantu knots. We have shared a detailed tutorial on braiding hair into Bantu knots in our previous post: How To Create Bantu Knots? Click and explore how to achieve a natural wave style without using heat. Loose wave hair is a type of hair texture that features gentle waves throughout the hair strand. It is a versatile texture that can be easily styled into different hairstyles. This hair type is also low maintenance and requires minimal styling to maintain its shape. It is a popular choice among those who want a relaxed, beachy look without the hassle of maintaining tight curls.
It's imperative to note that the most appropriate hairstyle for you will depend on your hair texture, face shape, and lifestyle. Consulting a stylist can be helpful in determining what styles will work best for you. Or you can talk to our sales consultant online to customize your own wig!
Related Posts:
Knotless Braids Vs. Knots Braids
Two Strand Twist With Extensions: All You Should Know