Inspired Styles: 20 Braids Hairstyles for Black Women 2023
Welcome to a stunning showcase of the latest braids hairstyles for black women in 2023! In this era of self-expression and embracing cultural heritage, braided hairstyles continue to captivate with their timeless chic and versatility. Drawing inspiration from various African traditions, as well as modern trends and innovative techniques, we present to you a curated collection of 20 remarkable braided looks that will undoubtedly inspire your next hair transformation. From cornrows to box braids, goddess braids to Senegalese twists, each hairstyle exudes its own unique charm, allowing black women to showcase their beauty and confidence in a myriad of ways. Get ready to discover your perfect braided style that will turn heads and leave a lasting impression wherever you go.
1. Classic Knotless Box Braids

Classic Knotless Box Braids are a stunning hairstyle that has rapidly gained popularity among black women for their chic, versatile, and protective attributes. This hairstyle boasts a clean, sleek appearance that exudes a sense of sophistication and grace. The knotless method starts with your natural hair at the root and gradually adds in hair extensions, resulting in a more seamless look that blends beautifully with your natural hair.
2. Short Bob Box Braids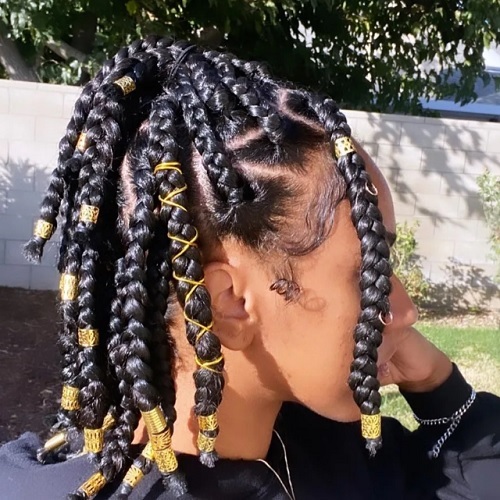 Short box braids, one of the timeless Braids styles for black women, have truly captured my attention. The charm of this particular hairstyle is anchored in its sophisticated simplicity, an amalgamation of tradition and modern chic that suits every woman's style. The Short Bob Box Braids strike an appealing balance between playful and polished. The hairstyle has a youthful vibrancy that brings an air of confidence, yet the sleek braids add an touch of stylish and maturity. It's a visual narrative of a woman who knows her style and isn't afraid to express it.
3. Jumbo Box Braids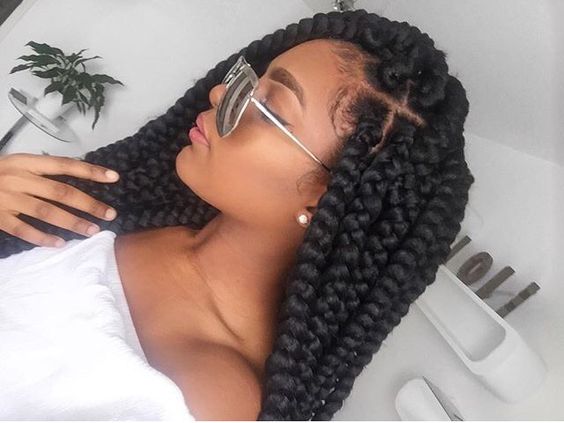 Jumbo Box Braids, are a popular choice among braids styles that are ideal for black women who are seeking to make a bold, beautiful statement. It's also a great choice for those who want to reduce the time spent braiding while continuing to turn heads. Their large size exudes a sense of confidence and flair that is undeniably captivating. There's an inherent boldness in this style that speaks to a woman who is unafraid to stand out and express her unique style.
4. Boho knotless box braids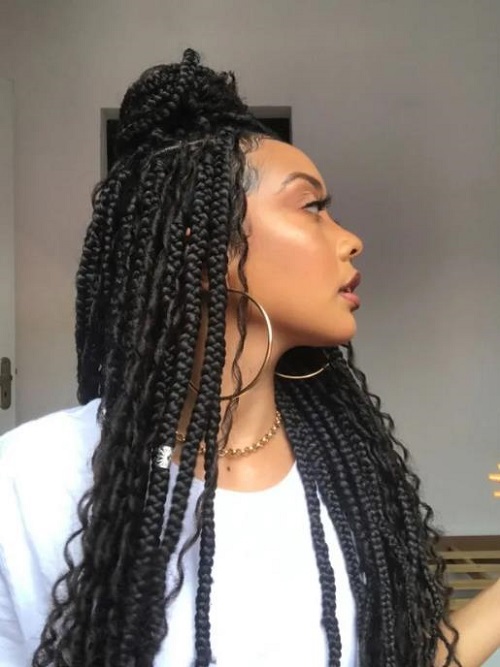 If you are looking for braid styles that combine beauty, versatility, and a touch of individuality. Boho Knotless Box Braids undoubtedly tick all these boxes. Boho Knotless Box Braids infuse the traditional box braids style with bohemian flair, resulting in a look that is as relaxed and free-spirited as it is stylish. These braids aren't just a hairstyle, they're an expression of personality and creativity. The incorporation of varying braid sizes and occasional loose tendrils is a nod to the unconventional beauty that's at the heart of the bohemian philosophy. They are the embodiment of free-spirited stylish, giving black women a hairstyle that is not just beautiful, but also truly expressive and kind to their hair.
5. Dynamic Burgundy box braids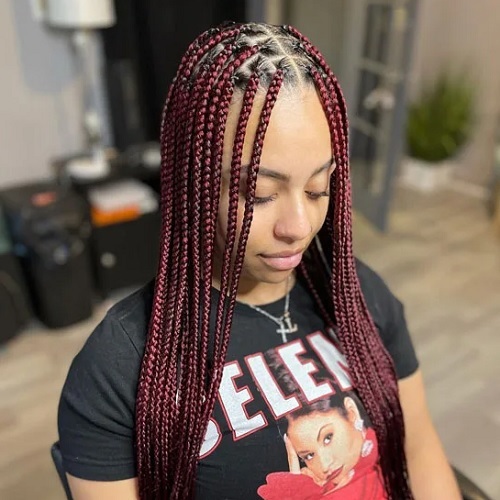 When it comes to braids styles for black women, Dynamic Burgundy Box Braids capture this transformative power of color beautifully. The charm of Dynamic Burgundy Box Braids lies in the striking yet elegant visual impact of the burgundy hue. This vibrant shade is not only eye-catching but also flattering on various skin tones. It adds warmth and depth to the braids that are rich and inviting. The bold burgundy shade makes these braids more than just a hairstyle—they're a statement. They signal a woman who is bold, vibrant, and unafraid to express her unique style.
6. Blonde Large box braids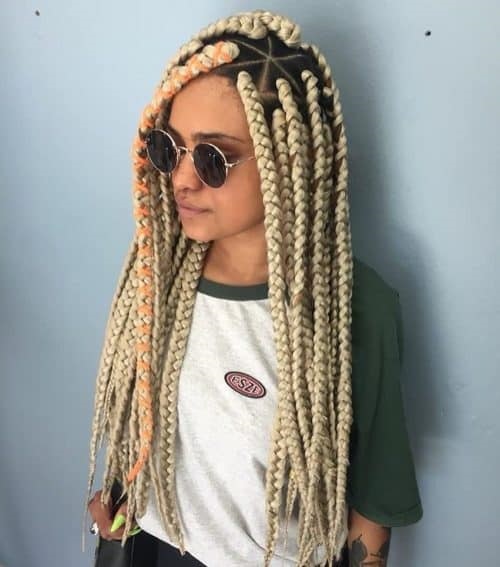 Blonde Large Box Braids encapsulate a fresh, audacious charm with finesse. The allure of Blonde Large Box Braids lies primarily in the radiant and eye-catching blonde hue. This vibrant color provides a stunning contrast against darker skin tones, creating a beautiful harmony that stands out in the best possible way. The result is a hairdo that is as daring as it is stylish. The radiant color, bold size, and confidence they imbue make blonde large box braids a great impression of a striking statement of style and individuality.
7. Box braids with beads

Box Braids with Beads, a compelling styles are those that embrace the beauty of tradition while allowing for a unique expression of individuality. The charm of Box Braids with Beads lies in the delightful fusion of a classic hairstyle and ornamental detail. Box braids are a timeless protective style deeply rooted in black culture. When adorned with beads, these braids take on an additional level of visual interest and personal flair.
8. Long box braids with curly ends

Long Box Braids with Curly Ends is a captivating example of the blending of different textures in hairstyles, combining the sleekness of braids with the romantic allure of curls. The charm of Long Box Braids with Curly Ends is rooted in this delightful fusion of textures. The braids lend a sense of sleek sophistication, while the curly ends add a soft, feminine touch. This duality creates a dynamic visual interest, making the style stand out. Long Box Braids with Curly Ends are the epitome of stylish and femininity, blending two beautiful textures into a single, stunning style. Yet, the curly ends provide a unique twist, setting the style apart from the classic box braid look.
9. Cute Boho box braids bob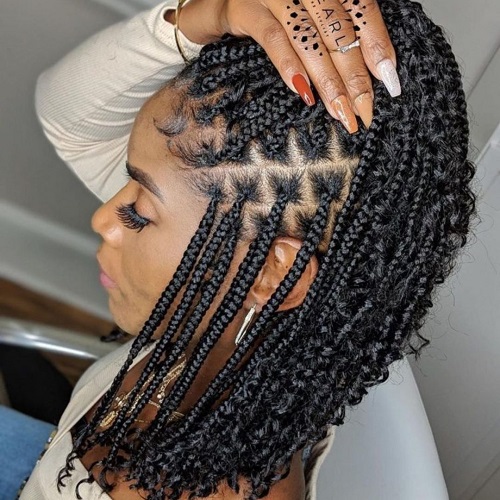 A perfect representation of the great blending of bohemian and chic hairstyles is the Cute Boho Box Braids Bob for black women. Its delightful mix of laid-back bohemian style and the clean, modern lines of the bob cut make it manages to straddle the line between carefree and polished, making it a versatile choice for various occasions. Boho Box Braids Bob is a shorter style, which offers a breezy, manageable alternative to longer braids. It's light, fun, and perfect for warmer weather, yet still maintains the protective qualities of traditional box braids, safeguarding your natural hair.
10. Ombre box braids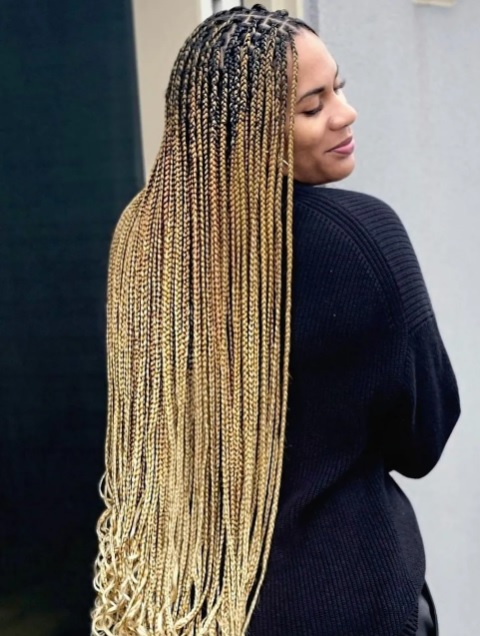 The charm of Ombre Box Braids lies in the seamless blending of colors, creating a stunning gradient effect that adds depth and visual interest to the braided hairstyle. The ombre technique creates a captivating interplay of tones that beautifully complements the texture and intricacy of the box braids. The bold, vibrant, and contrasting hue makes this braid hairstyle ideal for those who desire to make a striking statement.
11. Peekaboo box braids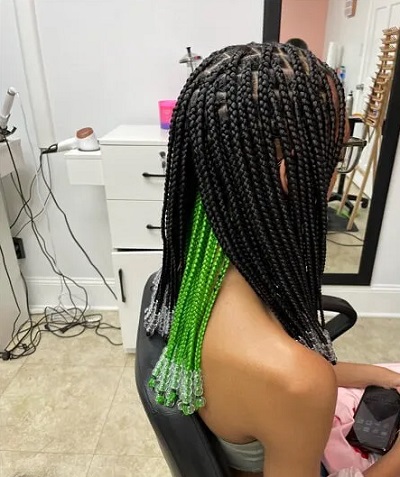 Peekaboo Box Braids for black women is a delightful and playful twist on the traditional braided style, adding surprise and individuality to the look. What makes Peekaboo Box Braids so captivating is their ability to add a touch of personality and creativity to your hairstyle. Go all out with a rainbow-inspired palette to express your individuality and showcase your playful side. Peekaboo Box Braids offer a whimsical and personalized take on the classic braided style.
12. Side-swept braids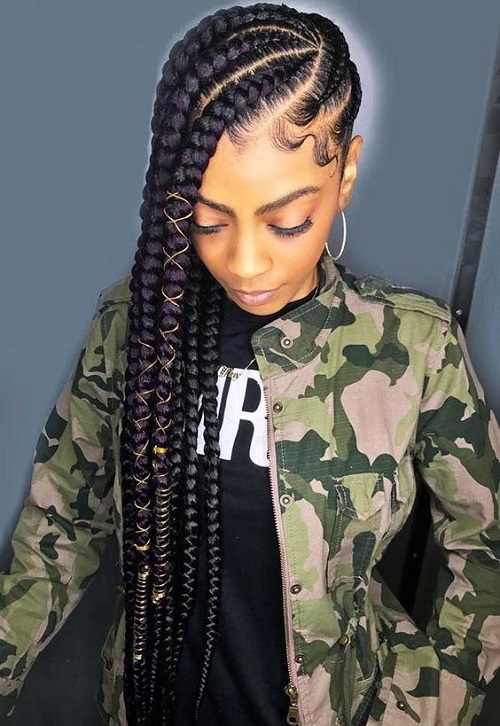 Side Swept Braids for black women effortlessly offer a look that is both chic and glamorous, a great combination of stylish and ease. Their asymmetrical placement creates a visually stunning effect that draws attention to your facial features. By sweeping the braids to one side, you instantly add drama and sophistication to your overall look.
13. Passion long red box braids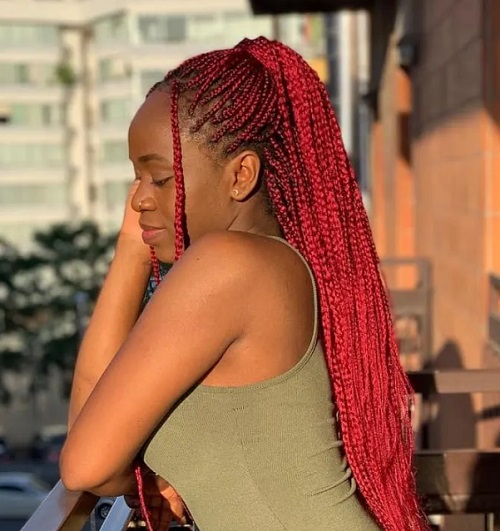 Passion Long Red Box Braids for black women embody this fierce spirit and unleash a boldness that is hard to ignore. Red is a hue associated with passion, power, and unbridled confidence. When combined with the length and intricacy of box braids, it creates a hairstyle that demands attention and exudes a fiery allure. The vibrant shade of red brings a dynamic energy to the hairstyle, making it impossible to go unnoticed. It complements a range of skin tones and adds a touch of boldness and individuality to your overall look. Passion Long Red Box Braids serve as a powerful expression of your unique style and personality.
14. Vintage Braided fringe box braids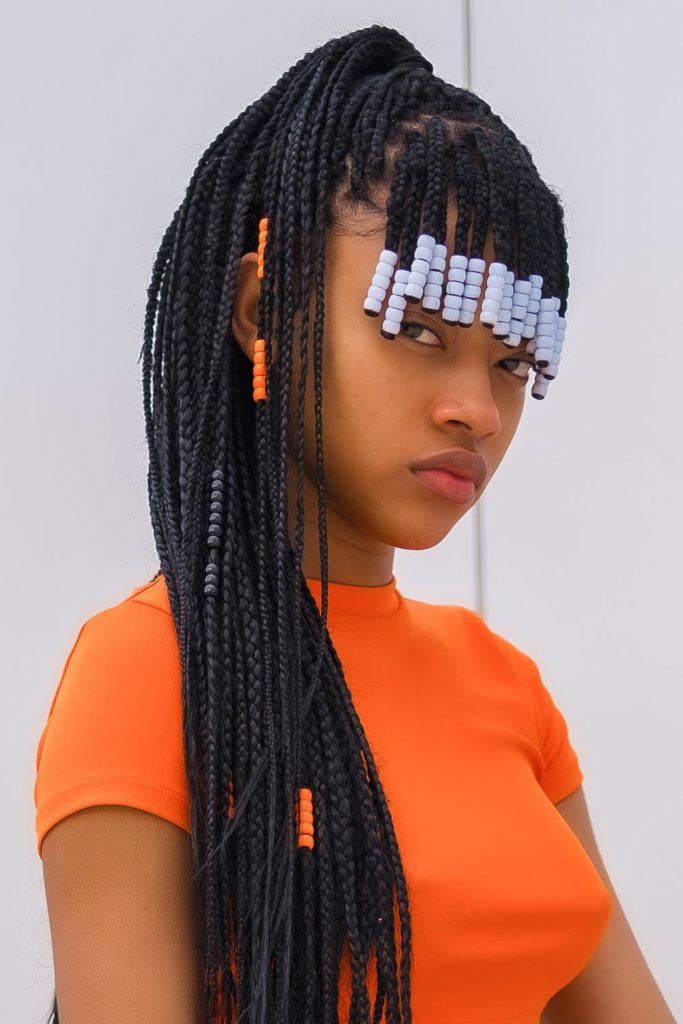 I am constantly inspired by the beauty of vintage aesthetics and their ability to add a touch of timeless charm to modern looks. This fringe adds a vintage-inspired, reminiscent of iconic styles from past eras. It frames the face beautifully, accentuating your features and adding a playful, flirty touch to the overall look. The combination of box braids and a fringe creates a unique juxtaposition of textures and shapes, making the hairstyle visually intriguing and captivating. The box braids themselves provide a sense of structure and symmetry, while the fringe adds movement and softness.
15. Small braids top knot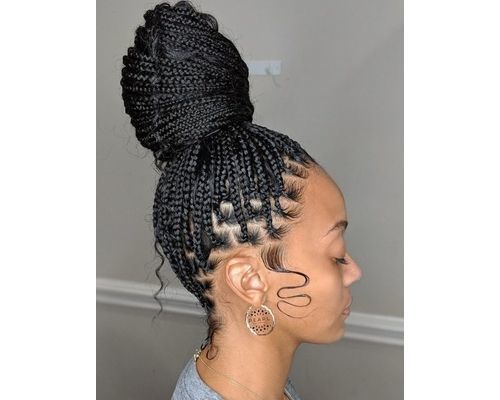 The Small Braids Top Knot is a perfect example of a look that effortlessly achieves style and practicality. This hairstyle involves creating small braids throughout the head and gathering them into a stylish top knot. The small braids add texture and visual interest to the hairstyle, making it stand out from a traditional top knot. The top knot itself offers a practical and convenient solution for keeping your hair out of your face while still looking sophisticated. It is a go-to hairstyle that combines effortless chic with practicality, allowing you to look put-together and stylish while keeping your hair neatly in place. Whether you're running errands or attending a special event, this versatile hairstyle is sure to make a statement and leave you feeling confident and fashion-forward.
16. Crisscross braids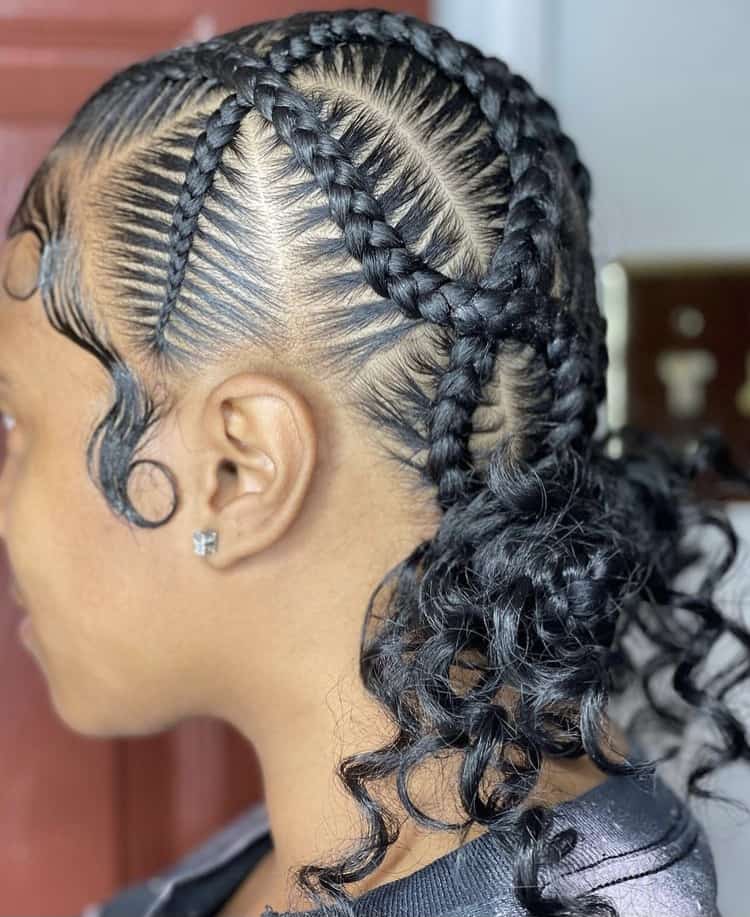 Criss Cross Braids is a captivating and visually striking style that beautifully intertwines stylish and intricacy. These braids create a series of interwoven sections that crisscross over each other, resulting in a mesmerizing and eye-catching design. The meticulous placement and crossing of the braids add depth and texture to the overall hairstyle. Criss Cross Braids are a testament to the creativity and skill of braiding. The interplay of the braids forms a geometric pattern that elevates the hairstyle to a work of art.
17. Half-up half-down braids with hair cuffs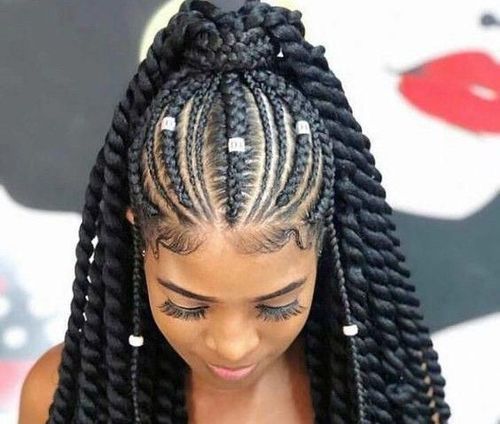 By incorporating braids into the half-up half-down style, you instantly elevate the overall look with added texture and visual interest. What sets this hairstyle apart is the use of hair cuffs as decorative accents. Hair cuffs are placed strategically along the braids, creating a stunning embellishment. They add a touch of glamour and individuality to the hairstyle, transforming it into a truly personalized statement. The choice of hair cuffs allows you to express your unique style and personality. Whether you prefer minimalistic and sleek cuffs or opt for bold and ornate designs, the cuffs serve as a fashion-forward accessory that elevates the overall aesthetic.
18. Mix colors Feed-in braids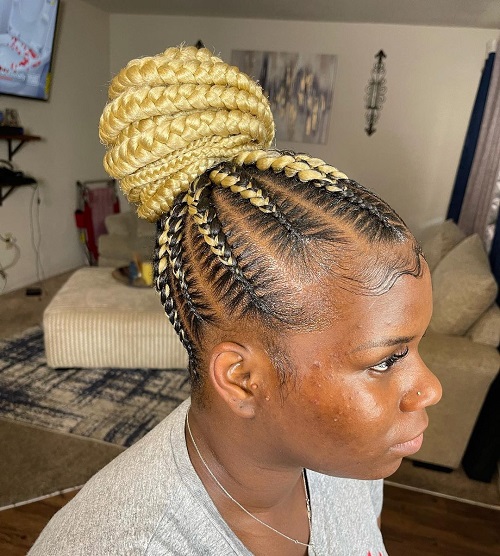 Mix Colors Feed-in Braids is a stunning and vibrant choice that allows you to showcase your unique personality and style dexterously. With the bold mix of contrasting colors, these braids instantly create a visually striking and eye-catching look. While the feed-in method results in a more natural and subtle feel. They allow you to embrace vibrant hues, make a bold fashion statement, and subtly showcase your style. With these braids, you can exude confidence, radiate positive energy, and turn heads wherever you go.
19. Classic Braided ponytail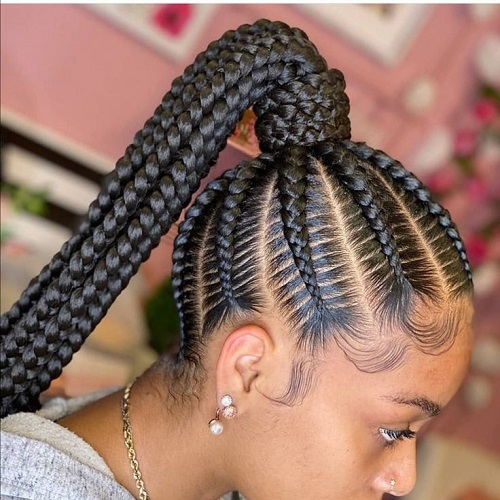 The Classic Braided Ponytail perfectly embodies the balance of timeless chic with a touch of modern flair, offering a sophisticated and versatile look that never goes out of style. This hairstyle adds texture and visual interest to an otherwise traditional look and takes the classic ponytail to new heights by incorporating braids. It effortlessly transitions from a day at the office to an evening event, making it a go-to choice for any occasion. The sleek and polished nature of the ponytail adds a touch of professionalism and charm, while the braids infuse a modern and trendy charm.
20. Curvy Cornrows

Unlike traditional straight cornrows, these braids feature curvaceous designs that add a dynamic and eye-catching charm to your hairstyle. The soft curves and twists create a visually captivating effect, giving your hair a playful and stylish appeal. Curvy Cornrows are a contemporary and artistic interpretation of a classic hairstyle. They offer a fresh perspective on cornrowing, infusing your look with a playful and stylish vibe. With Curvy Cornrows, you can express your creativity, showcase your unique sense of fashion, and turn heads with a hairstyle that stands out from the crowd.
Conclusion:
The 20 inspiring braided styles showcased in this collection serve as a testament to the rich cultural heritage, individuality, and beauty that braids embody. They are more than just hairstyles; they are expressions of art, confidence, and self-love. So go ahead, explore the world of braids, and discover the perfect style that resonates with your personality and aspirations. Embrace the transformative power of braided hairstyles and let them be a reflection of your individuality, strength, and beauty.
Explore high-quality hair extensions for your next braids style at Elfin Hair, where you'll discover an extensive range of premium hair extensions that perfectly complement your vision of a stunning braided hairstyle. Whether you desire sleek and silky strands, luscious curls, or textured coils, Elfin Hair offers a wide selection of top-notch extensions made from ethically sourced human hair, ensuring durability, natural movement, and a seamless blend with your own tresses. Enhance your braids with the finest hair extensions!
Related Posts:
Top 10 Attractive Cornrow Braids Styles For Black Women
Creating Beautiful Dutch Braids on Black Hair: Step-by-Step Tutorial
The Ultimate Guide to Jumbo Box Braids
Fun and Flirty Peekaboo Braids: How To Create & 5 Chic Peekaboo Styles For Inspiration