HD Lace Wig Complete Guide: Is It Better? Swiss Vs. Transparent Vs. HD Lace
When it comes to choosing a wig, especially a closure or frontal, you got confused. Moreover, when we search about a particular lace, a fandom shows up supporting it that influences our choice, and later we realize that we had not decided on a lace type required for our skin. In this case, we purchased the wrong product resulting in money wasted. For saving you, gorgeous ladies, from a bitter experience, we have brought in-depth, authentic, and unbiased details of each lace in simple words. Next time, you will not be afraid of losing your investment. The lace types of wigs we will discuss are HD lace wigs, Transparent lace wigs, and Swiss lace wigs. So, let's start.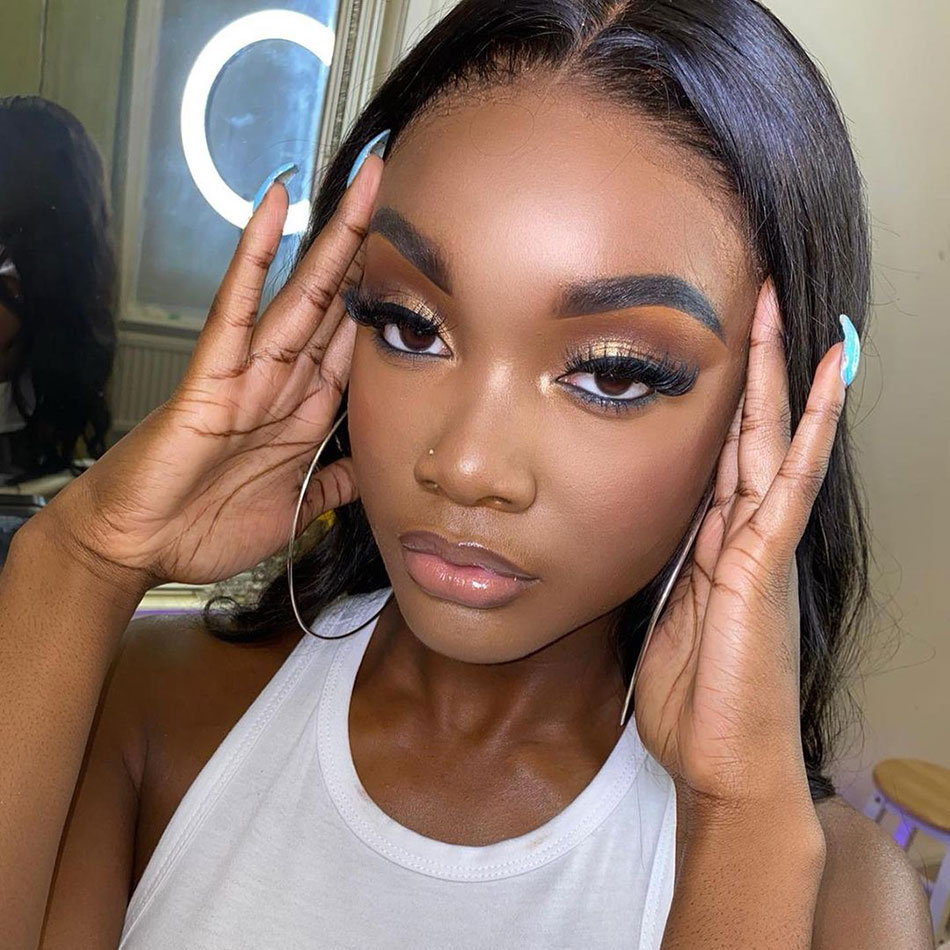 1. What Is HD Lace Wig?
'HD lace wig', 'HD' used in this term is the abbreviation of 'High Definition.' If you place it on your skin, it perfectly matches your skin color and becomes invisible and completely disappears that only your skin color shows, and there will be no lace color. In other words, it will not be wrong to say that HD lace has no color; on which surface you place it, it will show the color of that surface, not its own color. It becomes invisible.
Furthermore, when you glue it down on your hairline, it will fully melt in the skin. HD lace wigs have the thinnest lace among any type of lace wigs.
1.1 How Long Does HD Lace Wig Last:
An HD lace wig can easily last from 8 to 12 months. But here are many more things we want to add to describe its longevity.
As you read above, the HD lace wig has the thinnest material, so it is fragile. One can easily rip it off with a bit of tension to its lace. So, if you are the one who prefers to put the wig on and take it off every single day, HD lace wigs are not for you. Because everyday manipulation when applying the lace wig will damage its lace quickly, and the wig will not be able to wear. So, once you glue down the HD lace wig, make it last at least a week.
1.2 How to Care for HD Lace Wigs?
Whether you have an HD lace closure wig or HD lace front wigs, the point is its lace is very delicate. So, washing it out must be a tender process. So, here's the DIY to do it properly.
1.2.1 Washing the HD Lace Wig:
Take a bowl big enough to dip your whole wig. Take a cup of hot water and pour it into the bowl. Squirt an abundance amount of your favorite conditioner into the hot water. Stir it well that conditioner mix in water. Now fill it more than half with cold water. Submerge your wig into the bowl. Take the wig out a bit, gently press and run your hand and on the wig to remove conditioner clumps, if there're any. Use a wide-tooth comb to assure there are no tangles. Let the wig soak for 1 hour or overnight, depending on how much time you have. When you take it out from the bowl, there will be a sleek, shiny, and nourished wig. A plus point, you will face almost no shedding during the wash.
1.2.2 Drying:
Air-dry the HD lace wig by placing it on the towel or by hanging it on a wig stand. Using hot styling tools damages not only human hair but also shortens the lifetime of delicate lace.
1.2.3 Applying:
If you got the real HD lace wig, it's lace, but only edges unravel every time when you unbound it from your scalp. After 2 to 3 installations, you may need to cut 0.01mm of lace which is far less than the thinness of the contact lens. So, don't cut too much lace for the first installation of an HD lace wig.

2. Swiss Lace Vs. HD Lace Vs. Transparent Lace:
Swiss lace color is light brown. It is best for the black skin tone and chocolate skin tone. Moreover, you can tint it or use makeup to blend in your skin perfectly. Swiss lace is stretchy, soft, and thin. Furthermore, it is durable.
Suppose your skin color is brighter, like almond skin tone, then transparent lace is better. Transparent lace is see-through, but it has a white tint or clearish tone. So, women with darker skin tones can wear it undetectably unless they put so much effort into it. Because if you don't tint transparent lace and your complexion is dark, it will be ashy on the skin. And if your skin tone is bright, don't use Swiss lace. It is also stretchy and durable.
Now, HD lace, whatever skin tone you have, gives the most flawless results. However, this lace is not built to last long like Swiss lace and transparent lace. It is fragile, gluing down and unbound every third day or popping on and off every single day; this lace won't last. Moreover, HD lace is invisible, ultra-thin, and gives you an undetectable finish after installation. This lace is not stretchy and long-lasting. If you are going to a birthday party, wedding ceremony, or photo shoot, then nothing can beat the results of HD lace because it will melt in the skin excellently and become invisible.
2.1 Swiss Lace Vs. HD Lace
If your skin tone is cocoa, dark brown, or light brown, Swiss lace will perfectly melt in the skin with a little tint or makeup according to your skin tone. Swiss lace color is light brown. It is stretchy.
In contrast, HD lace can work for any skin tone, from almond, honey skin to the fairest skin tones. You don't need to apply makeup or tint to it. This lace is not stretchy; putting strength on it can easily tear it.
2.2 Difference Between HD Lace and Transparent Lace
Transparent lace has a whitish hue that can't be melted in dark skin tone or almond or honey skin tone. In its original form, it is better to use on fairer skin tone only. However, such an extra effort for both tinting and applying makeup can make it match your skin.
Comparatively, HD is best for any skin tone without applying makeup or tinting it. So, whether your skin color is dark, almond, or flawless fair, this will work for you.


3. Where Can You Purchase the Best HD Lace Wig?
If you want the realism and comfort the HD lace offers, you must need a store that offers genuine HD lace wigs.
3.1 Best Online Wig Store
Let's get introduced to us. We are Elfin Hair. Go to elfinhair.com and keep coming to enjoy our sales and coupon codes.
3.2 HD Lace Wigs Human Hair
We offer the highest quality products in the market. Each of our HD lace wig has hundreds of fantastic reviews.
Go and purchase before they get out of stock: HD Lace Human Hair Wigs.

Related articles:
Lace front wig Vs lace part wig
Lace Closure VS Lace Frontal VS 360 Frontal
A Complete Guide Of Fusion Hair Extension