Gorgeous hairstyles for v part wigs 2022
The v part wig is not only a beginner-friendly no lace wig but also a versatile option. It's now becoming a more and more on-trendy wig style in the market. Have you ever rocked this convenient wig? In this post, we will share with you the latest top 5 gorgeous v part wig hairstyles. Are you ready to be a trendsetter this season with Elfin Hair?
"More and more people will embrace bolder hairstyles and colors to express themselves in 2022."- according to the forecast from stylists and experts.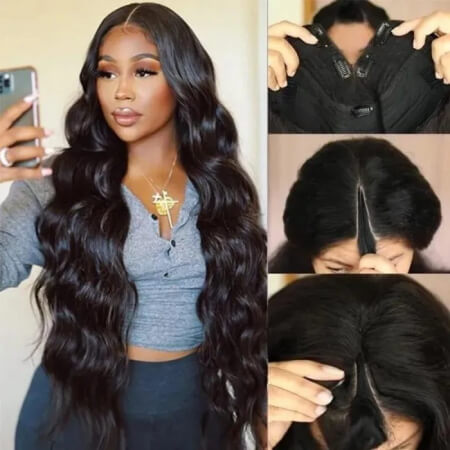 V part curly wig bob hairstyle: If you have already owned a v part curly wig with long hair, why not try to cut it into a short bob. You can never go wrong with a bob. According to the 2022 trendy haircut forecast: short layer cured bob is a trend in 2022. The layer side part soft cured bob haircut is not only a classic hairstyle back to the 90s instantly but also a modern hairstyle that will never be run out.
Side part kinky straight hairstyle: Kinky straight hair is a texture that closest to Afro hair. If you are searching for the most natural texture, don't miss out on the kinky straight v part wig. It is a versatile and convenient option that can flatter most African American women. Besides, if you choose to rock a kinky straight v part wig, it looks more sleek and glamorous with a side part. A side part kinky straight v part wig is extremely suitable for those who are rectangular face or diamond face.
Middle part kinky curly hairstyle: Kinky curly looks full and voluminous, middle part kinky curls is an all-matching hairstyle that is suitable for most occasions. A free part kinky curly v part wig can not only protect your natural hair from heat tools but also allows you to part anywhere.
Silk straight hair with layer and volume: If you are searching for a never go wrong and always on-trendy haircut, the layer and voluminous silk straight hairstyle must be on your list. This layered haircut adds an extra dimension and volume effortlessly. Besides, this layer and voluminous silk straight hair need seldom maintains, especially suitable for those lazy girls and busy girls.
Half up and half down hairstyle with two buns: This hairstyle is pretty lovely and eye-catching. And it's also pretty easy to finish. Start from the temple, section your hair into two pigtails, backcomb the pigtail to make it voluminous and then wrap the pigtail into a bun, secure the bun with bobby pins and repeat these steps to make another bun.
Shiny blonde color: 2022 will send boldness straight to the forefront. The shiny blonde hair is simply dazzling. A blonde v part wig is an ideal option for those who wanna protect their natural hair from bleach and toner, achieving free part, and easy-to-install. If you have already had a v part wig of human hair at home, you can certainly bleach it into blonde by yourself. Or you can buy a blonde human hair v part wig directly from Elfin Hair at an affordable price.
Two French braids: Divide the hair into two sections to make a middle part. put on a v part wig and pull a small section of hair from the v-shaped opening, mix your natural hair with the hair strands on the wig, pick a piece of hair above the temple. Separate it into three small sections and start to make a french braid, repeat these steps to make another French plait. anyone who rocks the two french braids will certainly find it pretty lovely and neat. The two French braids can also secure the v part wig to your head firmly and naturally.
V part wig is becoming more and more popular in recent months. Enrich your wardrobe with this trendy v part wig human hair. Shop cheap v part wigs at Elfin Hair. All our V part wigs human hair are made with 100% Remy hair, soft and silky in touches, with a natural luster in appearance.
Related Posts:
T Part Wig (13x6x1 Wig): Its Description and Contrasts from Other Wigs
Should You Get a U-part Wig or A Sew-in Wig?
How To Wear, Take Care, And Style A Headband Wig?