How to make a skunk stripe wig?
Don't you feel tired of your immutable black human hair wig? Hey, sweet, let's come to slay especially on a budget! Refresh your old wig and make a skunk stripe hair on it! Skunk stripe hair is a rage recently. If you always track the adored hairstyles, you must have seen so many celebrities rocking various colors of skunk stripe hair on ins and TikTok.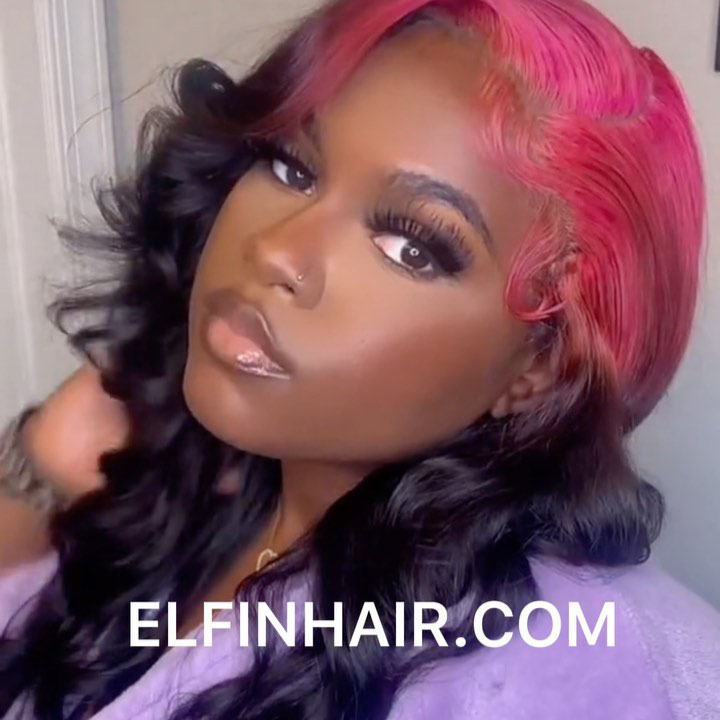 What is skunk stripe hair?
Skunk stripe hair is similar to the piano highlight hair, they show two tones. As its name implies, skunk stripe hair is hair that comes in two individual and high-contrasting tones, just like the fur of a skunk. The major difference is that the fur of skunks is mixed with black and warm white, but skunk stripe hair in a wig can be contrasted by numerous colors. And the highlight stripe dyed hair can be on either side of the face, sometimes on the top, sometimes on the underneath layer, it's versatile and you can dye as anywhere you desire to flatter your face shape. It's a bold and innovative hairstyle that is adored by more and more cool girls.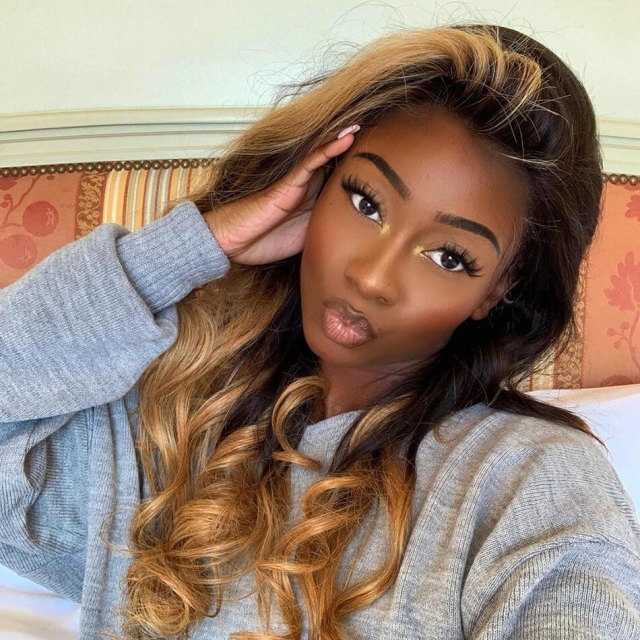 How to do skunk stripe hair?
Add skunk stripe hair to your wig is also a wallet-friendly way to refresh your idle wig. Follow the tutorial below, it is pretty easy to get a skunk stripe hair by yourself at home.
Some items you need to prepare in advance:
A lace front wig
A mannequin head
Some t-pins
A pair of gloves
Some foils
35 Volume developer
Bleach powder
A plastic bowl
A small brush
A wide-tooth comb
Shampoo and conditioner
Hair dye
Step 1: Fix and section your wig: Put your wig on a mannequin head. Use some t-pins to fix the wig firmly. Comb the wig to make it tangle-free. Make a middle part and then part two inches away from the middle part on each side. Clip this part of hair up away. Section off a small portion of hair at the side of the middle part.
Step 2: Bleach your wig:
Put on your gloves. Mix the developer and bleach powder in a plastic bowl, and blend the mixture with a brush. Section a small portion of hair off at the side of the middle separated part. Apply some bleach mixture on a foil and then put the foil under the sectioned hair. Use a brush to apply the bleach mixture to the hair evenly. Warp the hair with the foil. Section off several small portions of hair in the front and repeat to bleach them evenly and thoroughly. After the coated process is finished, let the bleach sit for about 30-50 minutes. Rinse out the bleach, then, shampoo and condition your wig.
Step 3: Dye your wig:
Put your gloves on again. and fix the wig to the mannequin head. Brush the wig to make it tangle-free. Squeeze out some hair dye into a plastic bowl. Apply the hair dye onto the bleached hair evenly with a small brush. Let the hair dye sit for about 20-30 minutes and check its state every 10 min. Once it reaches the effect you desire, rinse out the hair dye.
Step 4: Shampoo your wig
Apply some shampoo to wash your wig and then rinse the shampoo. Dry the wig with a soft towel and then apply some hair conditioner to moisturize your wig. Let the conditioner sit for about 10-20 mins, and rinse the wig again. Use a soft towel to absorb the excess water. Blow it dry with a hairdryer at the lowest heat setting. Apply some natural oil to make your wig look more smooth and shiny.
Step 5: Style your wig
Comb and style your skunk stripe wig as you desire.
Highlight wigs/ ombre wigs at Elfin Hair
Explore soft and silky two-tone wigs in Elfin Hair. Choose from highlight wigs, ombre wigs and skunk stripe wigs. All are made with 100% human hair, available to be dyed, bleached and curled and straighten. Level up your look and be a trendsetter with this skunk stripe wig this season!

Related Reading:
Gorgeous quick weave hairstyles this summer
How to make side part quick weaves?
How To Revive A Curly Headband Wig?