Pros And Cons Of Headband Wigs
No matter you are searching for a time-saving wig, a beginner-friendly wig, a perfect-first wig, a no glue wig, or a wig for black women? I'm sure that the headband wig must be the first pick on your list. Cause it's so easy to be installed and removed even with no skill, an ideal option for those lazy girls, busy girls, and wig beginners. In this article, we are going to talk about these lovely and trendy headband wigs.
What is headband wig?
Headband wig is a wig that attaches with a stylish headband on the front. The headband wig must be familiar and common to wig users, cause it's so popular thanks to many benefits, such as no glue needed, easy-to-install, and so on.
Pros and cons of headband wigs
Pros:
Natural appearance: Headband wig made with human hair will no doubt that bring a natural and realistic appearance.
Easy to install: There is no glue needed during the installation of headband wigs, so it may just take you dozens of seconds to put on or remove a headband wig. There is no sill needed while installing a headband wig, so the headband wig is also a beginner-friendly option.
Secure option: While we install a regular lace wig, we need to glue the front of the lace to the scalp, which may damage the scalp and cause hair loss, and backward hairline, if we glue a lace wig frequently for a long period. But as a glueless wig, the headband wig is available to protect your scalp by avoiding the use of glue, so a headband wig is more secure than a regular lace wig.
Cheap price: The human hair headband wig is commonly cheaper than other human hair wigs.
Stylish and variable: Human hair headband wig can be restyled to any style you like. And you can pick a headband or scarf and change it day by day as you like, to add a stylish touch to your look.
Optional to show or hide the hairline: Maybe someone with a backward hairline has confused that if wearing a headband wig will expose their scanty hairline. Actually, you don't need to confuse about this, cause it depends on your need. You can choose to cover or expose your natural hairline. You can put your headband wig a bit forward to hide your natural hairline, or put it a bit backward to show your hairline.
Restyle versatility: You are available to DIY your headband wigs and make different hairstyles as you like. Browse the video below about Elfin hair review and explore how to make a Style Italy Curls With Headband Wig.
Cons:
Not as breathable as lace wigs: Cause there is no lace on a headband wig, so it is not as breathable and light as a lace wig. And the lace wig is a better option than the headband wig during the summertime.
Elfin Hair Headband wigs
Explore the top-selling headband wig at Elfin Hair.
Product name: New In Elfin Hair Headband Wig【5PCS Headband Gifts!!】Machine Made Hair Wefts Human Hair Wig 250% Density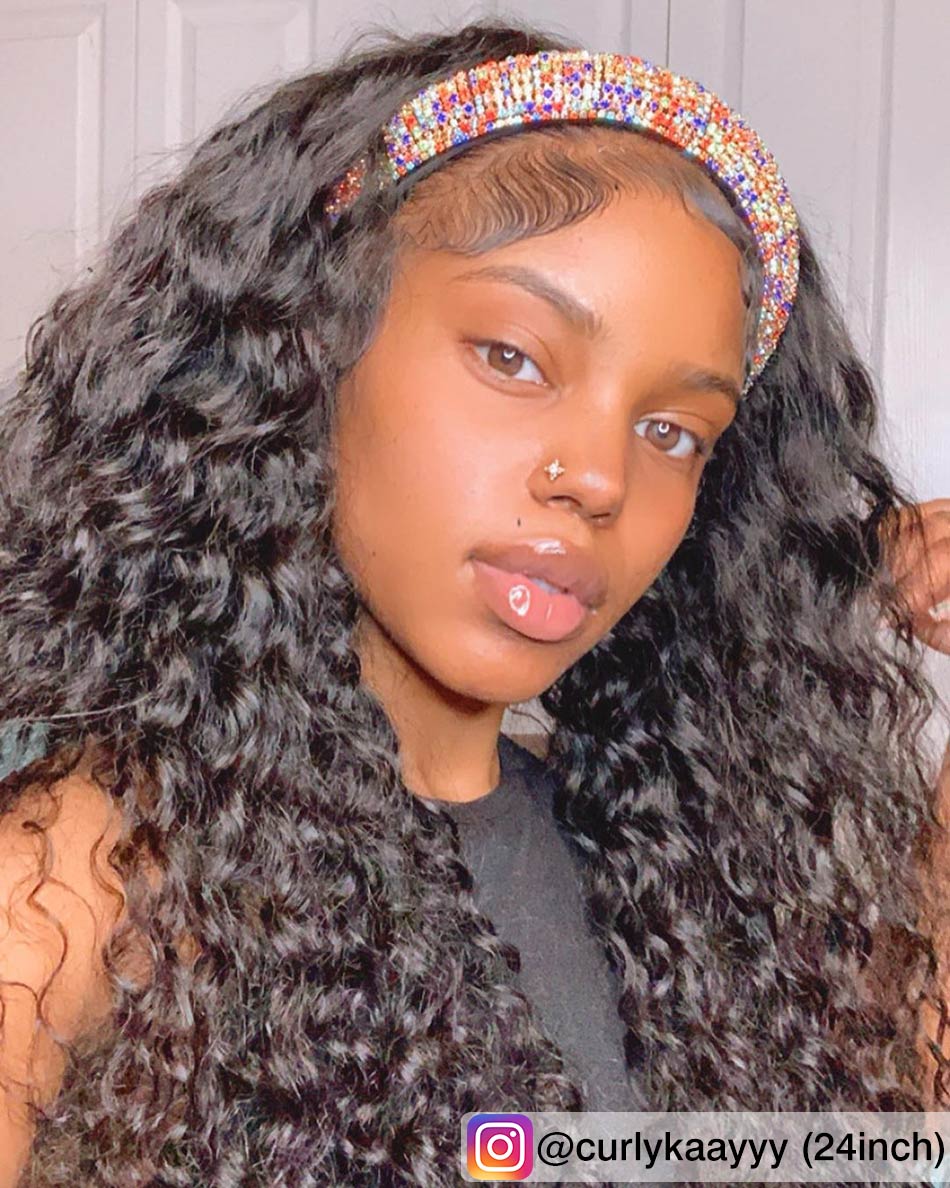 These human hair headband wigs are made with 100% human hair with intact cuticles facing the same direction, which are no shedding, no tangle, and no smell. Available in hair length between 10-24 inches. These headband wigs come in different styles, you can choose from straight headband wig, body wave headband wig, deep wave headband wig, loose wave headband wig, curly headband wig, Italy curly wig, water wave headband wig, and so on. These headband wigs are smooth realistic, and glossy just like your natural hair. And its high-density and invisible knots make it looks more natural, vivid, and denser. The hair texture of our human hair headband wig is unparalleled silky and long-lasting. No tangling and no shedding. And thanks to its healthy and bouncy texture, it can be restyled again as you like.

Product Name: Elfin Hair【 Deep Wave Bob Headband Wig】250% Density Deep Wave Bob Wig With Bangs Full Machinemade No Lace Wig No Glue No Gel Weave Wig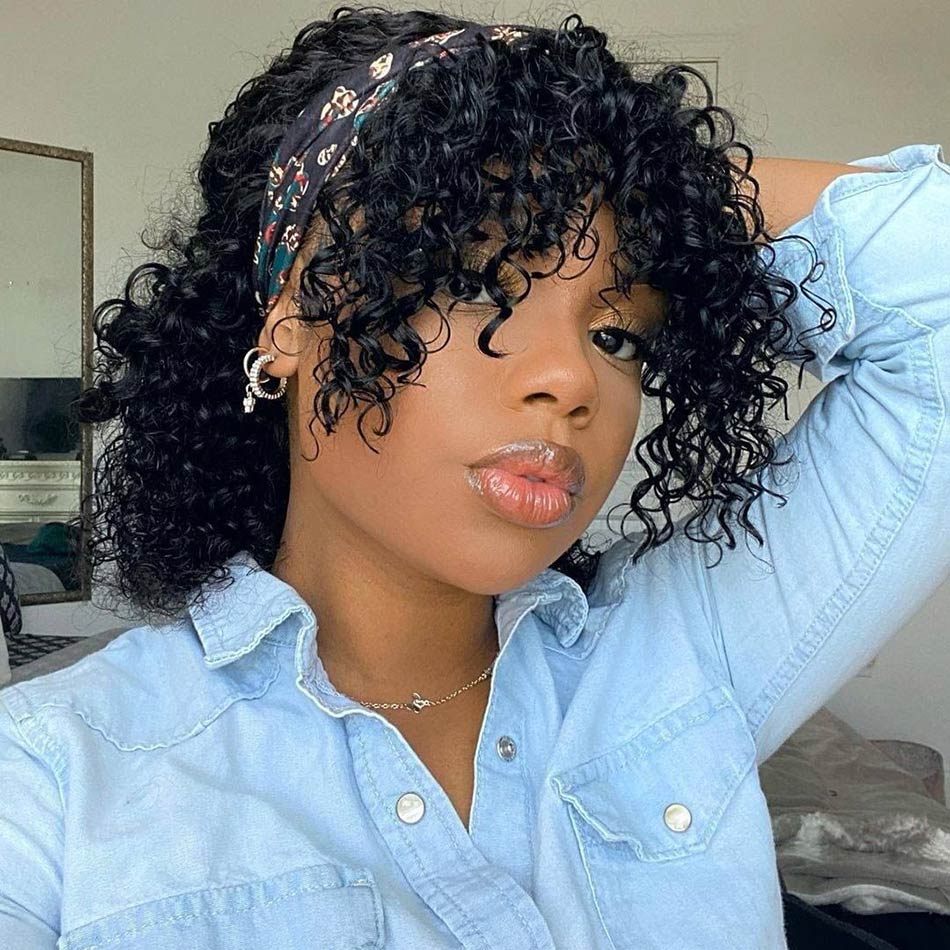 Then comes a lovely headband wig with bangs, which is also made with 100% human hair. With no tangling, no shedding, and no bad smell. Available in hair length range from 10-14 inches, this is a short headband wig, especially fits African American Women with a diamond shape face or square shape face.
Review with picture from Elfin Hair customer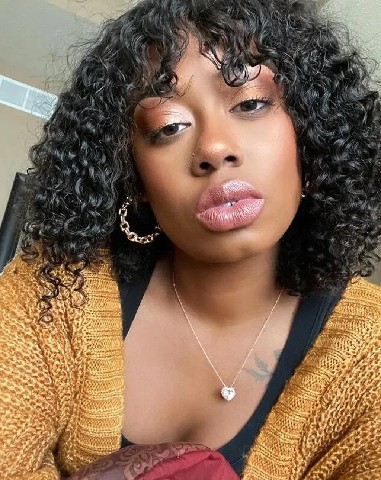 -Well received my parcel just beautiful Thank you, seller. I absolutely love this hair it's very silky, will be ordering again.

-Very nice wig, easy to put on! Do not hesitate to buy it you will not be disappointed. Fast shipping. My order arrived well before the time, thank you, the quality is beautiful, I am very satisfied, I recommend.
How to install a headband wig?
Headband wig is easy to install, following are 4 steps to install a headband wig:
1. Brush your natural hair backward
2. Wear & tight the wig
3. Makeup your baby hair naturally
4. Wear a headband & do style as you like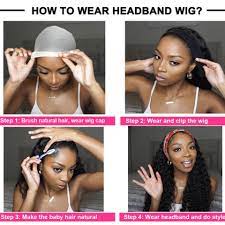 Elfin Hair offers a full range of high-quality human hair wigs and hair extensions to global customers, including Brazilian virgin hair, Peruvian virgin hair, Malaysian virgin hair, HD lace wigs, headband wigs, etc, all at an unbeatable price. Elfin Hair always focuses on the new trend of the hair industry and dedicated itself to doing better. All our hair products are made with 100% human hair with no tangling, no shedding, no smell. Welcome to reach us.