What Is The Best Human Hair For Braiding?
Braiding your hair is a remarkable avenue for showcasing your style and crafting stunning hairstyles. However, not all human hair is created equal in the realm of braiding, necessitating a keen understanding of which hair type yields optimal outcomes.
Virgin hair or Remy hair, 100% unprocessed human hair with instant cuticle align in one direction, is the best human hair for braiding. This hair variety boasts unparalleled longevity and strength, far surpassing alternatives. It's the quintessential foundation for crafting enduring, mesmerizing braided styles.
Beyond its durability, premium human braiding hair presents a natural allure that synthetic fibers simply can't emulate. With proper care, your braided masterpieces flourish, exuding charm without the concern of damage or fragility.

Types of braiding hair
Choosing the right hair for braiding is a crucial decision that shapes your hairstyle outcomes. With various options available, understanding the diverse range of braiding hair types is essential.
1. Human Braiding Hair:
Material: Crafted from natural human hair, this type embodies authenticity.
Advantages: The allure of human braiding hair lies in its ability to deliver a truly lifelike appearance. Its natural texture and movement create a seamless integration with your own hair. And human braiding hair allows you to apply heat, color, or even bleach it. It's more versatile in styling than other hair types. Furthermore, human braiding hair is not so easy to become dry and is less prone to breakage, making it ideal for those who looking for a long-lasting braided hairstyle.
2. Synthetic Braiding Hair:
Material: Crafted of synthetic fibers, synthetic braiding hair offers an alternative to natural hair.
Advantages: While synthetic hair may lack the authenticity of human hair, it brings affordability to the forefront. This option is ideal for those seeking a vibrant color spectrum to match their unique style. Its synthetic nature also imparts a level of convenience, requiring less maintenance and offering a consistent look.
3. Kanekalon Hair:
Material: Derived from high-quality synthetic fibers, Kanekalon hair boasts a unique composition.
Advantages: Lightweight and heat-resistant, Kanekalon hair stands out for its exceptional durability. This variety offers a palette of rich, vibrant colors that can infuse your braided styles with striking visual impact. Its ability to maintain its form and color even under challenging conditions makes it a favorite choice among those aiming for braids that stay impeccable.
Types of human hair for braiding:
Within the realm of human hair for braiding, an array of options beckons, prominently featuring Virgin, Remy, and non-Remy hair. Each variant boasts its own distinct traits, which intricately shape factors such as quality, sourcing, and pricing.
1. Virgin Hair:
Quality: The epitome of authenticity, Virgin hair remains unaltered by processing or treatments.
Sourcing: This hair is sourced from a solitary donor, preserving its inherent integrity and uniqueness.
Price: Renowned for its unparalleled purity, Virgin hair often commands a premium due to its unadulterated nature.
2. Remy Hair:
Quality: Meticulously collected from multiple donors, Remy hair ensures that cuticles remain aligned, enhancing durability and smoothness.
Sourcing: The careful sorting process retains the natural direction of cuticles, reducing tangling and maintaining a natural look.
Price: Offering a harmonious balance between quality and affordability, Remy Hair presents a pragmatic choice for those seeking excellent value.
3. Non-Remy Hair:
Quality: Sourced from various origins, non-Remy hair may lack uniform cuticle alignment.
Sourcing: As cuticle directions may differ, non-Remy hair can be more prone to tangling.
Price: With an attractive affordability factor, non-Remy hair appeals to budget-conscious individuals.
Grasping the intricate details of these human hair variations empowers you to align your selection with your specific braiding vision, financial considerations, and preferences for uncompromised quality.

Pros and Cons of Human Hair Braiding Hair:
Like all options, human braiding hair comes with its own set of advantages and considerations. In this section, we delve into the pros and cons of using human hair for braiding, providing you with insights to make an educated choice that suits your needs.
Pros:
Realistic Appearance: The hallmark of human hair for braiding lies in its ability to mirror the genuine look of natural hair. Each braid exudes an authenticity that effortlessly blends with your na hair, yielding a remarkably realistic aesthetic.
Natural Texture and Movement: The captivating allure of human hair rests in its inherent texture and graceful movement. Each braid sways and shifts with a lifelike flow, enhancing the overall chic of your hairstyle.
Durability: Beyond aesthetics, the robust nature of human hair braiding strands ensures that your meticulously crafted braids stand the test of time. Your unique expressions remain intact, exuding their initial charm long after the styling.
Treatable Like Natural Hair: Emulating your own hair's versatility, human hair for braiding can be shaped, colored, and treated with familiar techniques. This grants you the freedom to experiment, adapt, and personalize your braided styles to match your evolving preferences.
Cons:
Higher Cost: The impeccable quality and authenticity inherent in human hair come hand in hand with a higher price point. The investment reflects the premium value of genuine hair, serving as a consideration for those managing their budget.
Maintenance Demands: While human hair offers unparalleled beauty, it also demands more attentive care than synthetic alternatives. Regular maintenance, nourishing treatments, and protective practices are essential to retain the hair's vitality and sheen.
In weighing the benefits of human hair for braiding, you empower yourself to make a decision that resonates with your aspirations for both style and practicality.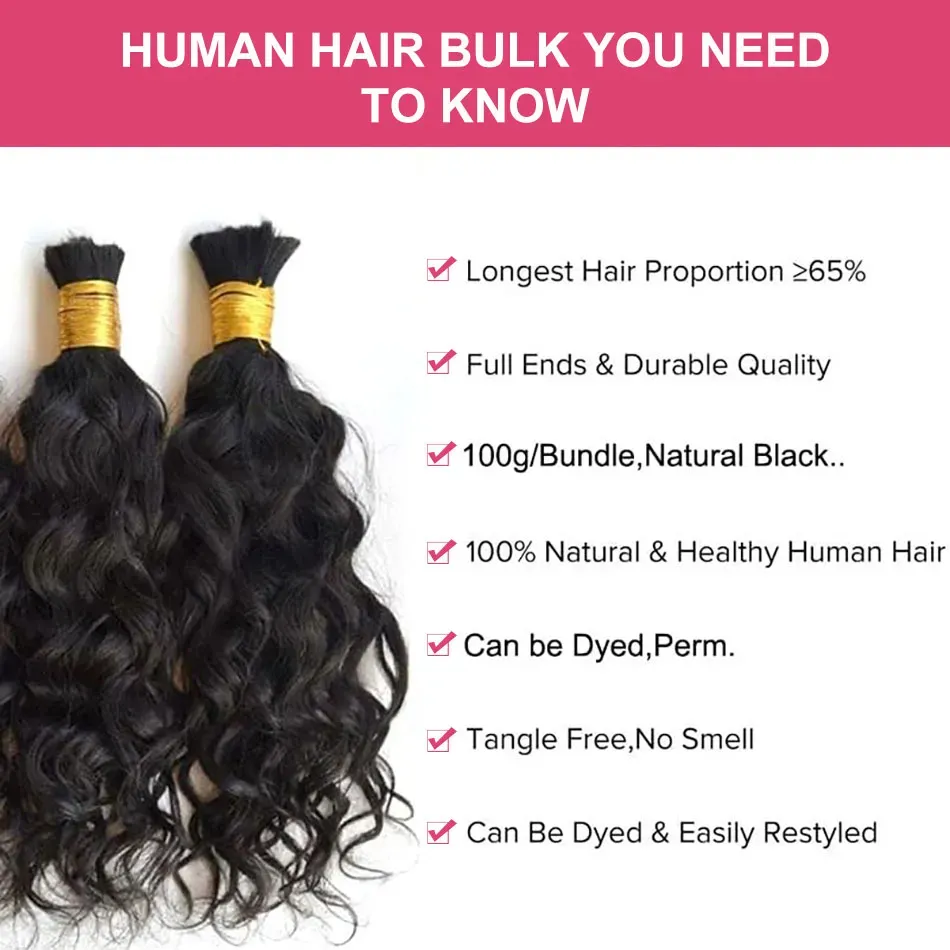 Factors to Consider When Investing in Human Hair for Braiding:
When choosing human hair for your braids, several crucial factors should be at the forefront of your decision:
1. 100% Virgin Hair or Remy Hair: When opting for human braiding hair, prioritize those crafted from 100% Virgin Hair or Remy Hair rather than non-Remy hair. These options guarantee superior quality, lasting beauty, and reduced tangling.
2. Durability: Gauge the duration you plan to keep your braids in place. Different types of human hair for braiding offer varying levels of durability, so selecting based on your desired lifespan is crucial.
3. Packs You Need: Determine the number of packs of braiding hair required to achieve your desired braid thickness. Adequate planning ensures your braided style looks as full and voluminous as you envision.
4. Desired Look: When selecting bulk hair extensions for braiding, consider multiple factors. Assess the desired texture – straight, wavy, or curly – to harmonize with your style. Aim for a color that matches your natural hair, and decide between human and synthetic options. Length and thickness should also be tailored to your envisioned appearance.
5. Price: Recognize that human braiding hair generally carries a higher price tag compared to synthetic alternatives. However, this investment guarantees authenticity, longevity, and a superior finish for your braided styles.
6. Reviews: Prioritize reading user reviews when making your choice. Real-world experiences provide valuable insights into the quality, durability, and overall satisfaction of different human braiding hair options.
By considering these factors meticulously, you empower yourself to select human hair for braiding that aligns perfectly with your envisioned style, durability, and budget.

Where to Buy the Best Human Hair for Braiding?
When it comes to procuring the finest human hair for braiding, look no further than "Elfin Hair," a distinguished online store renowned for its exceptional offerings. Here, you'll find a diverse range of options, spanning an array of colors, textures, and lengths, ensuring that your braided styles can be executed exactly as envisioned.
Elfin Hair: Your Trusted Source With a solid reputation in the industry, Elfin Hair stands as a reliable destination for acquiring premium human hair for your braiding needs. Their commitment to quality guarantees that each strand possesses the authenticity and durability needed to bring your braided visions to life.
A Spectrum of Choices Elfin Hair takes pride in catering to a myriad of preferences. Whether you're seeking sleek and straight textures or crave the charm of wavy and curly locks, their selection encompasses every possibility. The array of colors available ensures seamless integration with your natural hair, yielding a flawless blend.
Popular Picks from ElfinHair.com:
Deep Wave Braiding Hair: Achieve a captivating textured look with our deep wave braiding hair. This option adds depth and dimension to your braided styles, creating an effortlessly chic appearance.


Curly Braiding Hair: Elevate your braided creations with the charm of our curly braiding hair. These curls bring a touch of playfulness and bounce to your braided hairstyles, setting you apart with every twist.


Braiding Hair Color 27: Add a touch of warm highlight to your braids with our captivating braiding hair in color 27. This shade radiates a golden glow, enhancing the allure of your braided styles.


Blonde Braid Hair: Embrace the timeless chic of blonde braid hair. Our collection offers various shades of blonde to complement your unique style, infusing your braids with a touch of sophistication.


Wet and Wavy Braiding Hair: Discover the allure of the wet and wavy look with our braiding hair collection. This option adds an enchanting natural flow to your braided hairstyles, capturing attention wherever you go.

These hot-sale items from Elfinhair.com encompass a variety of textures, colors, and styles, allowing you to explore and experiment, creating braided looks that resonate with your flair.
Elfin Hair Customer reviews:
"The hair feels so real and holds up well. I'm seriously impressed. They've won me over!"
"The lightweight feel is a game-changer, and the color pops like crazy!"
"It's so soft and blends seamlessly. Worth the investment!"
"I bought the color 27 hair, the golden hues give my braids a fresh look. Elfin Hair's got my hair game on point!"
"Just got the braiding hair from Elfin Hair and I'm in love! It gives my braids a whole new vibe – bouncy and fun. Can't wait to show 'em off!"
"I was hesitant at first, but it blends so well with my hair. Definitely gonna rock this look more often."
"Totally impressed. Hair is soft and good smell, 10/10 recommend!"
Conclusion:
Braiding your hair opens a captivating realm of self-expression, allowing you to weave stunning hairstyles that reflect your unique style. Yet, not all human hair shares the same affinity for braiding, emphasizing the importance of discerning which hair type yields optimal outcomes.
Discovering the pinnacle of human hair for braided styles typically leads us to 100% Virgin Remy or meticulously sorted unprocessed human braiding hair. This specific kind of hair, aligned along the cuticle direction, boasts unparalleled strength and endurance, setting the stage for braided creations that withstand the test of time.
Beyond its resilience, superior human braiding hair unveils a natural authenticity that synthetic fibers can't replicate. This distinction ensures that your braids boast not only a visual allure but also a tactile charm that resonates with genuine charm. Armed with proper care and nurturing, you're free to revel in captivating braided hairstyles without apprehension of harm or fragility.
Related Posts:
A Comprehensive Guide Of Tribal Braids
Bulk Hair For Braiding: Best Human Hair For Braiding
The A-Z of Human Braiding Hair: Tips & Techniques
A Comprehensive Guide to Elfin Hair's Human Hair Bulk