How many bundles do you need for a sew-in?
If you are new to the wig game, you may ever be confused about exactly how many bundles do you need to finish a full head sew-in? The short and direct answer to this problem is 2-3 bundles. But to answer this question specifically, there are several factors you need to consider before buying any bundle or frontal closure. In this post, we are going to share how many bundles do you need to make a desired full and voluminous look.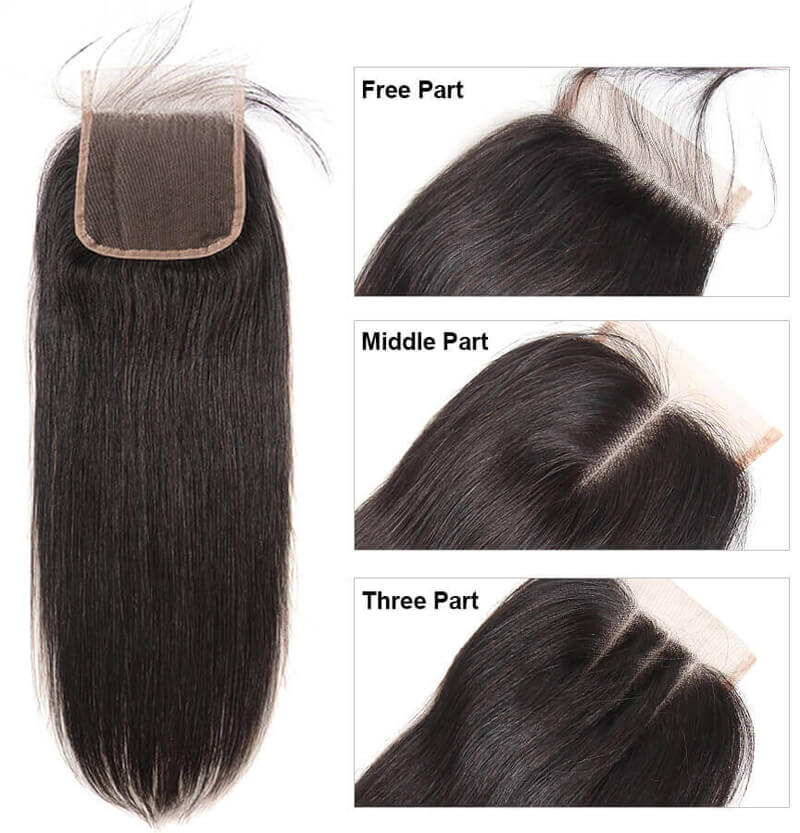 What affects the quantity of bundles for sew-in?
Hair Lengths: Typically, to achieve a full and voluminous look, the longer the bundle length is, the more bundles you will need. If your sew-in is starting with a length less than 14 inches, you may need 2 bundles at least. If your sew-in is ranging with a length between 16-20 inches, you may need at least 3 bundles. If your sew-in length is over 22-30 inches, you'd better prepare 4 bundles at least. If you wanna achieve a fuller look, you'd better order one more bundle against the above-mentioned standard. Or you can check out the following chart.
Head Sizes: Usually, 2-3 bundles are enough to create a full head sew-in. But if your head size is big (the head circumference is bigger than 55-57cm) or you want to make a fuller look, ordering one more bundle will be a sensible option.
Curls Or Straight Hair: Curly hair has more density than straight hair, so it takes fewer bundles to achieve a voluminous look.
Kinky Straight Hair Or Silk Straight Hair: As we all know, kinky straight hair looks like the natural hair has been pressed straight or flat ironed. It's commonly coarser and thicker than silk straight hair. So it also takes fewer bundles to achieve the same length and volume look.
Sew In With Lace Frontal, Lace Closure, Or 360 Lace Frontal: Since the size of the lace base is not the same. Lace frontal commonly comes in 13x4 inches and 13x6 inches, while the lace closure commonly comes in sizes 4x4 inches and 5x5 inches. Typically, 3-4 bundles are used to achieve a full sew-in with lace closure. And, it commonly takes 2-3 bundles to sew in with lace frontal. 360 Lace frontal is a hairpiece that goes around the entire perimeter of the head, this construction makes it a bundle-saving option. Typically with a 360 frontal, only 1.5-3 bundles are enough.
Best Bundles Vendor- Elfin Hair
Elfin Hair offers soft and lightweight lace frontal and closure, 100% human hair weave (including Brazilian hair weave, Peruvian hair weave, Malaysian hair weave) to global customers. All our human hair bundles are made with 100% Remy hair, which results in its soft, shiny, silky touches and natural appearance. Welcome to explore our affordable human hair weaves and lace frontal closures collection. You can choose to buy bundles and closure separately, or you can choose to pick the packs of bundles with frontal or bundles with closure. The packs of bundles and frontal closure come with a unified texture, color, and pattern. And it is commonly more cost-effective. If you have idle bundles or frontal closure at home, to save money, we suggest you buy it separately.
We hope that after reading this post, you will be never be confused about "how many bundles do I need ". If you are still feeling tangled about it, feel free to reach our consultant for more details.
Related Posts:
How To Keep Curls On Your Virgin Malaysian Hair Bundles
How to Sew in Virgin Peruvian Hair Bundles by Yourself?
How To Maintain Your Straight Virgin Brazilian Bundles?
African American Wigs VS Virgin Hair Bundles, Choose Which one?
Different types of human hair bundles