How To Highlight A Human Hair Wig At Home?
What is the highlight wig?
The highlight wig is a stylish wig that shows two different tones, commonly comes with several colored hair strands on the front. Several popular highlight wigs are especially flattering to American African women: black wigs with blonde highlights, brown wigs with blonde highlights, highlight bob wigs, black wigs with brown highlights, etc.
Features of highlight wigs:
Add layering to the look: The combination of the darker wig and lighter tone hair strands can add layering to your whole look. It looks more tend to your real hair visually and it's stylish.
Brighten your complexion: The layering highlight wig can light up your complexion and make your eyes look more shining. Black women can also rock the unique highlight wig well.
Modernize your style: The highlight wig looks stylish, is a unique and bold option for most girls. A good human hair wig with highlights is that wig can boost your charm and confidence.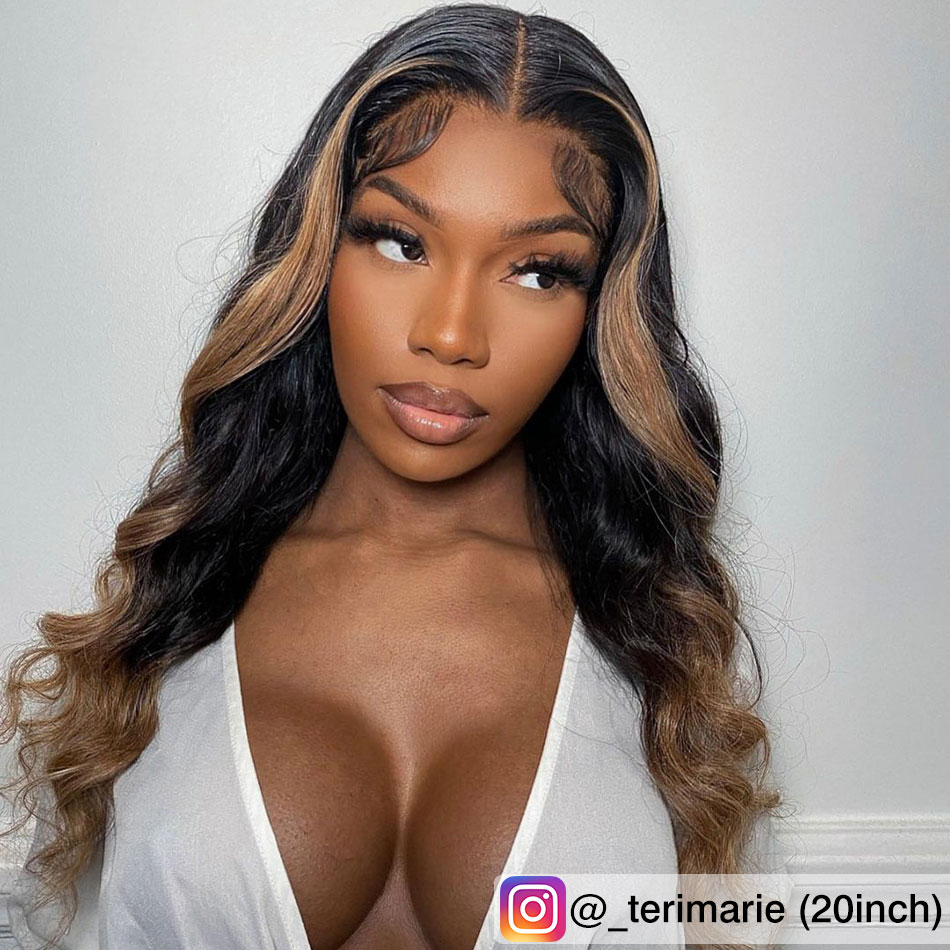 Everything you need to know before highlighting your hair
If you want to try the highlight wig but don't want to buy an expensive new wig, of course, you can choose to highlight an old wig by yourself at home.
Before trying this small project, there are a few things that you should know:
How long does it take to highlight a wig?
The basic highlights may take you about 2-3 hours. And complex highlights may be longer.
Does it work to DIY a highlight wig at home?
Firstly, make sure your wig is 100% human hair wig since that synthetic wig can't be dyed or bleached at all. Secondly, we don't suggest highlighting an old wig at home, going to the salon or asking for a local wig expert will be better. Since you may damage your human hair wig if the process is incorrect.
If you do not want to buy a new highlight lace front wig at a high price, you can try to highlight your old wig by yourself at home with the following tutorial.
Before we start this small project, you need to prepare the following items: bleaching powder, a jet black human hair wig, a mixing bowl, different types of developers (we use a 20 volume and a 40 volume developer here), gloves, a small whisk, tin foil, a long and pointed comb, a purple shampoo.
Step 1: Mix your color. Take about three spoons of bleach powder into the mixing bowl, and then pour the 20 volume developer into the bowl, use the whisk to mix them. Make sure the mixture is not too watery or pasty.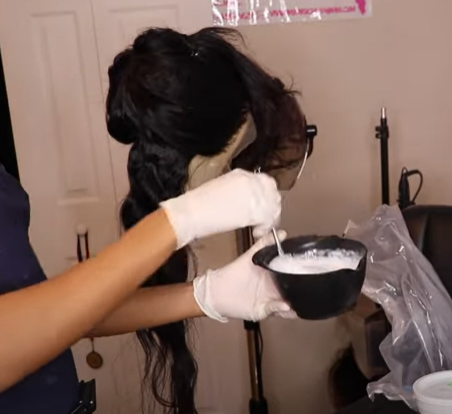 Step 2: Apply the bleach to the hair. Apply the mixture to the hair start at the bottom with a brush. In this way, we can leave the top a little darker, and create a very flowy touch and look effortless instead of stiff lines.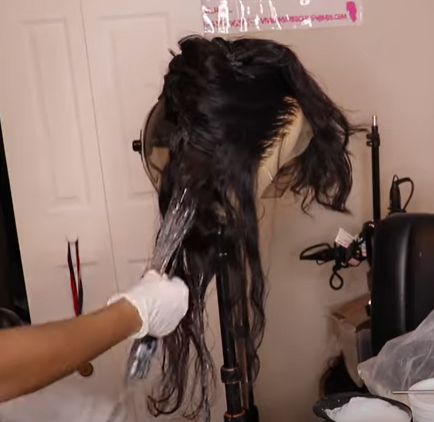 Step 3: Leave the bleach sit for about 10 minutes and it turned out to into a nice brown color.
Step 4: Wash it out. Use shampoo to wash out the wig and then use a soft towel to absorb the exact water, finally, let the wig air dry.
Step 5: After the hair was completely dry, it's time to create highlights. Mix the bleach powder and the 40 volume developer, firstly.
Step 6: Part the front two pieces into a small triangular parting and then apply the mixture to bleach it. And then use a piece of tin foil to wrap it up.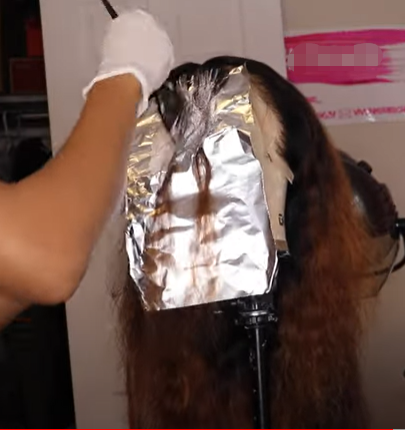 Step 7: Pull up the hair, use a long and pointed comb to pull out pieces of hair bundles in a zigzag motion.

Step 8: Apply the mixture on the hair bundles you pull out just now. And then use a piece of tin foil to wrap it up.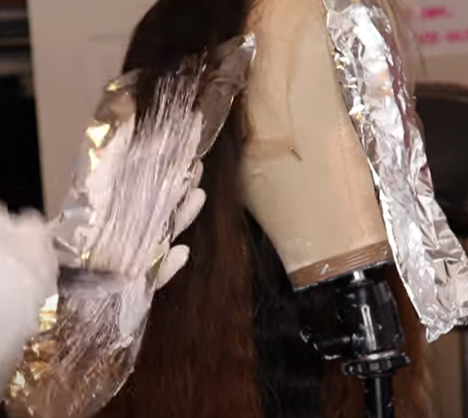 Step 9: Repeat step 8 until you have already bleached through the whole head evenly.
Step 10: When you finish the whole bleach, leave the bleaching to sit for about ten minutes.
Step 11: Wash it out with purple shampoo and a hair conditioner. Remember to let the shampoo sit for about ten minutes.
Step 12: use a soft towel to absorb the exact water, finally, let the wig air dry. And you will get a unique highlight wig.
Step 13: Do the hairstyle you like.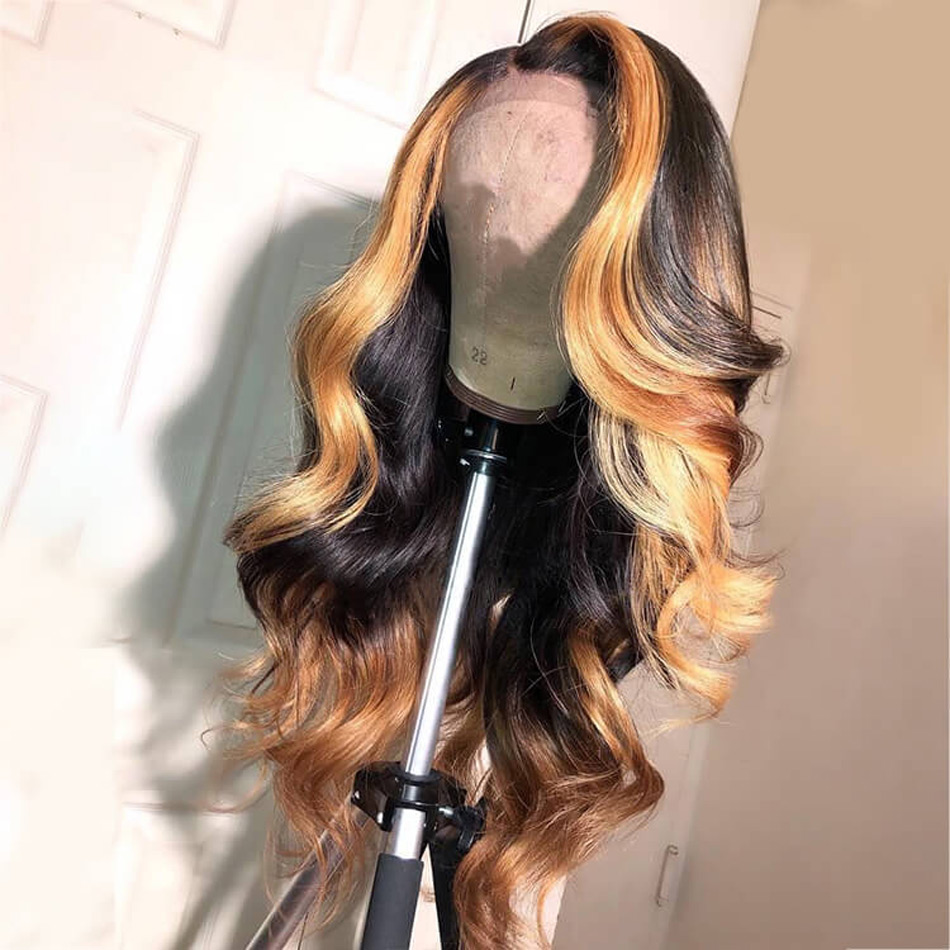 How to take care of highlight wigs?
1. Brush the highlight wig before washing: Use a wide-tooth comb to brush the hair from the top to the end as gently as possible. This step can loosen the dirt and avoid hair loss.
2. Choose a mild shampoo and shine mask. Since that the highlight wig will easily get dry, we suggest you pick a high-quality mild shampoo and hair mask. These can help to keep it smooth and lengthen its life span.
3. Use Warm water while washing your highlight wig.
4. Use a soft towel to absorb the water after washing, and let your highlight wig air dry. Remember that don't brush your highlight wig when it is still wet.
5. Deep condition regularly: Since that the highlight wig is easily getting dry, it is fragile. Apply conditioner regularly to nutrition your highlight wig is necessary. There are different types of hair conditioners for the different wigs, just pick one that fits your wig type.
Best highlight wig at Elfin Hair:
Related articles:
Bleached knots on frontals, closures, and lace wigs
How to Keep Virgin Brazilian Hair Health While Using Iron Daily?
How To Maintain Your Straight Virgin Brazilian Bundles?
How to Apply a Lace Front Human Hair Wigs?