Tutorial: Quick & Easy Jumbo Box Braids!
What are Jumbo box braids?
Jumbo box braids are a chic, stylish, and classic hairstyle that is well-liked by African American women. To wear Jumbo box braids, divide natural hair into box shapes and braid them into long and chic plaits. Compared with twist styles, box braids can last on one's head for a longer time. So it gives lazy girls a break from daily hair styling. As well as protecting real hair from heat styling, it also adds a finishing touch to the whole look.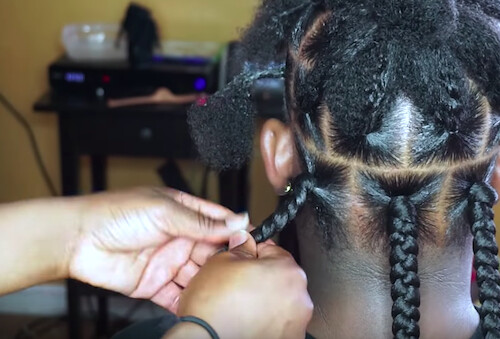 How to make Jumbo box braids?
Some items you need to prepare in advance:
A wide-tooth comb;
Hair shampoo and conditioner;
A soft towel or a hair dryer;
Hair clip;
A rattail comb;
Rubber bands;
Edge control;
Hair extensions;
Step 1: Prepare your hair
Comb your hair with a wide-tooth comb to remove knots and dirt. Thoroughly shampoo and condition your hair. Towel-dry or blow-dry your hair with the lowest heat setting. Ensure your hair is pre-moisturized before diving into the braiding process.
Step 2: Section your hair
Part your hair in half from ear to ear across the crown. Use a clip to secure the crown section of hair.
Step 3: Create small grids
In this tutorial, we'll separate the hair into 18 box braids, 8 on the crown and 10 on the back. And you can divide your hair into more boxes if you desire. Be aware that the more braids you have, the longer it will take to complete full-head box braids.
Use a rattail comb to part your hair into smaller grids. Comb the hair and tie the grid with a rubber band. Apply some edge control to the box edges and then rubber band this part. Continue doing so until you have full head grids and small ponytails.
Step 3: Adding extensions
Pick up a small strand of extensions and fold it in the middle to make it into a U-shape. Twist the middle part so that the extensions hold more tightly. Grab your real hair with that middle piece from the hair extensions and divide it into a three-strand plait. Braid tightly but not too tight. Just ensure the braid is neat and not prone to getting loose easily. Secure the small plait with a rubber band. Continue to blend the extensions with your real hair and make plaits until you finish a full head.
Adding extensions to Jumbo box braids makes your hair look more voluminous and thick.
Step 4: Styling your hair
Lay down your baby hair and coat it with some edge control to make it look neat and polished.
The whole Jumbo box braid hairstyle is now done. And you can rock it in any style you desire. You can simply lay down the braids. It looks chic and cool. You can add some beads to decorate your braids. Or you can simply pull all the braids into a ponytail, a top knot, space buns, etc. Enjoy the styling game with your chic Jumbo box braids.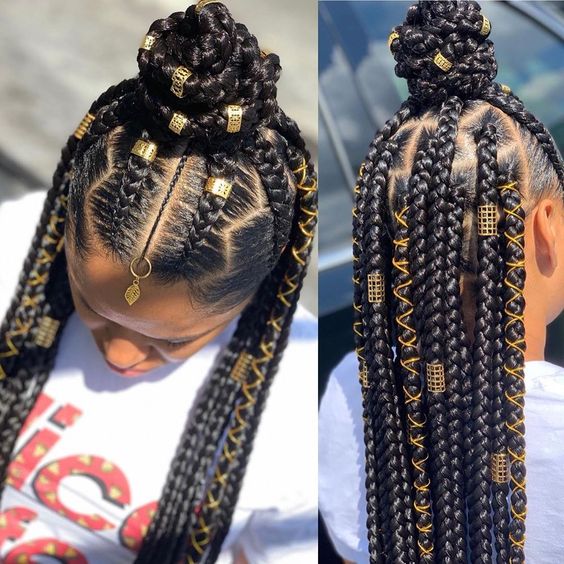 How to maintain Jumbo box braids?
Here are some useful tips for box braid maintenance:
Tip 1: Ensure your natural hair and scalp are clean and well moist before braiding. This is the secret to prolonging the duration of Jumbo box braids.
Tip 2: Braid firmly but not too tight. Too tight braids can bring extra tension to your scalp which may lead to hair loss and breakage.
Tip 3: Spraying some moisture spray regularly is a wise choice to retain moisture and add shine.
Tip 4: Wash less. Dry shampoo can be used as an alternative between washing days.
Tip 5: Use a silk scarf to wrap your hair or place a silky scarf on your pillow before heading to bed.
Tip 6: Undo the Jumbo box braids in time. Box braids typically last on the head for about eight weeks. But if you feel your braids are too heavy or your scalp is unbearably itchy, take them off and give your scalp a break.
Jumbo box braids FAQs:
Q: Are Jumbo box braids a protective style?
A: Yes. Box braids are a protective hairstyle that avoids heat styling hair every day, retains moisture, and stimulates hair growth.
Q: How long does it take to do jumbo box braids?
A: It typically takes you about 30-45 minutes. If you do box braids with adding hair extensions, the installation can take you anywhere from 1-3 hours. It varies on your braiding skills, the methods you use, and the sizes you desire.
Q: How long do Jumbo box braids last?
A: Many women love Jumbo Box Braids because of their longer duration. They can typically last up to 8 weeks with proper installation and maintenance.
Related Posts:
4C Hair guide: How to identify 4C hair & How to care for it?
Top 10 High Ponytail Hairstyles For Black Women
5 Easy Half Up Half Down Quick Weave Styles