All The Basics You Need To Know About Microlinks
What are microlinks?
Micro-links (also known as micro rings and micro-beads) are hair extensions that come with a small silicone bead on the top attached to hair strands. Unlike other extensions, Micro-links cannot be installed or removed by the user. You have to seek assistance from another pair of hands.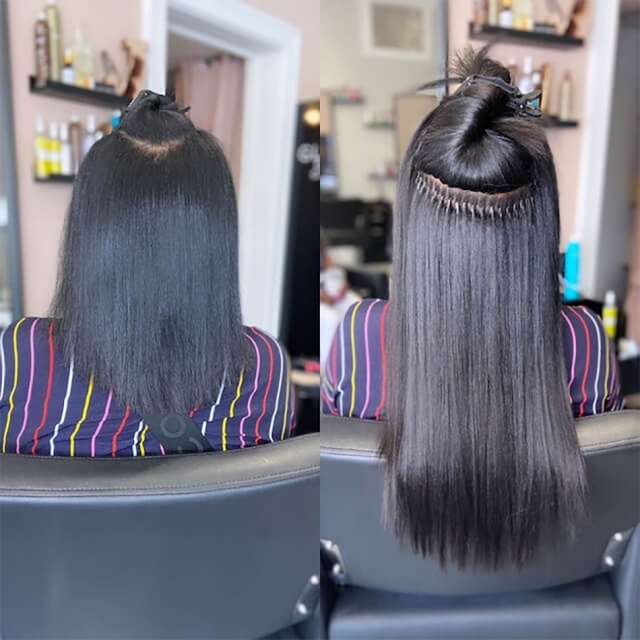 How to install microlinks?
Before we dive into the installation process, some small items need to be prepared in advance: a hair threader, a hair plier, and micro-link extensions as well.
As for how many hair extensions does it take? Typically, you may need 100 to 250 pieces of micro-link extensions. And the amount depends on your desired fullness. And the whole installation process will take about 1.5-2 hours.
Step 1: Leave the hairline and edges out, and braid the hairs around to set them away.
Step 2: Section your natural hair horizontally row by row at the back of the head.
Step 3: Use a hair threader to apply the microbead onto the pre-sectioned hair strand at about 1/4 to 1/2 inch near the scalp. You can then crimp your natural hair firmly in place by pressing the microbead with a hair plier. Continue to apply micro-link extensions to your natural hair. Once you finish one row, use your fingertips to blend the hair strands of microlinks and your natural hair.
Step 4: Repeat so that all the microlinks are attached to your head and you achieve the desired look. And then the whole installation process is already finished. Now you can style your hair as you desire.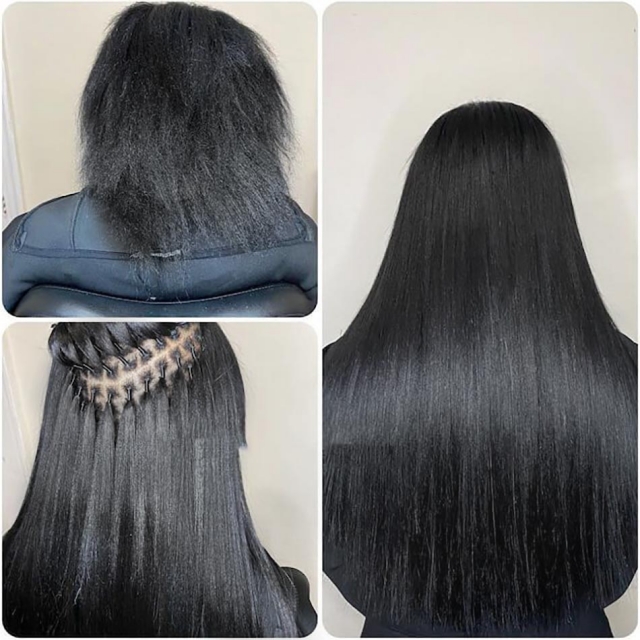 Since there are so many small hair strands that need to be done during the installation, the cost of dressing micro-links is more expensive than clip-ins and tape-ins. But you'll also benefit from its longer-lasting durability.
Pros and cons of microlinks
Pros:
Realistic Result:
As its name implies, the beads of microbead extensions are very small. And the beads are typically in a natural black or brown shade. These features allow microlink extensions to seamlessly blend with your natural hair.
Lightweight, Airy, And Comfortable:
The beads of microlinks are typically made of lightweight silicone material. This is to ensure the microlinks will not put too much pressure on your natural hair and scalp. Moreover, microlinks allow your natural hair to hang freely out of the weave, allowing the scalp to breathe better.
Damage-free to your natural hair:
The installation of microlinks requires no glue or heat. Compared with other extensions, microlinks cause less irritation to the natural hair and scalp. They are friendly for those who suffer from sensitive scalps.
Easy Access To The Scalp:
With microlinks, you don't need to put on a wig cap or braid all your hair into cornrows during the installation. Microlinks allow you to access your scalp and natural hair. So you can wash and condition as you normally would on your natural hair.
Last Longer:
You can leave your microlinks for about 8 weeks with proper and timely upkeep, which is longer-lasting than hair extensions.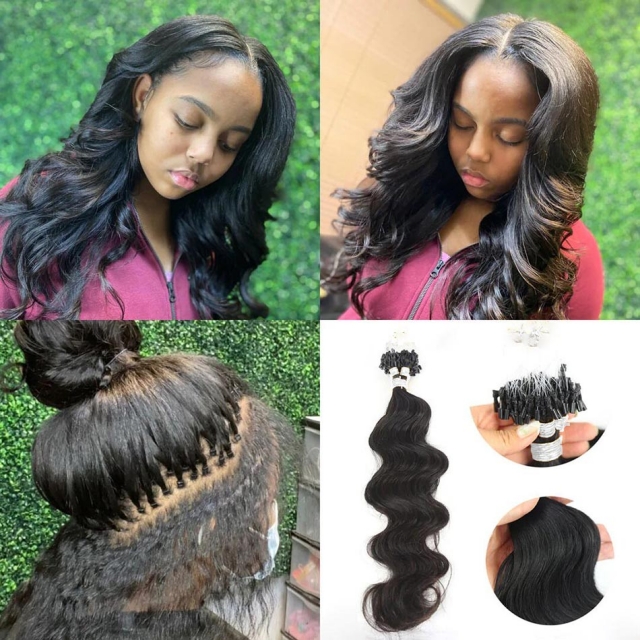 Cons:
May Be Visible In Some Hairstyles:
If you haven't left out the hairline and edges area before applying microlinks, the beads may be visible when you pull all the hair up into a high ponytail or a top knot.
The Installation And Removal Process Can Not Be DIY:
Different from clip-in hair extensions, microlink extensions can't be installed or removed by yourself at home. You have to seek assistance from another pair of hands. We highly suggest you let them be done by a pro in the salon. How much do microlinks cost to install? The cost ranges from $200-$500, depending on your location.
Take Longer Time In Installation And Removal:
Micro-links are installed or removed strand by strand, it's much more difficult than tape-ins and clip-ins. So the installation and removal process of micro-links requires more time. The whole installation process will take about 1.5-2 hours, while tape-ins can be removed within half an hour.
The Dressing Service Costs More:
Since the micro-links are installed strand by strand, it's more difficult than other hair extensions. Besides, micro-links can last for a longer time. These make the cost of installing micro-links more expensive.
Not Suitable For Extremely Short Hair:
Microlinks may not be suitable for those who have extremely short hair or pixie cut hair. If your hair is so short that you can hardly hide the beads, microlink extensions would be very noticeable.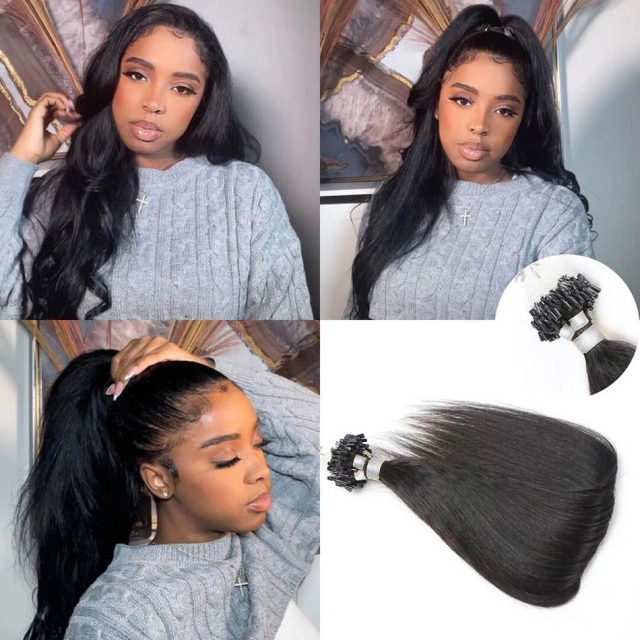 Tips and tricks to take care of micro-links
Tip 1: Do not add too many microlinks during the installation, or the natural hair may be subjected to more strain, which may result in hair loss.
Tip 2: Do not leave your hair extensions on longer than 8 weeks. As your natural hair keeps growing and the dirt keeps building up when extensions are on, you will need to take off your hair extensions to give them a thorough wash.
Tip 3: Shampoo and condition your hair extensions regularly with mild sulfate-free hair care products.
Tip 4: Apply a heat protector before styling your hair with heat.
Tip 5: Visit the salon every 6-8 weeks to reposition the micro-link extensions.

Where to buy high-quality Microlinks?
Elfin Hair provides high-quality microlink extensions, tape-in extensions, and clip-in extensions in various textures, colors, and lengths. All our hair extensions are made with cuticle-aligned human hair. They are soft, silky, durable, and natural in appearance and touch. Click to explore the best microlink extensions. You will definitely find your next microlink hair extensions that perfectly fit your natural hair at Elfin Hair.
Related Posts:
Tape-in Vs. Clip-in Extensions
Tape-in Vs. Sew-in Hair, Which One Is Right For You?
Tape-in Hair Extensions Pros And Cons