What Are 99j Wigs? How To Dye Your Wig to Burgundy Color?
Have you been hearing about 99j wigs? You thought several wigs come out once in a while, and that's why you could not stay updated. If, after seeing a lot of pictures and videos, you could not find out what 99j wigs are, then stay with us; we are explaining each aspect of 99j wigs very quickly in easy words. So, let's start.
1. What Are 99j Wigs?
First of all, know that the 99j wig is not a new type of wig. It is a hair color of the wig, which is very hyped nowadays. 99j hair color is burgundy, and this hair color can be applied to any wig, whether it's a lace front human hair wig or human hair bob wig. That's why when someone searches for a 99j wig, all wigs pop up but only in burgundy color.
Moreover, there are no specific restrictions to wearing, and removing 99j means burgundy hair color wigs.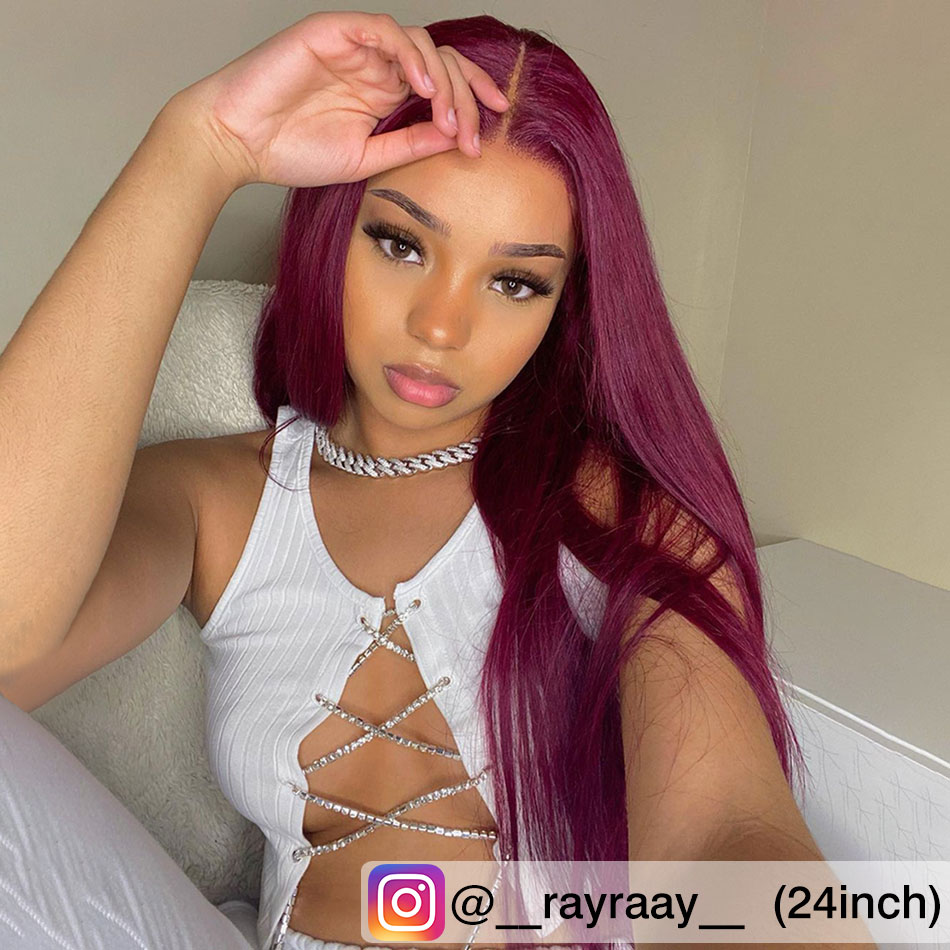 2. Can Black Girls Rock Burgundy Hair?
Black girls think that wearing or having a bold hair color does not suit their complexion and makes them look weird. With this fear, they stick to black hair color and do not try any other color.
In fact, bold colors like burgundy complement the black complexion and make a girl's beauty stand out. There are many videos online where black women who have never tried burgundy color when they try blown out by their own beauty. In other words, yes, black girls can also rock burgundy hair!
3. Step to Dye Black Wig Burgundy?
Black human hair lace front wig can be dyed to burgundy with two methods: without bleach and with bleach. Let's look at them one by one.
3.1 Dye Black Human Hair Wig to Burgundy Without Bleach:
Step 1: Gather the Products:
You can pick any of your favorite burgundy hair color brands, but L'OREAL HiColor HiLights is famous for this one. You also need a 40-volume developer.
Step 2: Mix the Products:
Pour one whole tube of burgundy hair color into a container. Now start pouring 40-Developer into the same container. Mix them with a hair color brush. The mixture consistency should not be very hard or very runny. So, keep adding the 40-Developer and mixing it until you find it in good consistency.
Moreover, when your mixture finishes, make more using another L'OREAL hair color cream tube. Maximally three can be used on a 24 inches wig.
Step 3: Apply to The Hair:
Set the wig on a mannequin head. Place the hair clips by your side.
Take a section of the wig, clip all other hair. Wear gloves on your hands and place plastic bags on the floor too because that color won't be wiped off from the floor.
Apply the hair to each section completely on the upper and backside. In other words, saturate each section with the product.
As for the front of the wig, take a smaller section and avoid applying color to the lace because it can't be washed off to make the lace transparent again. When you apply hair color to each section, massage the hair section to ensure that it has loads of hair color and each hair strand is coated.
Step 4: Put the Wig in A Plastic Bag:
After applying burgundy color to the human hair lace front bob wig, put it into a plastic bag. Let it remain in a plastic bag for 20 to 30 minutes.
Step 5: Rinse the Color and Wash the Wig:
After 20 to 30 minutes, rinse out all the hair dye and apply conditioner to wash the wig.
Now your burgundy lace front wig is ready.
3.2 Dye Black Human Hair Wig to Burgundy with Bleach:
Dyeing a wig with bleach is also called a water coloring method.
Step 1: Gather the Products:
You will need a volume 20 developer, BW2 bleaching powder, and Adore hair color numbers 70 (2 tubes) and 71 (1 tube). You will also need a mixing container and coloring brush.
Step 2: Form A Mixture:
Wear gloves. Put all BW2 powder into the container. Pour volume 20 developer without any specific measurement. Just focus on making it consistent, not very thick, nor very runny. It must be like dripping off the brush thickly and consistently.
Step 3: Apply the Mixture:
Place big sheets of aluminum foil underneath and place human hair lace front on it. Start applying hair dye with a coloring brush from the ends of the wigs, then go upward. Make sure the wig is completely saturated with the hair dye, including the roots of the wig, meaning the upper side of the wig cap.
Step 4: Wrap It and Rinse It:
Fold the wig in the aluminum foils for at least 2 hours. Then rinse the wig with water. It may look like the wig is not completely bleached, but it will be perfectly fine for coloring.
Step 5: Prepare Watercolor:
Spray got2b glue all over the lace and let the wig cap dry. This will not dye the wig lace when you dip it in the colored water.
Bring the water to boil and pour two hair color bottles into it. Submerge the wig into the colored water for a few minutes. Take it out and let it air dry.

4. Difference Between 613 Wig And 99j Wig:
A wig that has already been bleached and dyed in the blondish white color or light blond is a 613 wig. A 613 wig is usually of the highest quality hair.
A wig that is dyed and bleached into a burgundy color is a 99j wig. That color difference is the only difference between the 613 and 99j wigs.
5. How to Care for Burgundy Human Hair Wigs?
You can take care of a human hair wig while following simple tips. Wash your burgundy human hair wig with only the shampoo and conditioner you use to wash your natural hair. Always air-dry your wig to keep it unharmed. Keep your wig moisturized wig with your favorite product but don't overdo it. To keep the wig's burgundy color shining at its best, when the wig is not in use, store it in a silk or satin bag in a dark place.
6. Where to Buy Burgundy Human Hair Wigs?
To have a long-lasting wig that is vibrant, you need to purchase a 99j burgundy human hair wig from a trustable online wig store like Elfin Hair.
We offer burgundy lace front wig and burgundy T-part wig that have numerous positive reviews. You must also wear it to flatter your style.
Related Articles:
Everything you need to know before dyeing a human hair wig
How to protect your hair under a wig?
How To Highlight A Human Hair Wig At Home?
Top 5 Wig Colors For Black Women 2022
All about 613 wigs | Elfin Hair