Frequently Asked Questions About Micro links
For those who want to achieve a fuller and longer hair look with extensions, there are various choices for them. Such as sew in hair, tape in hair, clip in hair, etc. In case you don't want to add extra tension and sultry to your scalp, Microlink extensions are a more suitable choice.
Micro links aren't new to the beauty world, but lately, there seems to be a lot of buzz around them. A lot of questions are popping up and that's why we're here to fill you in on the details. Let's proceed!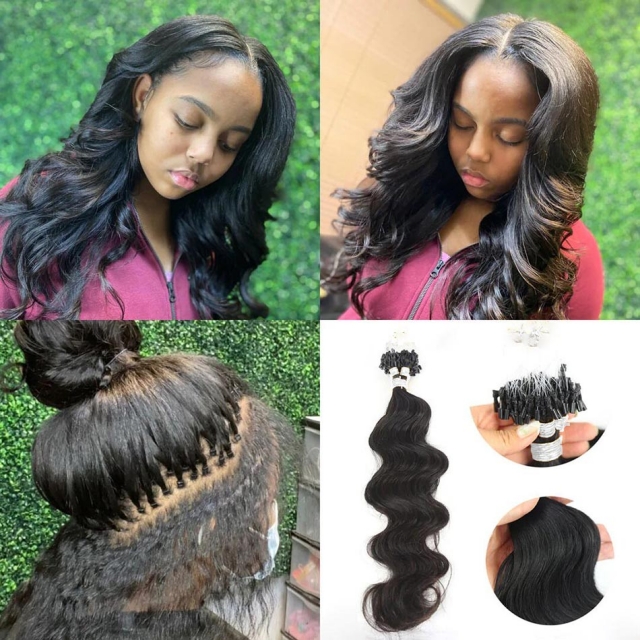 What are Microlink hair extensions?
They are an upgrade from the typical clip-in and sew-in hair extensions. Microlink hair extensions come in individual strands called I-tips (although regular cut-up pieces of hair wefts can also be used) and are attached to small sections of hair with the help of silicon beads and pliers.
The catch is they create less tension on the scalp because they take a different approach to installation; they don't require a braided cornrow base. Plus, they are very versatile.
With micro link hair, natural-looking hairstyles can be achieved because some hair is left out and blended in with the extensions. This means you have a lot of style options. You can wear your hair up in many different ways, including a natural and classic high ponytail.
You can easily change up your daily hairstyles and rock any style you desire without permanently altering your natural hair.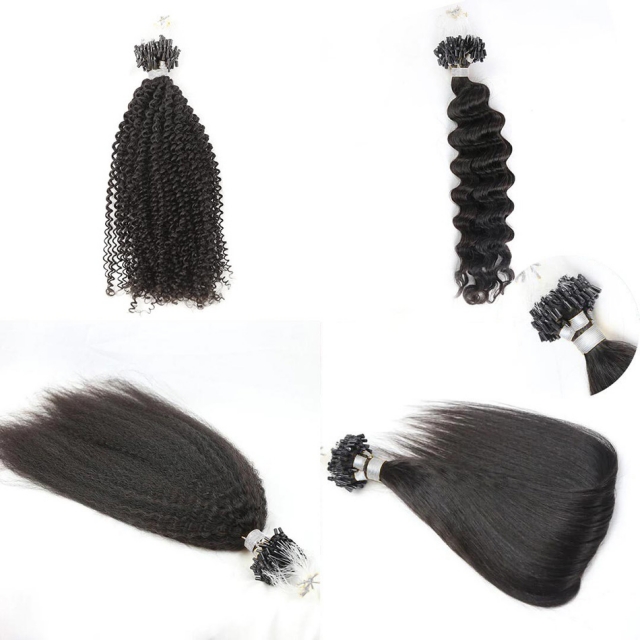 How do micro links work?
They come in small individual strands called I-tips that are attached to small hair sections to mimic the appearance of your actual hair. They are not attached to all hairs. Usually larger sections of hair are left out in the front, back, sides, and sometimes in the middle just to create something natural and versatile.
How are micro link extensions installed?
I-tip method
This is the most common installation method.
Shampoo, condition, and moisturize your natural hair in advance to ensure a healthy condition.
Your stylist will start by parting out small sections of hair similar to a box braid installation.
Second, silicone beads would be inserted into each section
Third, the I-tips would be inserted and clamped shut with a plier specially made for hairstyling.
Do microlink extensions damage natural hair?
No, they don't, but they haven't considered a protective style either since your hair is being left out to hang freely.
Micro links can only pose danger to hair health if they are positioned too tight. To have micro-links installed properly, your hair must be relatively healthy. Consult with your hairstylist if you have damage, split ends, or thinning hair. If this step is ignored, having microlink extensions installed may turn out to be an unpleasant experience.
Are micro links suitable for all hair types?
Yes, they are! There is a misconception that micro link extensions are unsuitable for people with curly, afro hair but that's not the case. The misconception is that microlink extensions were originally used by white women.
The good news is they suit all hair types from 1a to 4c. To blend naturally, you need to get micro-link hair extensions that match the texture of your natural hair. This is not to say you can't wear textures of micro link extensions different from your hair, it is just easier since you cut down on styling time.
To start, book a consultation with your hairstylist to decide and pick out the most suitable microlink extensions for you.
Note that micro links can only be installed if you have considerable hair length and are usually unsuitable for those with thick dense hair. With thick hair, it is quite difficult to blend in the extensions.
To make the most out of your micro link experience;
Detangle daily
Tie up hair at night or braid it after which a satin bonnet or silk scarf is to be worn.
Can microlink extensions be reused?
This all comes down to hair quality and maintenance. Microlink hair extensions that contain 100% human hair are usually reusable and long-lasting.
How many micro links are needed for a full head?
This depends on the volume of the look you're striving for. Typically a full head of hair requires 180-200 sections and those sections would be filled in by about 2 packs of micro link hair. Although this differs among brands, 1 pack usually contains 100 strands.
How long can you keep micro links in?
With proper maintenance, a micro link installation can typically last for up to 3 months. Sometimes, micro link extensions are worn for 5 months.
How to maintain Microlink extensions?
Microlink hair extensions should be maintained with regular appointments with your hairstylist. During each follow-up appointment, which should be every few weeks, your hair alongside the micro link is cleansed and any beads slipping off are re-done and tightened up. In between appointments, micro link extensions are to be treated and cared for like your own hair. A daily hair care routine that consists of shampooing, conditioning, and moisturizing is very much needed. Take caution to avoid applying conditioners and moisturizers to the roots, where the beads are located, to prevent the beads from sliding off.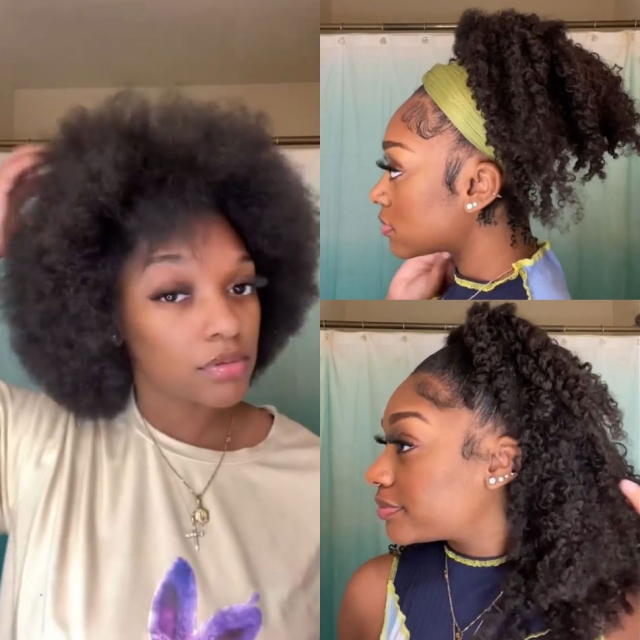 Where to get high-quality microlink extensions?
When you think of micro links, pick Elfin Hair microlinks as your first choice! Elfin hair is a company that provides you with a variety of high-quality micro link extensions. We have our own hair factory in China and have a long history of offering affordable human hair of the highest quality. So whatever hair texture or look you're searching for, we've got you.
Final Thoughts
Getting the maximum benefit out of your micro link extensions is a matter of being well informed. Micro links offer so many benefits over traditional sew-ins and clip-ins, but if care is not properly taken things can go awry.
By investing in micro link extensions, you can achieve a longer, fuller head of hair while also having flexibility and versatility. It lets you switch styles and keep things fun daily. It is like shapeshifting, you have the option of going for a more casual hairstyle for a playdate or a fancier hairstyle for a dinner date.
You know the saying "There is nothing like new hair to make you feel confident and beautiful!"
Related Posts:
Tape In Hair Extensions Frequently Asked Questions
All The Basics You Need To Know About Microlinks
Tape-in Vs. Clip-in Extensions