Deep Wave Hair: All The Basics You Should Know
Gone are the days when ladies are strung up with straight, sleek hair. In recent times, they are embracing hair of different textures. This is why deep wave hair is now the talk of the town. This hair is suitable for those that want to add volume to their mane in a subtle way. However, if you are just about to dive into the world of deep wave hair, you might be confused about some things. This is where we come in. We have put together this article to tell you all the basics you need to know about deep wave hair.
What is deep wave hair?
Deep wave hair is a hair texture that is more curly than regular wavy hair. Many women desire to have shiny fullness in their hair. If you are in that category, then deep wave hair is your best bet. This is because it will give you that fullness in the most natural way. Besides, you can enjoy your deep wave human hair for up to 1 or 2 years if you keep a proper maintenance routine.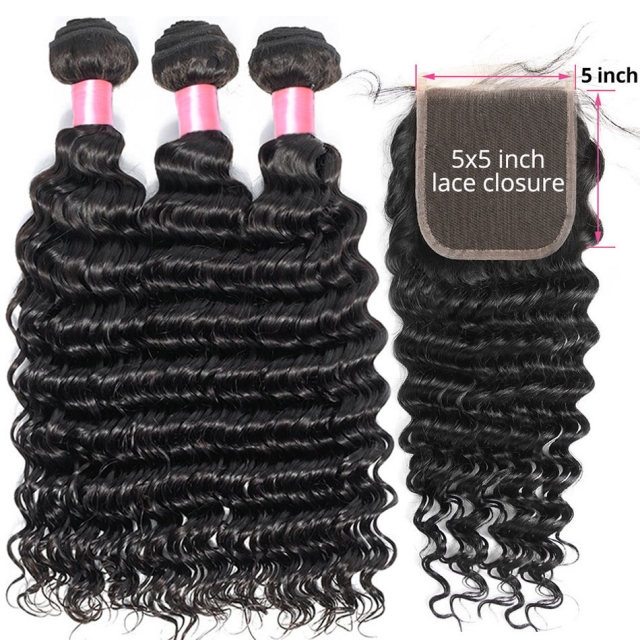 Why do you need deep wave hair?
There are many benefits of having deep wave hair. Some of them are:
It gives volume to the hair.
One of the reasons why you need deep wave hair is because it gives volume to your hair. Some women have thin hair textures and wish to have fuller hair. If you fall into this category, then you can go for deep wave hair. Besides, if you are experiencing hair loss or thinning, deep wave hair can give your mane the volume it needs.
The styling of deep wave hair is versatile.
Another benefit of deep wave hair is that its styling is versatile. This basically means that you can style it any way you want. If you want sleek straight hair, you can straighten your deep wave hair. Do not worry, you will get your curls back after washing. If you want a loose wave, you can straighten your deep wave hair, then curl it with a curling iron to form the loose wave. Besides, deep wave hair helps hold styles for a long time, so you should not be afraid of losing your style while on your outing. Whether the hair is long or short, you can have fun with deep wave hair by playing around with different styles.
It requires low maintenance.
If you know about curly hair, you will understand that they are quite tricky to maintain. It takes time, effort, and different products to maintain them. However, because the curls in deep wave hair are not as tight as the ones for normal curly hair, it is quite easy to maintain. You don't need to spend much time and effort maintaining it. We will share some maintenance tips later in this article.
Body wave vs. deep wave
Deep wave human hair is the one with the tighter curls in the wave hair family. However, its wave isn't as curly as the one in curly hair. Because of the defined curls, it holds curls longer than other wavy hair. However, you will need to spend some time, effort, and money on products to maintain its curls. Thus, if you are a busy woman, this hair is not suitable for you. However, if you are the type that spends most of your day indoors, you can go for deep wave human hair.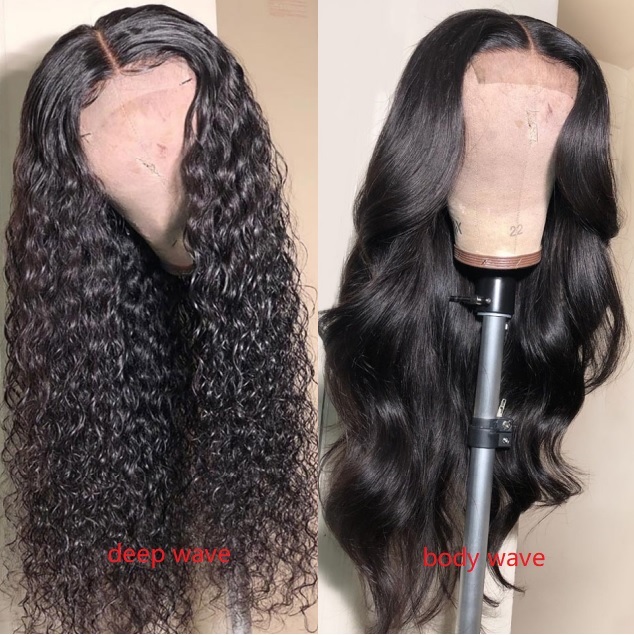 On the other hand, body wave hair is quite the opposite of deep wave hair. This is because its curls are not as defined as in deep wave hair; it is more of an s-curl pattern. Because it does not have defined curls, its maintenance is simple and easy, especially for beginners. However, it loses its curls quickly. So if you are looking for wavy hair with high curl retention, then you should not go for this hair. However, if you have a backup plan, like having a curling iron to get the curls back when you lose them, you can go for body wave hair.
How to maintain deep wave hair?
Although deep wave human hair is low maintenance, however, you should not neglect taking care of it. Here are some tips on how to maintain deep-wave human hair.
Brushing
For proper maintenance of deep wave human hair, you need to know the right way to brush it. You do not need to use a brush or fine-tooth comb to brush your deep wave human hair. This will damage the curls of your wig. However, using a wide-tooth comb will not only remove tangles but also help retain the curls.
Washing
Washing a tangled deep wave human hair will cause it to tangle further. To avoid this, use a wide-tooth comb to remove any tangles. Then use a moisturizing sulfate-free shampoo to wash it. This will help get rid of the dirt in the hair without stripping it of its natural oil. Thus, keeping your deep wave wig hydrated.
Conditioning
Condition your deep wave human hair to moisturize it after washing with shampoo. Besides, deep condition or co-wash your hair once a week to retain moisture.
Rinsing
When rinsing your deep wave wig, ensure you do that under running water. Make sure the water is running downwards towards the tip of the hair. Run your fingers through the strands as you are rinsing them. Doing this will help get rid of tangles. Continue running your finger through your deep wave hair till you don't feel any knots again.
Use of hot tools
To ensure your deep wave wig lasts longer, use hot tools as sparingly as possible. This means that rather than blow-drying your deep wave human hair, air-dry it.
Styling
Deep wave human hair is versatile, which means you can style it any way you want. However, if you want to bleach or dye your deep wave hair, make sure you visit a professional. This is because a professional stylist will take the precautions to maintain the curls while bleaching or dying.
Gorgeous hairstyles for deep wave wig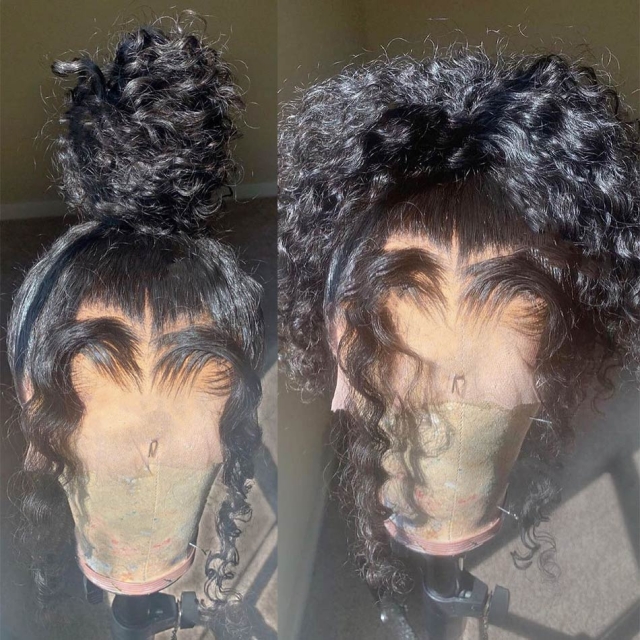 Are you looking for some deep wave hairstyles? Look no further; here are some gorgeous hairstyles for your deep wave wig;
Curly bun
You can create this style if you are going to a formal or professional event. After installing your deep wave wig, pack it into a high ponytail. Then wrap the ponytail in a circular motion and secure it tightly with pins or a hair tie. You can play around with this style by leaving out some strands of your deep wave hair at the front to enhance your look.
Curly ponytail
For this style, you will need a deep wave bundle extension. All you need to do is pack your hair into a high ponytail and fix a deep wave extension at the tip of the ponytail, tightly securing it with an elastic band. On the other hand, you can install a deep wave wig on your head. Then, pack it all into a high ponytail.
Braided side bun
Another gorgeous style for your deep wave wig is a braided side bun. To create this style, brush your deep wave hair to an angle. If you want your bun to be on the right side, start braiding diagonally from the left side and vice versa. Once you get to the nape of your hair, tie it up with an elastic hair tie, wrap it in a messy bun, and secure it with pins.
Where to buy deep wave hair?
Now that you know all the basics about deep wave hair, your next question might be where to get deep wave hair. To get 100% deep wave human hair, visit elfinhair. At elfinhair, we also sell deep wave bundles that you can use to make wigs or sew-ins. Besides, you can get quality deep wave wigs in whatever style or color you want.

Related Posts:
Jerry Curl Hair: All basic you should know
Water Wave Hair: All You Should Know