Fun and Flirty Peekaboo Braids: How To Create & 5 Chic Peekaboo Styles For Inspiration
Peekaboo braids are a fun and unique braiding style that can add a pop of color underneath your hair to contrast with your natural color. They are a great way to spice up your look without committing to a full head of colored hair or bold haircuts. And It's also a unique and stylish hairstyle that can be both protective and eye-catching. The peekaboo braid trend has been around for a while and is still incredibly popular among fashion-conscious women.
What are peekaboo braids?
Peekaboo braids refer that small bright-colored braids hidden underneath your hair, leaving the top layer a natural or different color. The braids underneath can be any color or pattern, and they can be styled to peek out from different angles. When you move, the colored braids underneath are visible. Peekaboo braids are the latest trendy hairstyle that is incredibly popular among black women.
Peekaboo highlights can be added to any hair length or texture, from short pixie cuts to long, flowing locks. This hairstyle is popular among people who want to experiment with hair color but don't want to fully commit to a bold, all-over color.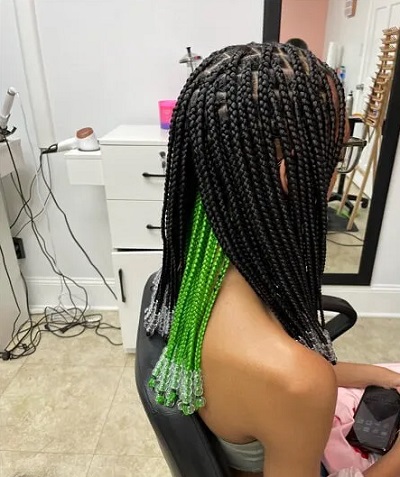 Why do peekaboo braids take over among Ins and Pinterest?
Peekaboo braids offer a fresh and unique take on traditional braiding styles, making it a stylish, low-maintenance, and protective style. Rather than just doing a simple braid or a basic cornrow, the peekaboo technique is often used to add a pop of color or a playful touch to a hairstyle without making it too dramatic or noticeable. It's versatile and can be done with a variety of hair colors, from subtle highlights to bold and bright shades, depending on the desired effect.
And this chic braiding style also offers a fun and playful way to make your statement and express your personality.
How much do peekaboo braids cost?
The cost of peekaboo braids can vary depending on several factors, including your location, the length and thickness you desire, and the type of hair extensions you choose. Additionally, different salons and stylists may have different pricing structures. Typically the cost of the peekaboo braids can average anywhere from $100 to $400.
However, the peekaboo braid style is easy to be done. We will share a step-by-step tutorial to create peekaboo braids at home by yourself.

Peekaboo braids tutorial: How to get stylish peekaboo braids?
Before we dive into the process of doing peekaboo braids, you will need some materials. Here are some items the peekaboo braids technique may involve: hair elastics, a rattail comb, hair clips or hairpins, and some colored hair extensions (human hair extensions and synthetic hair extensions are all available).
Step 1: Prepare your natural hair and hair extensions
Detangle your natural hair with a wide-tooth comb. Secondly, shampoo and condition your hair as you normally would. Allow your hair to dry and apply a small amount of leave-in conditioner to conceal the moisture.
Similarly, detangle and clean your hair extensions. Separate your favorite colored hair extensions into small strands and set them handy.
Step 2: Section Your Hair
Determine where you desire to add a pop of color before you section your hair. Use a rattail comb to part your hair into three sections (two sections in the front at both sides of your part, and one on the back). Then, wrap around two front sections of hair into a bun at the crown and secure the bun with a hair tie.
Step 3: Create Your First Braid
Next, make a horizontal part across the bottom section and clip up the remaining hair. Apply a small amount of hair gel or leave-in conditioner into your hair to smooth it out. Use a rattail comb to separate your hair into even grids. Take a small portion of hair and divide it into three equal parts, and braid it 2-3 times. Then, take a strand of braiding hair and apply it to the braid, and wrap it around with your natural hair braid as you go along. Repeat to feed in braiding hair as you braid. Continue braiding until you reach the end of the section, and secure it with a hair elastic.
Step 4: Repeat to braid
Now that you have completed your first braid, it's time to repeat the process and feed in colored hair extensions. Once you finished the first row, updo the hair and create a new horizontal section of hair, section this part into grids and braid each grid of hair, and feed in braiding hair as the first braid. Make sure the braids are even and symmetrical on both sides. You can create 2-3 rows of colored braids and keep the remaining hair the same as your natural hair color. Make sure the colored braids are completely covered, so they are not visible. And then repeat the process of knotless braid on the front section.
Step 5: Style and Finish
Now that your peekaboo braids are complete, it's time to style and finish your hair. You can leave your hair down or put it up in a ponytail or bun. You can also add beads or charms to add the final touch to your peekaboo braid style.
5 Gorgeous peekaboo hairstyles you shouldn't miss out
The pop of pink adds a vibrant and flirty touch to this bold and playful look, making them perfect for summer festivals, beach trips, or just a day out with friends. And the pink peekaboo braids complement well with dark skin and add dimension to the natural hair shade. They are sure to turn heads and make a statement wherever you go.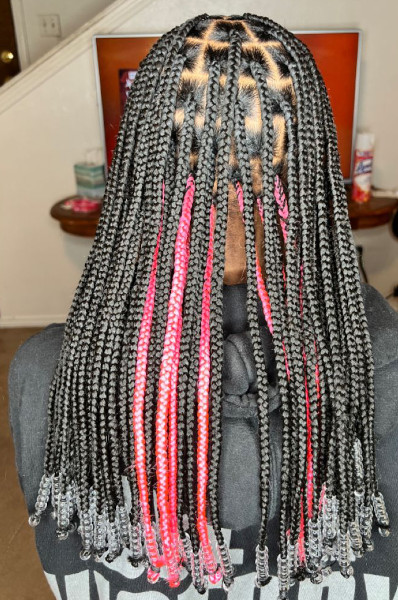 Blue peekaboo braids are a striking and unique hairstyle that will turn heads. These braids are a playful and fun way to incorporate bold and vibrant blue color into your hair without committing to a full head of blue. Whether you want to make a bold statement or simply add some subtle interest to your look, these blue peekaboo braids are sure to turn heads and make you feel confident and beautiful.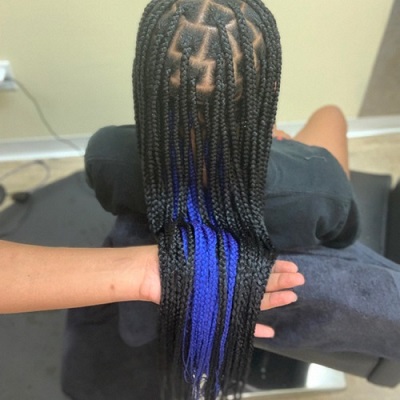 White peekaboo braids are a daring and beautiful hairstyle that can help you stand out from the crowd and express your unique sense of style. They can be worn with any outfit, adding a playful and youthful touch to a casual look or a touch of sophistication to a more formal outfit.
Peekaboo braids with brown
Peekaboo braids elevate your hair game and express yourself in a bold and playful way. While warm caramel brown braids underneath add a complement to the dark skin and bring your look a sun-kissed effect.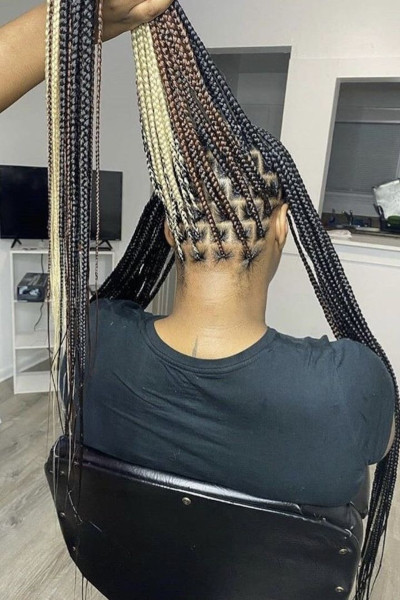 Blue peekaboo braids with beads
Blue peekaboo braids with beads are a striking and playful hairstyle that is sure to turn heads. In this case, the blue color choice adds a fun and vibrant touch to the hairstyle. The beads serve as playful accents that add a bohemian or futuristic touch to the look.
Tips for maintaining peekaboo braids
Peekaboo braids are a chic protective hairstyle that can last for weeks. To keep your peekaboo braids looking fresh and stunning, you'll need to take proper care of them. Here are some tips to maintain peekaboo box braids:
Keep your scalp clean and moisturized: It's essential to keep your scalp clean to avoid buildup and itchiness. Use a gentle shampoo and conditioner to cleanse your scalp and avoid overwashing. Use a lightweight oil or scalp moisturizer to keep your scalp hydrated.
Avoid pulling, tugging, or scratching: Avoid pulling your braids too tightly or putting too much tension on them. Scratching your scalp can cause irritation and can loosen the braids. Use a gentle touch when styling and avoid tight hairstyles.
Protect your braids at night: To avoid frizz and tangling, cover your braids with a satin scarf or bonnet when you sleep. This will also help to reduce friction between your hair and the pillow, which can cause frizz and breakage.
Avoid excessive heat styling: Heat can damage your hair and cause breakage. If you need to use heat styling tools, use a heat protector and set the styling tool at the lowest temperature.
Protect your hair when swimming: Chlorine and salt water can dry out your hair and cause it to tangle. Avoid going swimming with peekaboo braids as possible. Wear a swim cap and apply a leave-in conditioner to protect your hair if you have to go swimming with your peekaboo braids on. Unbraids your hair and take off the hair extensions and make a deep condition for your natural hair and hair extensions after swimming.
Don't keep them in for too long: Although box braids are a protective style, they should not be kept in for too long. Keeping them in for too long can lead to hair breakage and damage. A good rule of thumb is to keep them in for no more than 8 weeks.
Keep your hair hydrated: Just like your scalp, your braids need moisture too. Use a light oil or spray to keep them hydrated and prevent them from becoming dry and brittle.
Be gentle when taking them out: When it's time to take out your braids, be gentle and take your time. Use a detangling spray to help ease the process, and avoid using any harsh materials that could damage your hair.
By following these tips, you can maintain your peekaboo box braids and keep them looking their best for weeks to come.
Visit Elfin Hair and discover more chic peekaboo wig styles!
Related Posts:
Braids Vs. Twists, Which One Is Better?
8 Tricks To Get Gorgeous Curls Without Heat Or Products
All You Should Know Before Buying Afro Wigs