Lace Frontal Vs. Full Lace Wig: Get the One That Satisfies Your Needs
If you want to gain accurate knowledge of wigs before purchasing, then you are at the right spot. We are going to fully explain the most anticipated question by the new wig wearers; what the contrast between lace frontal wig and full lace wig is? You will see detailed but easy-to-understand information about them. So, ladies, let's start; so, you can purchase what meets your requirements and do not regret it later.
Moreover, when you search about a particular thing on the internet, especially about wigs, you find conflict between statements. That increases ambiguity. Therefore, we are giving you info about human hair lace front wigs and full lace human hair wigs straight from our experts.

1. Define Lace Front Wig:
In this type of wig, the lace is only at the face/front, which is fixed on the front hairline horizontally that covers the area between the ears. In addition, the lace front wig also contains the cap part, which has adjustable elastic bands, combs at the front, backside, and left and right. In the netted part, human hair is tied manually means by hand, and on the cap part, hair is tied by a machine like on a regular wig cap.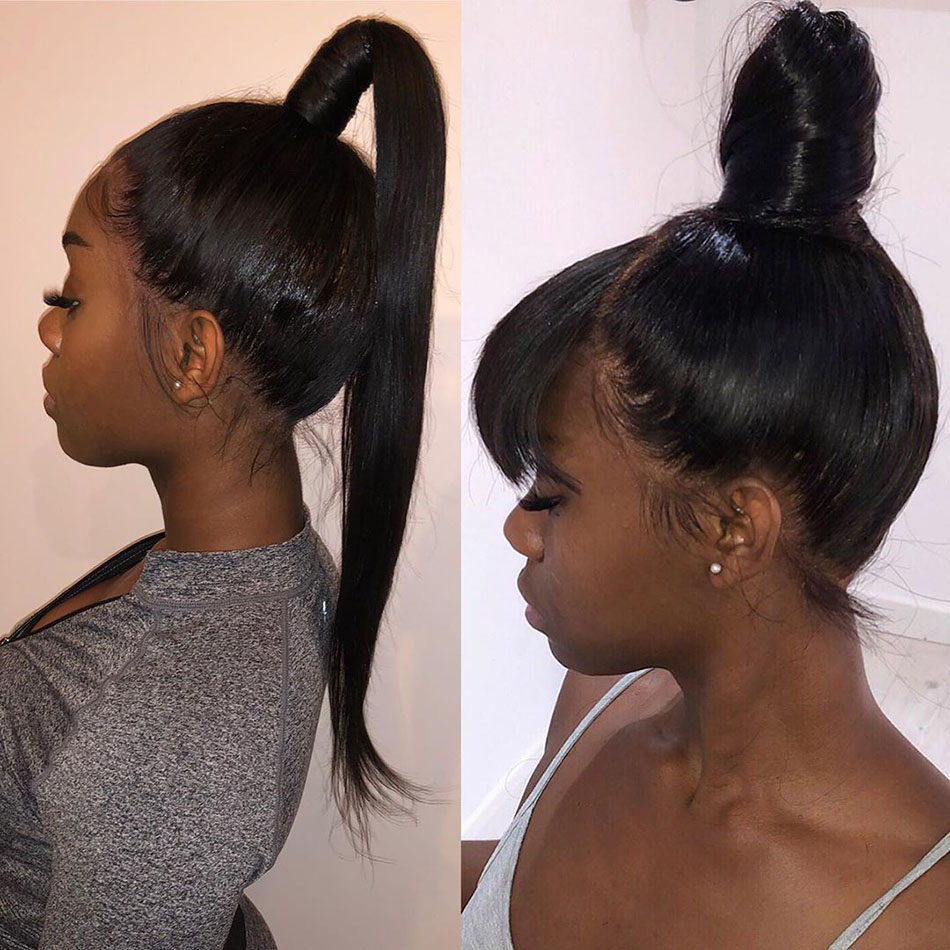 2. Define Full Lace Wig:
This wig contains lace all over that you set and wear on the head. The human hair is manually tied on all over the lace. It means the only hand-tied technique is used to add hair to the wig. On the top wig part, there's a stretchable lace used that gives it the flexibility to fit on any head size. Furthermore, it also includes combs and an adjustable band.
3. Dissimilarity Separating Lace Front and Full Lace:
Here are the basic contrasts between these two lace hairpieces.
3.1 Versatile, Adaptable Hairstyle:
The lace front involves lace only at the beginning maximally till the head crown. And if you desire your hairstyle to seem real, you need to make a partition line to where the lace is. So, you can not make any partitions and hairdos you aspire to. You can establish a front side part, middle part, and top-knot hairstyle. But you can not wear it in a ponytail, high bun. Instead, it is most suitable for low, flat ponytails and low buns. Otherwise, wefts in the back head can be seen.
In comparison, full lace wigs are completely manually tied and only contain lace in all wig construction and the wig's perimeter too. There are no wefts and tracks. Traditionally, it has no particular part. You can freely do it all over your head when applying a full lace wig. It gives you the highest versatility in making hairstyles. If you want to tie hair high up or make two Dutch braids while creating a partition line from the front hairline till the nape of the neck or any kind of hairstyle you want, then full lace is fittest.
3.2 Natural Appearance:
In a lace front wig, only hair on the netted part is manually tied, which means hair by hair installation by hand. While on the cap part, there are wefts or tracks installed. Therefore, only the front side provides you with a realistic appearance, and the backside of hair looks unnatural. However, it does not become visible to others unless unraveled the backside of the head.
On the other hand, the full lace unit only contains lace (netted material) all over the hairpiece. Moreover, hair is fastened by hand, strand by strand on the whole wig. Therefore, it offers a more realistic appearance than a lace front unit.
3.3 Breathability:
A lace front wig has less (netted material) lace in the wig production, while a human hair full lace wig only has lace in the structure. In other words, a full lace unit contains more netted material (lace) than a lace front unit. The point is, the more the lace is, there will be more space for air to come in and out. So, a full lace wig allows tremendous breathability.
3.4 Weight:
Because the front lace wig holds a wig cap part on which wefts and tracks are installed. While a full lace wig only has lace to which hair is attached by hand. Therefore, the front lace unit weighs more than a full lace unit.
3.5 Pricing:
Full lace human hairpiece is costly than a lace front hairpiece because a full lace wig grants extreme adaptability in hairstyles, high breathability, realistic appearance, and is less weighted than a lace front wig.
3.6 Installation:
When it comes to installation, a front lace human hair wig is more straightforward than a full lace front. The reason is, in the lace front, you require to stick down and focus on blending the lace only at the front. Moreover, it is helpful if someone is a newbie and wants to get ready a bit early, then a lace front wig is most suited for you.
While you necessitate being an expert for installing a full lace wig because it has lace all along its perimeter, so, you also necessitate to invisible the lace at the nape of your neck. However, we have tips to ease you while styling the back part (lace at the nape) of a full lace wig. First, arrange your wig on your head while the back part is at the face hairline. Cut material on lace and take it out. Apply foundation on it, resembling your skin complexion. Now, move the back part to the nape and use blasting spray to fix it there and melt in the skin.


4. Where to Get the Best Lace Frontals and Full Lace Wig?
Let us tell you one thing clearly; a lace front wig has no major down points in comparison to a full lace wig. Both have identical and great features, but full lace gives those features at an advanced level. That's why a full lace wig costs more than a lace front unit.
Suppose you have a flexible budget then a full lace wig is comprehensive. Otherwise, nothing is sufficient than a lace front wig.
4.1 Best Online Wig Store:
To get durable human hair full lace wig and lace front human wig, built of 100% human hair, head to www.elfinhair.com.
4.2 Human Hair Lace Front Wigs:
You can buy any size of a cheap lace front wig, either 13*6 or 13*4, in any hair length and hair texture that lasts longer with no damage to its lace.
Check out the largest collection of 13x4 lace front wigs and 13x6 lace front wigs at Elfin Hair. All our lace front wigs are made with 100% human hair, come at soft, smooth, glossy textures, with natural appearance and touches, almost no shedding, no tangling.
4.3 Full Lace Wigs:
Getting a real full lace wig at economical prices that lasts longer is not easy. But it is straightforward if you meet a trusted online wig store.
Click the link to view and purchase our full lace wig: click here.

Related Articles:
Discover What Is Fittest for You Among 13x4 and 13x6 Lace Frontal
HD Lace Wig Complete Guide: Is It Better? Swiss Vs. Transparent Vs. HD Lace
What You Need to Know About Lace Front Human Hair Lace Wigs?