Tutorial: How to remove tape-in hair extensions safely?
Tape-in extensions for African American hair are now available from Elfin Hair. And we have also received lots of positive feedback from our customers, as well as some doubts, including how to install, how to maintain, how to remove, etc. If you also have the same doubts about the use of tape-in hair extensions, take it easy, we have got you. And we have shared a tutorial about "How to install and maintain tape-in hair extensions?" in our previous post, click to read more.
In this post, we're going to share with you all the tricks you should know about how to remove tape-in extensions without bringing any harm to your natural hair. Keep scrolling.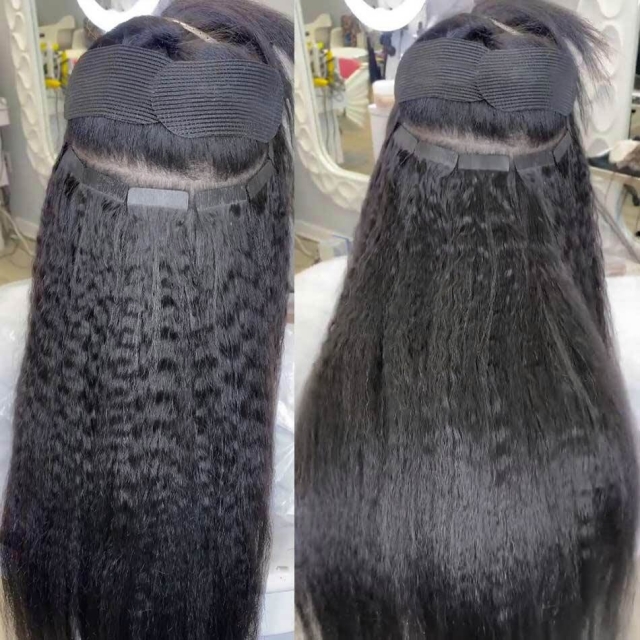 When to remove tape-in hair extensions?
To avoid getting unbearable tangles, itch, hair loss, or other hair problems, we highly suggest our customers remove and reinstall tape-in extensions at least every eight weeks.
Can you remove tape-in extensions at home by yourself?
Some may be wondering if they can remove their tape-in extensions at home. The short and direct answer is that "sure, no problem". You can use an adhesive remover that is especially for tape-ins, or you can pick an oil-based hair conditioner or natural oil (including coconut oil, olive oil, baby oil, or hair conditioner) as an alternative.
How long does it take to remove tape-in hair extensions?
Some may also be concerned if the whole removal process of tape-ins takes a long time. Typically, it will take about 20-45 minutes depending on how many pieces of tape-ins are in your head.
Can tape-in extensions be reusable?
Of course, surely. You can reuse your tape-in hair extensions by using a new tape. High-quality tape-in extensions that are made of cuticle-aligned human hair can be reused for 3-4 applications.
How to remove tape-in hair extensions?
Step 1: Pull your natural hair up that is covering the tape-ins and use a hair tie or clips to secure your natural hair to expose the tape-ins.
Step 2: Apply oil-based extension removal products to the tape to dissolve the glue. For alternatives, you can choose a tape remover that is made especially for tape-ins or choose natural oils or hair conditioners. Rub the removal product into the tape and leave it to sit on your hair for about 10-15 minutes.
Step 3: Take off tape-in hair extensions.
Once you feel the tape-ins start to get loose, gently peel the tape row by row. If the extensions are not easy to peel off, apply more oil-based products and wait. Repeat to take off all the tape-in extensions.
Step 4: Gently comb your natural hair to detangle your hair. Thoroughly shampoo and condition your natural hair to remove any residual glue. Rinse your hair with lukewarm water and use a soft towel to absorb the excess water. Blow your natural dry with the lowest heat setting.
Step 5: Reuse tape-in extensions. Lay the extensions flat and apply the remover on the tape to get rid of the glue. Wait for a while until the glue starts to dissolve and then use your nails to scrub the old tape off. And then you can apply a drop of dish soap to the tab to remove the residual glue. Rinse, shampoo, and condition the hair extensions. Leave them air dry and then apply a new tape to the tab.
Tape-in hair extensions tips and tricks
Seek assistance from a professional hairdresser is the safest way to remove tape-in hair extensions.
Tape-in extensions should be removed and reinstalled every 6-8 weeks.
If you can't find a tape-in hair extension remover, you can use other natural oils as an alternative, such as coconut oil, olive oil, baby oil, etc.
Tape-in extensions are the safest and quickest way to add lengths and volume to one's hair look. It always works to boost your charm and confidence instantly. And it's also easy to remove and maintain. We hope that after reading this post, you have learned all the basics and tips about the removal of tape-in hair extensions.
Elfin Hair provides cuticle-aligned human hair tape-in extensions for black hair textures. Explore different textures designed for black women! Affordable 100% virgin hair tape-in hair extensions that can be dyed, washed, and styled just like your own natural hair.
Related posts:
How to Put In Tape-In Hair Extensions?
Clip-in hair extensions pros and cons