All You Should Know Before Buying Afro Wigs
What is an afro wig?
An afro wig is a wig designed to resemble an afro hairstyle, typically characterized by a full, round shape with tight curls. It is often used for fashion, costume, or as part of a costume, and can be made of synthetic or natural hair.

How to wear an afro lace wig?
Here are instructions to step-by-steps install an afro lace wig on natural afro hair:
Step 1: Prepare your natural hair
Before wearing a wig, clean and condition your hair to make sure it is healthy, moisturized, and detangled. If you have short hair, you can slide your hair back with Got2B. If you have long hair, you can cornrow your natural hair. Since 4c afro hair is fragile and prone to get dry, you can rub a small amount of leave-in hair conditioner onto your natural hair. Before putting the wig cap on, ensure your natural hair is well moisturized and braided flatly. This is to prevent hair breakage and provide a flat base for a more natural result.
Step 2: Put on a wig cap
A wig cap keeps your natural hair in place and prevents your wig from sliding off. Choose a wig cap that fits well and is comfortable. A wig cap that is too tight can cause headaches, while a cap that is too loose can cause the wig to shift or slip.
Put on your wig cap and adjust it to cover all your natural hair.
Step 3: Position the wig on your head
Make sure the wig you buy is the correct size for your head to ensure a comfortable fit. Line up the front of the wig with your forehead and position it to cover your hairline. This will make the wig look more realistic and blend in with your own hair. Pay attention to the nape of the neck, making sure the wig covers the area completely and does not expose any skin. Secure the wig with combs or clips to keep it in place. Adjust the band to make the wig fits your head. Make sure the wig is not too tight and is not causing any discomfort or headache while wearing your wig.
Step 4: Glue the lace
Clean the skin around your hairline with alcohol-dipped cotton. Apply the glue along the hairline and edges of the lace. Wait for the glue to become tacky, usually between 30 seconds to 1 minute. Position the wig onto your head and press the lace down onto your skin. Allow the glue to dry completely, usually around 10-15 minutes.
Step 5: Trim the lace
Use a pair of sharp scissors to trim the excess lace at the front of the wig to create a more natural look. Be noticed that only cut as much lace as necessary to ensure a comfortable and secure fit. Avoid cutting too much, as this can affect the overall look of the wig.
Step 6: Style the wig
Once the glue is dry, you can style your wig as desired. Use a wide-tooth comb to detangle and shape the afro. Or you can directly use your fingers to gently fluff out the wig and style it to match the shape of your head. You can also use products such as mousse or gel to help maintain the shape. Use a small amount of makeup around the edges of the wig to make it look more natural. Finally, Apply a lightweight spray to help maintain the beautiful tight curls. To achieve a more natural look, you can cut the wig to trim any excess hair or frizz to make the wig look more natural.
Note: Be gentle when brushing or combing the wig, as it is made of delicate human hair. Always follow the instructions on the packaging and seek professional help if needed.

How much is an afro wig?
The cost of an afro wig varies depending on the quality, length, and density. On average, a high-quality human hair afro wig can cost anywhere from $100 to $500 or more. Elfin Hair offers high-quality 4c curly afro wigs at an adorable price! Click and explore!
Where to buy an afro wig?
Elfin hair new launches flurry 4C afro wig selections for black hair. These wigs imitate the real 4C hair and have different sizes and a realistic texture. It is designed for those afro hair lovers and for those African American women that desire the most natural result. All our hair and wigs are made of 100% human hair, durable, textured, and can blend well with natural hair. Click and explore the latest selections of 4c curly afro hair in a variety of colors, textures, and lengths.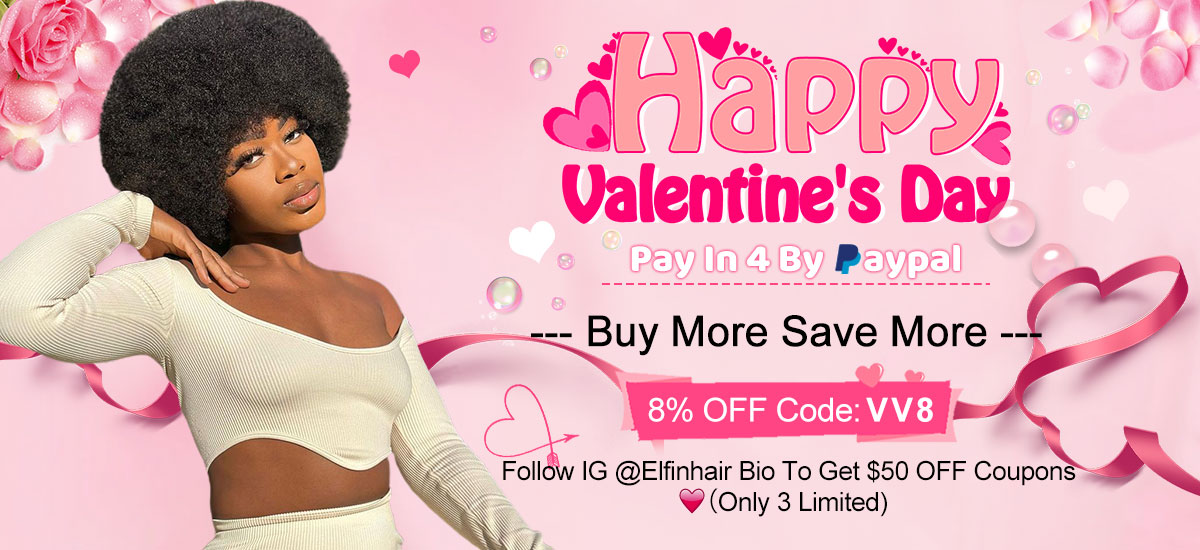 How to make an afro wig look natural?
Here are some tips and tricks to make an afro wig human hair look more natural:
Tip 1: Make sure the wig you buy is made of 100% human hair. These types of wigs always look more natural than synthetic hair wigs.
Tip 2: Make sure that the afro wig is the right size for your head and ensure the texture and color of your afro wig are realistic and close to your natural hair. So the afro wig will not move around too much and look more natural.
Tip 3: Opt for an HD lace wig. HD lace provides a more natural blending and melting hairline than other lace wigs. Or you can choose to bleach the knots to hide the knots of the lace. This helps to create a more natural-looking hairline.
Tip 4: You can customize the hairline by plucking individual hairs to create a more natural-looking hairline. Use tweezers to pluck individual hairs one at a time. Pluck lightly and gradually to avoid over-thinning or damaging the wig. Be mindful of the density of the wig and adjust your plucking accordingly. Plucking a wig requires a bit of professional skill, or you can directly invest in a pre-plucked lace wig for a more natural looking.
Tip 5: Use your fingers to gently fluff out tight curls of the afro wig and style it to look like your real hair. You can also add hair products such as edge control or light oil to give the wig a bouncy touch. It's available for you to use heat tools such as flat irons and curl irons to create a more natural look. Just be noticed to set the heat tools at the lowest temperature and spray a heat protector before you apply heat to your wig.
Tip 6: Apply some makeup around the edges of the wig to make it look more natural. You can also use concealer or foundation to blend the hairline further. Or you can use a headband or scarf to hide the hairline. This can also make the wig more secure and completely hide the hairline.
Tip 7: If necessary, trim the wig with a pair of sharp scissors to remove any excess length, create a more natural-looking hairline, and eliminate any obvious seams. If necessary, visit the salon to add some layers to create movement and texture in the hair.
Related posts:
Things To Know Before Sewing Extensions On Afro Hair
8 Protective & Low-maintenance Styles For 4C Hair
4C Hair guide: How to identify 4C hair & How to care for it?
Top 10 Attractive Cornrow Braids Styles For Black Women