How to protect your hair under a wig?
Does wearing human hair wigs stop your natural hair from growth?
Definitely no. Just the opposite, wearing a high-quality human hair wig can not only boost your charm and confidence but also protect your natural hair from heat treatment and chemical treatment from prem, bleach, dye and iron-flatted, etc. Of course, if the hair underneath your wig isn't properly protected or looked after, damages can be caused. But if you take good care of your natural hair underneath the wig, say nothing of wearing a wig can stop the natural hair growth or destroy the hairline.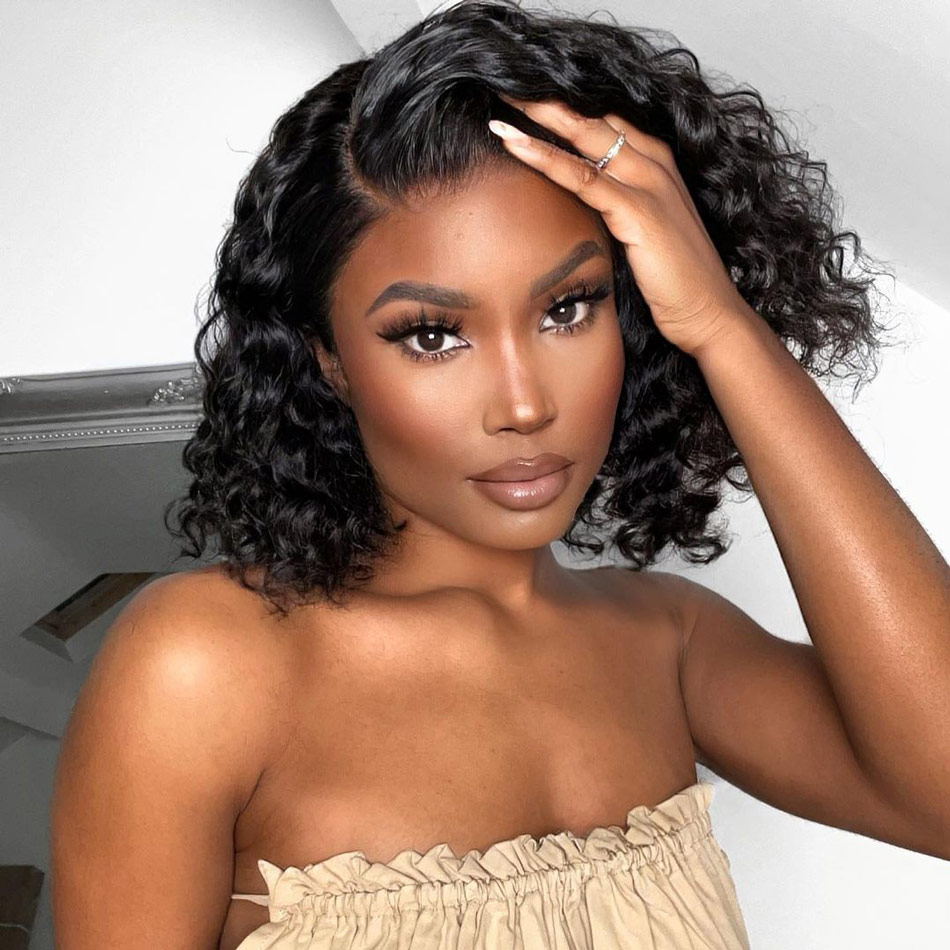 8 Tips to protect your natural hair while wearing a wig
Tip 1: Wash your natural hair and let it dry thoroughly before wearing a wig.
Use a moisturized and mild shampoo to wash your natural hair thoroughly, and then blow your washed hair with a hairdryer to refresh your natural hair and let it dry thoroughly before wearing a wig. Keeping the natural hair underneath the wig clean and dry can bring many benefits. It can avoid causing bacterial growth, which may lead to a bad smell, an itchy scalp, or stop your natural hair growth. It can help to leave some air for your natural hair to breathe. Besides, putting a wig on the wet natural hair and wet scalp may also cause a cold.
Tip 2: Keep your wig clean.
If you want to eliminate the damages of wearing a wig, keeping your wig clean is necessary. It's necessary to wash your wig once a week if you wearing a wig almost daily. Pick a mild shampoo to wash your wig and let it air dry on a wig stand. Besides, ensuring your scalp and natural clean can also help to keep your wig clean and prolong its lifespan.
Tip 3: Be gentle and careful while braiding your natural hair before wearing a wig.
Before starting to braid your hair into tails or cornrows, make sure your scalp and natural is completely dry. Avoid braiding too tightly or pulling your natural hair and scalp while braiding.
Tip 4: Put on a wig cap while installing your wig.
A wig cap can not only help to create a natural look but also create a layer between your natural hair and the wig, which can reduce friction and protect your natural hair.
Tip 5: Be gentle and careful while installing a wig.
Make sure your wig is not too small or too big, if the wig can not fit your head well, it may lead to excess rubbing along the hairline, which can bring damages to your natural hair. Besides, be mindful of the clips and combs that come with a wig, which may also cause hair loss.
Tip 6: Avoid sleeping in your wig.
Cause sleeping with your wig on, your wig may friction with your pillow and your bed, which may cause your wig to become tangling and shedding. Besides, it's necessary to remove your wig before going to bed, so that your scalp can breathe freely at night. And this can promote hair growth, too. Both no-glue wigs or head band wigs are ideal options since they are easy-to-remove nightly.
Tip 7: Massage your scalp regularly.
To promote the growth of natural hair under the wig, you not only need to maintain your scalp's breathability, cleanness but also need to ensure the scalp is under good blood circulation. Massage your scalp regularly can stimulate the scalp and let it relax. This can help to promote blood circulation and hair growth. It's highly recommended by experts that to massage your scalp 2-3 times a week.
Tip 8: Make a deep condition for your natural hair regularly.
Use a hair conditioner to make a conditioner for your natural hair at least 1-2 times per month.
Best Human Hair Wigs At Elfin Hair
A high-quality human hair wig with premium breathability and comfort can no doubt that let your scalp and natural hair sit in a good state.

Elfin hair specializes in all types of 100% human hair wigs, from easy-to-install human hair headband wigs to premium breathable human hair lace front wigs, Elfin Hair has got you covered. All Elfin Hair's wigs and human hair bundles are made with 100% Remy virgin hair, soft, shine, silky, with no tangling, no shedding, no split end, which can certainly bring you a premium comfy and protect your natural hair well. Elfin hair receives a huge number of good reviews from global customers every day, welcome to explore the best human hair wigs at Elfin Hair.
Related Articles:
How long does a human hair lace front wig last?
Transform Old Wigs: How To Soften & Restyle Your Human Hair Wig With No Damage?
How to Apply Your Lace Front Wig for a Natural Look?
How to do Pre-Plucked Lace Front Wigs?
Everything you need to know before dyeing a human hair wig