How to crochet braids with weave?
Let go of the days when you sat in a salon chair and waited for hours to have your hair styled. Crochet braids are not only a protective hairstyle that helps hair growth but also a quick and easy style that allows you to DIY at home. If you opt to do it yourself, you just need to pay for the hair extensions! This braiding style shaves off time and money while also providing a wide range of styling options. It's ideal for those who desire a long-term protective hairstyle that can be done at home.
Here we are about to share a complete crochet braid tutorial, including what exactly crochet braiding is, and how to make, style, and maintain crochet braids. If you also have an interest in this, keep scrolling.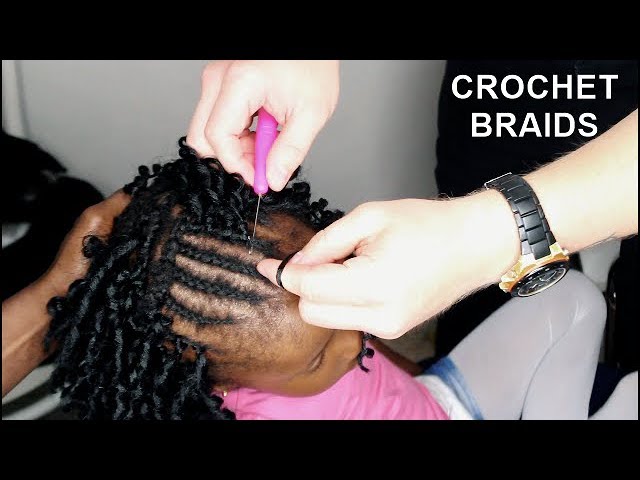 What are crochet braids?
Crochet braids, also known as latch hook braids, is a braiding method to add hair extensions to a cornrowed base with a crochet needle. This extension method requires no glue or heat. It's one of the most popular protective styles to enhance length and volume.
How long do crochet braids last?
Typically, crochet braids can last for about 4 - 6 weeks with proper crochet technique and care. Even with the best maintenance, don't leave the crochet braid on your head for more than 8 weeks. Or it might put too much pressure on your scalp and lead to breakage. Once you feel unbearable dryness and itch, it's time to remove your crochet braids and give your natural hair a break.
Is crochet braids a protective hairstyle?
Yes, of course, crochet braiding is a protective style. This hairstyle can not only retain moisture but also helps hair growth and prevent breakage.

Why are crochet braids so popular?
There are a couple of reasons that make this braiding style so popular:
Chic and versatile: With this crochet braid method, you can loop pre-twisted locs, or you can wear curl or straight bulk hair on your cornrowed natural hair. There are various types of hair extensions in different textures, colors, and types for your choice. Moreover, this braiding style can smoothly support any hairstyle you desire, such as ponytails, half-up/half-down, twists, box braids, faux locs, etc. You can rock any hairstyles you desire with this crochet braiding technique.
Protective style: With this crochet braiding technique, your natural hair is cornrowed and well-protected under hair extensions. It helps to retain the moisture of your hair and prevent unnecessary damage from heat styling tools or harsh chemicals.
Long-lasting: With proper installation and maintenance, crochet braids can last for about 4-6 weeks. This is the ideal solution for those who wish to avoid the tears of daily styling. It's chic and low maintenance, that's also why crochet braids are so popular.
Quick and easy: This crochet braiding technique is quite simple and time-saving. You just need to braid your natural hair into cornrows and hook the extensions with a crochet needle to attach them to your cornrowed natural hair. Unlike other protective hairstyles, crochet braids are quick to install. The whole crochet braiding process usually takes about 2-3 hours to complete.
DIY available: Crochet braids are not only a protective hairstyle that helps hair growth but also a quick and easy style that is easy to DIY at home. Although this braiding style requires a special crochet needle to hook the extensions onto your natural hair, you can use a bobby pin as an alternative. You can easily do the whole wearing process on your own without any assistance.
Inexpensive: Since this braiding style can be DIY at home, you may just need to pay for the bulk hair or the pre-twisted passion twists. It's much cheaper than other protective hairstyles that have to be done by a stylist. Cause it cuts the cost of hiring a hairdresser. What's more, crochet braids do require some maintenance, but they can easily be finished at home, which also saves the upkeep payment. Consider the crochet braiding style as your first choice if you are looking for a protective hairstyle that saves you time and money.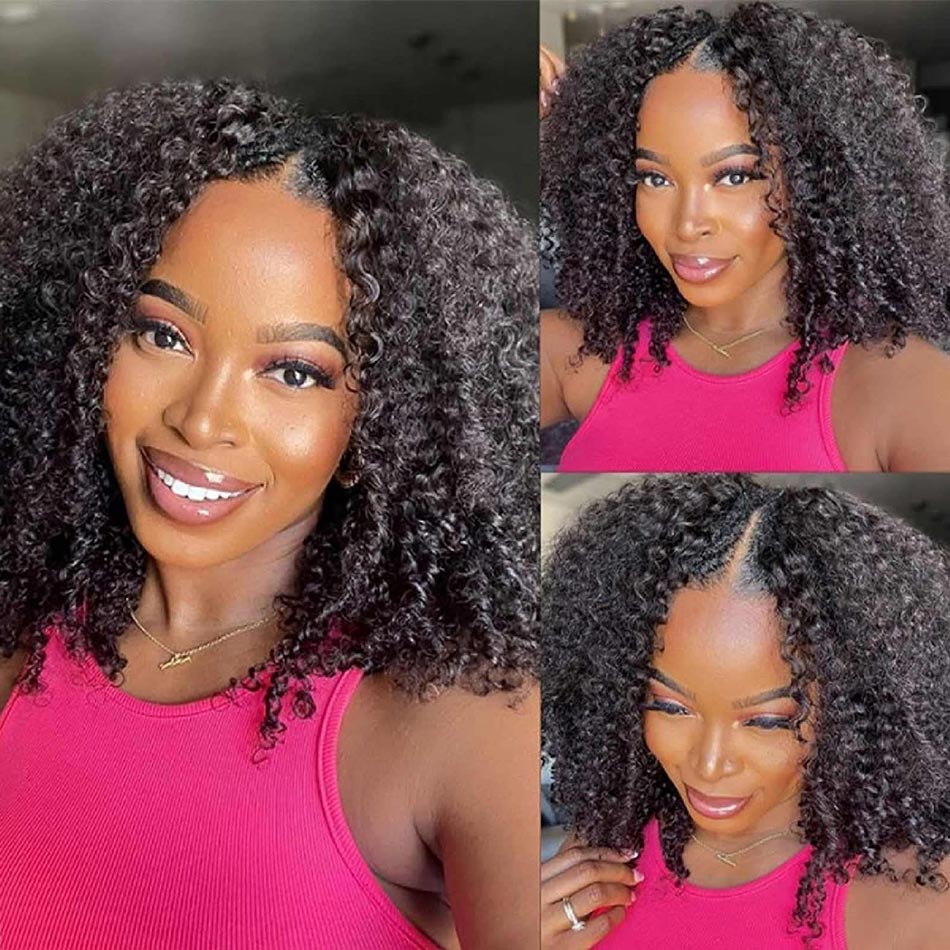 How to prepare your hair for crochet braids?
Thoroughly wash and condition your hair and scalp before braiding your hair into a crochet hairstyle. A healthy and moisturized foundation is essential to ensuring that crochet braids last for a long time and promote hair growth.
Tip 1: Trim your hair to remove split ends and blunt hair. This can help natural hair growth and prevent damage to your hair.
Tip 2: Detangle your hair with a wide-tooth comb before washing it. This can help to loosen knots and minimize hair shed while washing your hair.
Tip 3: Thoroughly wash your hair with a sulfate-free shampoo.
Tip 4: Make a deep condition before you dive into the braiding process. Let the conditioner sit in your hair for a while so that it can deeply condition your hair.
Tip 5: Dry your hair with the lowest heat setting. Give your hair a spray of heat protectant before you apply heat to your hair.
How to make crochet braids?
Although crochet braids are quite simple and quick to install, improper installation can also lead to breakage in your hair. Thus, before you dive into the braiding process, you need to understand the whole braiding procedure. Here is a step-by-step crochet braiding tutorial for you:
Here is what you need:
A wide-tooth comb;
Shampoo and conditioner;
A latch hook or a bobby pin;
Human or synthetic hair extensions (bulk hair or pre-twisted locs are all available);
Natural oil or leave-in hair conditioner;
Step 1: Prepare your natural hair
As we mentioned above, the first thing is to ensure your natural hair is clean, detangled, and well-moisturized before you dive into the braiding process.
Step 2: Make cornrows
Similar to the sew-in weave method, you need to braid your natural hair into flat cornrows. Braid cornrows rows by rows from your hairline toward your nape on the back. Create thin cornrows wherever you desire to make a part and keep these cornrows close together so that the part line does not look too wide. After you have braided all your hair into cornrows, massage a small amount of leave-in conditioner or natural oil into your hair to add extra moisture.
Be mindful not to braid too tight, or it may lead to unnecessary tension on your scalp and cause hair loss.
And if you have long hair, you can stuff the tails of the braids into the gaps between the cornrows. You can sew the tails into the cornrows to achieve a flat base.
Step 3: Add extensions
Grab a strand of hair extensions. Put your latch hook through under a cornrow. Open the latch, glide the hair strand into the hook and close the latch. Pull the hook and part of the hair strand through the cornrow. Use your fingers to pull the through-section of the hair strand into a hoop. Loop the tails of the hair strand into the hook you just created. Twist the loop with your fingers and put the tails of the hair strand through the loop again. Then tighten the loop to attach the hair strand to your natural hair. Repeat the braiding process until you have finished a full head.
Be noticed that avoid braiding hair extensions into your hairline, start at about 0.5 inches away from your hairline.
Loop twice or even three times to ensure the hair extensions are firmly secured. So you don't need to worry about facing the embarrassment of hair slide-off.
If you desire a more seamless result, section your hair extensions into thinner strands, so the knots are more undetectable and tend to be concealed. Curly or pre-twisted hair can also hide knots and provide a seamless appearance.
Space the hair extensions where you feel appropriate. If you feel the hair extensions are too heavy, remove some. If you think it's not thick enough, add hair extensions more densely.
Step 4: Style your hair
Now you can style your crochet braids as you desire. You can simply curl or straighten the hair to make it look more natural. And you can simply pull your hair extensions into a bun or twist the hair into locs as you desire. Of course, if your hair extensions are already twisted, you can skip the twist procedure.

How to wash your crochet braid hairstyle?
Some may wonder if they can get their crochet braids wet. Crochet braiding definitely can be wet. How to wash crochet braids is also the most concerning point. Here is a tutorial for your reference.
Step 1: Preparation
Detangle your hair extensions with your fingers. Dilute your favorite shampoo and water according to the proportion of 1:4 in a spray water bottle (Or you can buy a co-wash shampoo instead).
Step 2: Clean your scalp
Spray the mixture on the exposed scalp. Gently massage your scalp with the pads of your fingers. Don't scratch with your nails. Rinse your hair with warm water instead of hot water or your scalp can be scalded. Gently massage your scalp to thoroughly clean it.
Step 3: Wash your hair extensions
Pull your hair extensions up and squeeze out the excess water. Gently rub an appropriate amount of hair conditioner into your hair extensions. Be sure to wash your hair extensions with conditioner instead of shampoo. Let the conditioner sit for 5-10 minutes. And then rinse the product thoroughly with warm water.
Step 4: Towel dry your hair
Wrap your hair up with a soft towel to absorb excess water. If you are in a hurry, you can also opt to blow dry your hair on the lowest heat setting.
Step 5: Moisturize your hair
Trim away split ends and tangles to refresh your braids with a pair of sharp scissors if necessary. Finally, apply a small amount of leave-in conditioner or light oil to your hair extensions to add extra moisture and shine to your crochet braid style.
So the above information provides a complete guide to washing your crochet braids without causing any frizz. Typically, crochet braids should be washed or co-washed once every two weeks. In between washing days, dry shampoo is also a convenient alternative.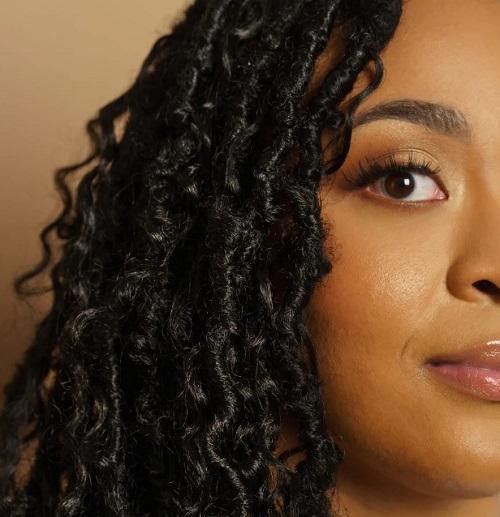 How to care for and maintain crochet braids?
Maintenance and TLC are always the keys to their longevity, just as with other extension techniques. Here in this part, we're going to share some tips for the crochet braid care routine:
Tip 1: Condition your real hair in advance.
It's vital to ensure your crochet braids are created on a well-moisturized base. Massage a small amount of leave-in hair conditioner into your natural hair to moisturize it before you dive into the braiding process.
Tip 2: Hydrate your scalp regularly.
Opt for a gentle and lightweight hair oil for your hair care routine. Massage a small amount of hair oil into your scalp to hydrate it and nourish your hair follicles every morning. You can DIY a lightweight hair oil by loosening coconut oil or olive oil with warm water.
Tip 3: Wear a satin scarf at night.
Before heading to bed, wrap your hair up with a satin scarf to prevent your hair from getting frizzy and retain moisture. Or you can invest in a silk pillowcase to minimize frizziness and tangles. Pineapple crochet braids are also a smart choice to prevent curls from fading away.
Tip 4: Trim the frizz.
Trim away any tangled ends and frizz from your braided hair with a pair of sharp scissors every 3-4 days. This is the secret to giving your crochet braids a fresh look.
Tip 5: Don't neglect your edges.
Never neglect your edges while moisturizing your hair. Spread a small amount of edge control to slick back your hair to refresh your crochet style. Moreover, avoid braiding your hair extensions into your edge, instead start about 0.5 inches away from your hairline.
Tip 6: Avoid combing your pre-twisted crochet hair with a brush.
Detangle your pre-twisted passion twists with your fingers instead of with a brush.
Tip 7: Avoid exposing your crochet braids to chlorine.
Although crochet braids can be washed and worn while swimming. Chlorine can strip oil from hair extensions and lead to hair frizz and dryness. Therefore, you should avoid exposing your hair extensions to chlorine. If you must dive into the pool with your crochet braids on, put on a swimming cap in advance. And give your hair a deep shampoo and condition it after swimming.
Gorgeous crochet braid hairstyles
This crochet braid provides you with a protective hairstyle that allows you to rock various gorgeous hairstyles. You can simply part to any side to flatter your face shape. You can add bouncy curls locs to achieve an effortlessly fabulous look. You can simply pull your hair into a daily ponytail or bun as you desire. Here are some easy and chic hairstyles for your crochet style inspiration:
Faux locs are the most classic hairstyle that perfectly pairs with the crochet braiding technique. You just need to weave the pre-twisted locs individually during the braiding process.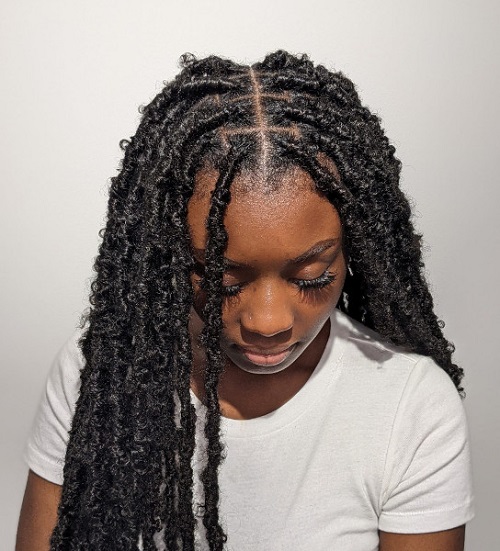 This style is chic and easy to achieve. You just need to create a horizontal section from ear to ear. And pull the bottom section of hair into a ponytail. It looks energetic and neat.
This style perfectly matches all occasions and outfits. Side part crochet can perfectly soften your cheekbones and add a lazy sexy touch to your whole look.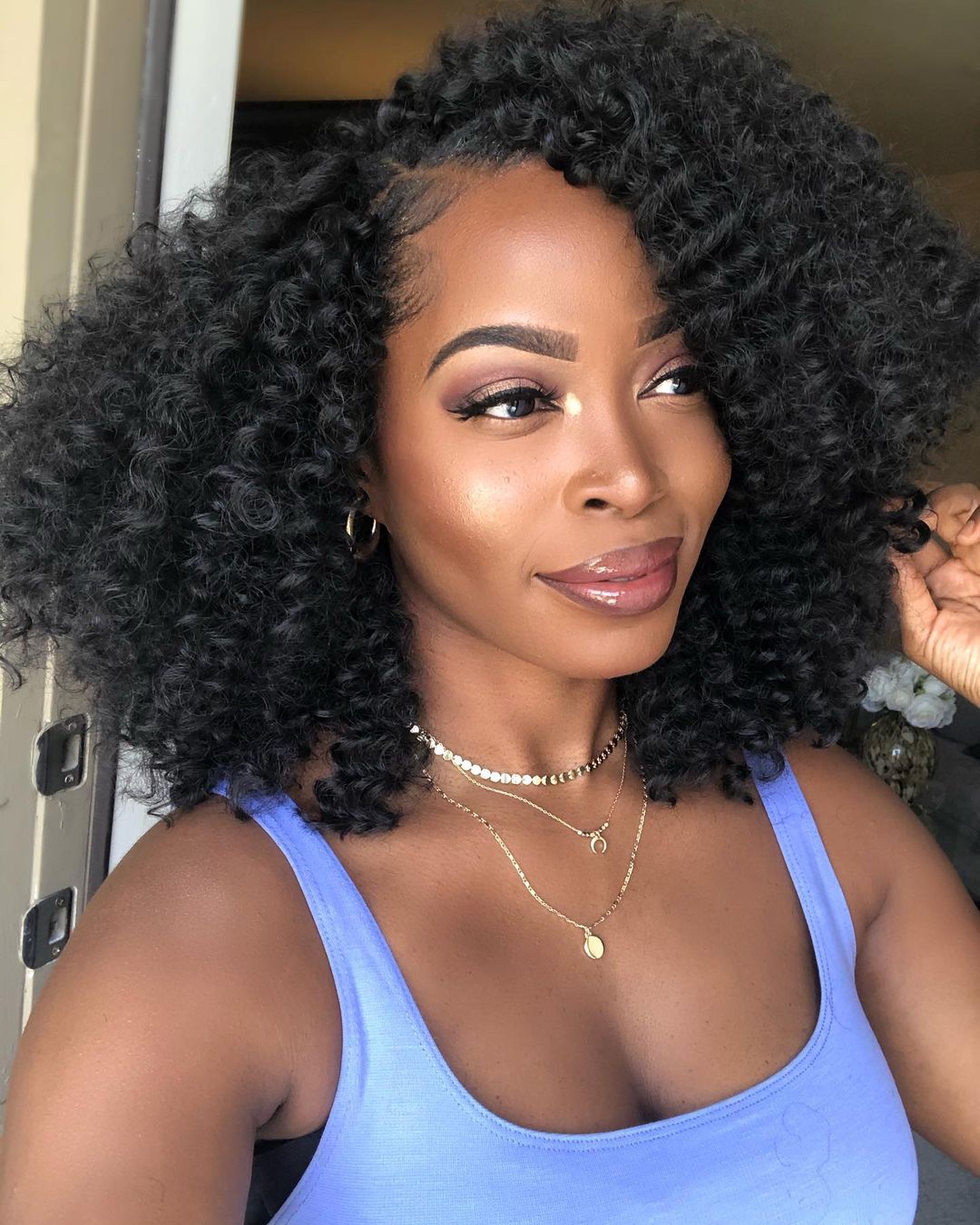 This hairstyle looks full and bouncy. The chic blend of colors makes it ideal for those who desire to get as many compliments as possible.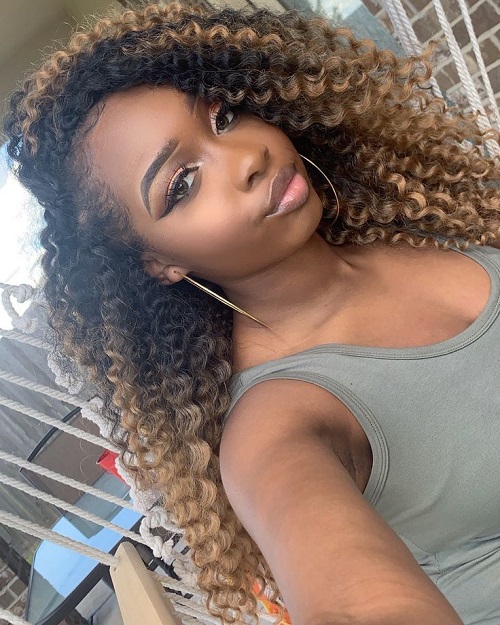 This is a gorgeous hairstyle that allows you to have both twists and curls on your head. It's a stunning hairstyle that won't leave you unnoticed.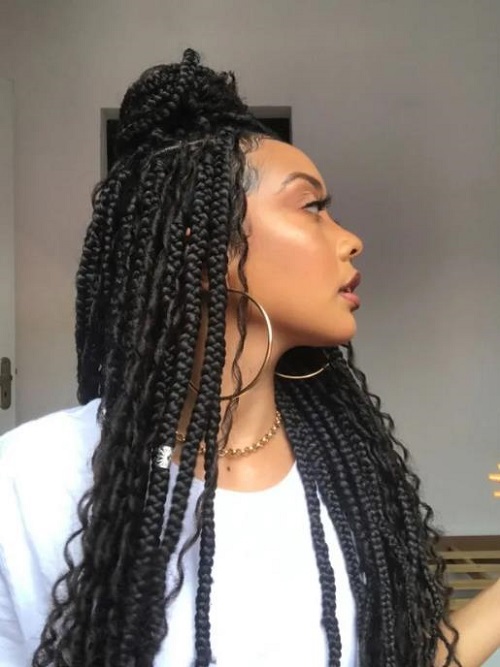 Passion twist crochet braids
This chic hairstyle is one of the most effortless styles to match crochet braids.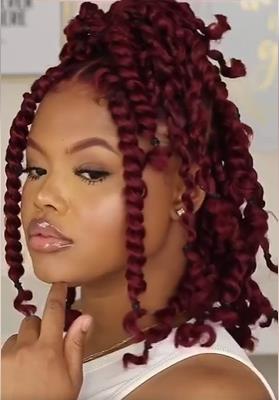 Final thoughts
You girls shouldn't miss out on crochet braids; they are the easiest, most versatile, and low-maintenance protective style. We hope you enjoy this post. We have shared all about crochet braids in this post. Now you can dress up and slay this chic style at home. We believe that once you try this gorgeous protective style, you'll fall in love with it.

Related Posts:
How To Wear Red Highlights On Black Hair?
How To Create Bantu Knots With Weaves?
Comprehensive guide to dyeing hair extensions