How To Choose The Length Of Hair Bundles?
How to choose the length of hair bundles?
Picking the perfect length for your hair extensions is crucial in achieving the desired look, comfort, and confidence. Whether you're aiming for added volume, or length, or simply experimenting with a new style, choosing the right hair bundle length is essential to ensuring a natural appearance. In this post, we'll delve into the factors to consider when selecting hair bundle lengths, including personal preferences, face shape, and styling versatility. Get ready to discover your ultimate guide to making an informed decision for your next hair transformation. Let's dive in!

Factors to consider while choosing bundle lengths
Choosing the right hair bundle lengths for a hairstyle can greatly impact the overall look and feel of your style. Here are some factors to consider when selecting hair bundle lengths:
Personal preference: Consider your desired style and the overall look you want to achieve. Some people prefer shorter, more manageable hair, while others prefer long, flowing locks.
Face shape: Different hair lengths can complement different face shapes. For instance, shorter hair might suit rounder faces, while longer hair may be more flattering for those with oval or heart-shaped faces.
Hair texture: The texture of your natural hair and the hair bundle you choose can impact how the lengths look. For example, curly and wavy hair may appear shorter than straight hair even if they are the same length.
Maintenance: Consider the amount of time and effort you are willing to invest in styling and maintaining your hair. Generally, longer hair requires more maintenance, such as washing, conditioning, and styling.
Lifestyle: Your daily activities and work environment can influence the appropriate hair length. For instance, if you have an active lifestyle or work in a profession that requires physical activity, shorter hair may be more practical.
Cost: Longer hair bundles typically cost more than shorter ones, so consider your budget when making a decision.
Weight and volume: The weight and volume of hair bundles increase with length. Ensure that the added hair doesn't become too heavy or uncomfortable for you to manage.
Installation method: Different hair extension installation methods may impact the suitable length of hair bundles. For example, clip-in extensions and tape-in extensions typically work better with shorter to medium lengths, while sew-in extensions and fusion methods can accommodate longer lengths.
Versatility: Longer hair bundles provide more versatility when it comes to styling, as you can create various updos, braids, and curls. Consider whether you enjoy experimenting with different hairstyles when selecting a hair length.
Length of the lace front: Balancing the lengths between a lace front and hair bundles is important to achieve a seamless and natural-looking result. Ideally, the hair bundle lengths should be consistent with or slightly longer than the lace front to create a cohesive and gradual transition.
To select the perfect fit hair bundle length, consider your desired look, natural hair length, face shape, hair texture, lifestyle, and blending. Consult a hairstylist for recommendations, experiment with temporary extensions if unsure, and customize if necessary. For mid-length to long styles, opt for 16", 18", or 20" lengths. If you desire longer hair, 22"+ styles will be your ideal choice.
If you're unable to find the exact hair length you desire, consider customizing your hair bundles by trimming or layering them to achieve your desired look. Or you can try to consult a sale consultant on Elfin Hair. Elfin Hair provides various human hair bundles, human hair wigs, hair extensions, and lace fronts in a variety of textures and lengths. No matter whether you are desiring capable short hair or stunning long hair, Elfin Hair can help you to make a gorgeous switch! We have made more detailed instructions in our previous post on this theme, click and explore: Weave Lengths Guide| How to choose the length of hair weave?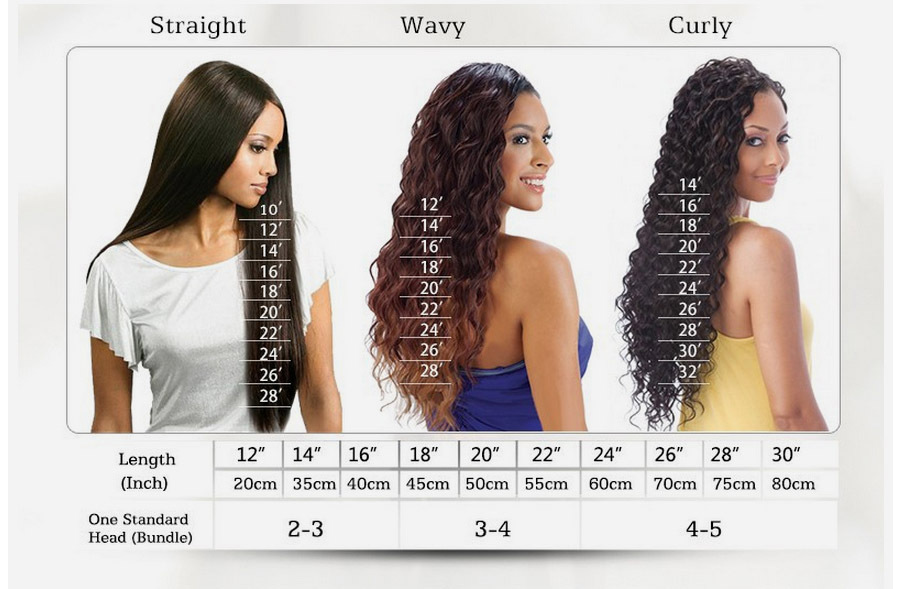 Conclusion
Generally, selecting the perfect length for hair bundles is a crucial step in achieving your desired look and boosting your confidence. By taking into consideration factors such as your face shape, personal style, hair type, and lifestyle, you can make a well-informed decision. Additionally, don't hesitate to consult with a professional stylist who can guide you in finding the best length for your specific needs. Remember, the ultimate goal is to choose a hair bundle length that complements your overall appearance, enhances your features, and allows you to feel comfortable and confident in your new hairstyle. Experimenting with various lengths can be a fun and rewarding experience, so embrace the process and let your unique beauty shine.
Related Posts:
Gorgeous Hairstyles For 14-Inch Hair