How to make a headband wig?
The human hair headband wig is easy-to-install and beginner-friendly, and it looks natural on African American women. It is not only available to create a natural hairline and the scarf of the headband wig can also help to add a stylish touch to your look. Besides, it is also versatile in styling, the human hair headband wig can be bleach, dyed, and can be styled to any hairstyle you like. Thanks to these features, headband wigs are popular among African American women.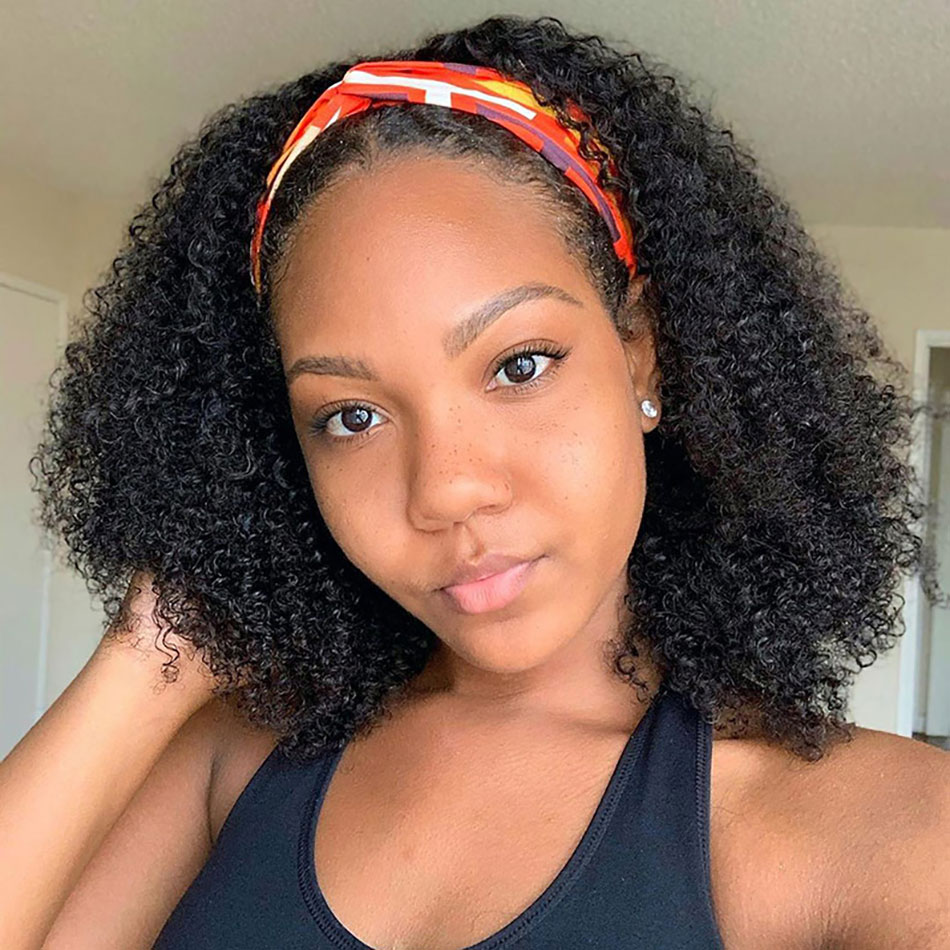 How to make a headband wig by yourself? (with video tutorials)
Today, we are going to talk about how to make a headband wig at home by yourself. If you are interested in it, go ahead and keep reading! It's really very easy and affordable to make a headband wig at home by yourself.
What you will need to make a human hair headband wig?
Before we start this small project, you need to prepare the following item: needle and thread, scissors, some t-pins and clips, a wig cap, a headband a velcro strip, a white marking pen, a mannequin head, 2-3 pcs human hair bundles.
Step 1: Measure your head size.
Use a soft tape to measure your head size along the front hairline from one ear top to another ear top.
Step 2: Pin the headband to your wig cap
Use some pins to secure the wig cap to the mannequin head. Mark the ear positions on the wig cap (we have just got the distance number in the first step). Get your headband and then cut it down in the middle (where the seam is). Fold the band in half to find the middle position of the band, use t pins to secure the middle position of the band to the wig cap. And then stretch the band slightly so that the headband has enough elasticity to wrap your head, and pin the headband ends up at the ear positions. Finally, use the needle and thread to sew the headband onto the wig cap.
Step 3: Sew or glue the velcro onto the wig cap
Stretch the end of the band and mark their overlap on the back. Use the needle and thread to sew down the velcro to the overlap or you can glue it down, either.
Step 4: Sew in human hair weaves to the wig cap
Use the needle and thread to sew in the human hair bundles onto the wig cap, circle by circle, from the bottom to the top. Continue to sew in until the wig cap is filled with hair bundles sewed on.
And then a human hair headband wig is finished. It's quite easy. It may just take you 1-2 hours to finish the whole object. And you just need serval seconds to put on or remove a headband wig. Worth it.
The key to make a perfect human hair headband wig at home is to choose high-quality human hair weaves so that the headband wig can be long-lasting, durable and versatile in styling. Or you can buy cheap human hair headband wigs from Elfin Hair directly. All our headband wigs are made with 100% human hair, natural, breathable, comfortable, long-lasting, and easy-to-manage.
Affordable human hair weaves and wigs at Elfin Hair

Elfin Hair offers the best human hair bundles at an unbeatable price. Multiple origins, textures, colors, hairstyles for your choice. You can choose from Brazilian hair bundles, Peruvian hair, 613 bundles, natural black human hair weaves, straight virgin hair, curly human hair weaves, short headband wigs, bob headband wigs and so on. All our hair weaves are made with 100% human hair, soft, smooth, shiny, with full and healthy ends, no split ends, no shedding, no tangling. As an almighty online hair store, you can almost find everything you need about human hair wigs and human hair weaves. Shop affordable human hair bundles and high-quality human hair headband wigs at Elfin!
Related Read:
How To Choose The Best Headband Wig?
How To Wear, Take Care, And Style A Headband Wig?
Pros And Cons Of Headband Wigs
Complete Guide of Headband Wig | Elfin Hair