Brown Vs. Black Hair, Which is Better?
There are various wig colors for you to choose from, while black and brown hair is the most classic hair shade that flatters most black women. Some girls, however, still feel conflicted and are unsure which one to choose. Brown hair vs black hair, which is more suitable for you? What hair color can maximize your charm? Keep reading this post if you belong to this group and are wondering which hair shade is best for you. You'll find out after reading this post.
First, let's start at the very basics. What do you need to take into consideration while choosing a hair shade?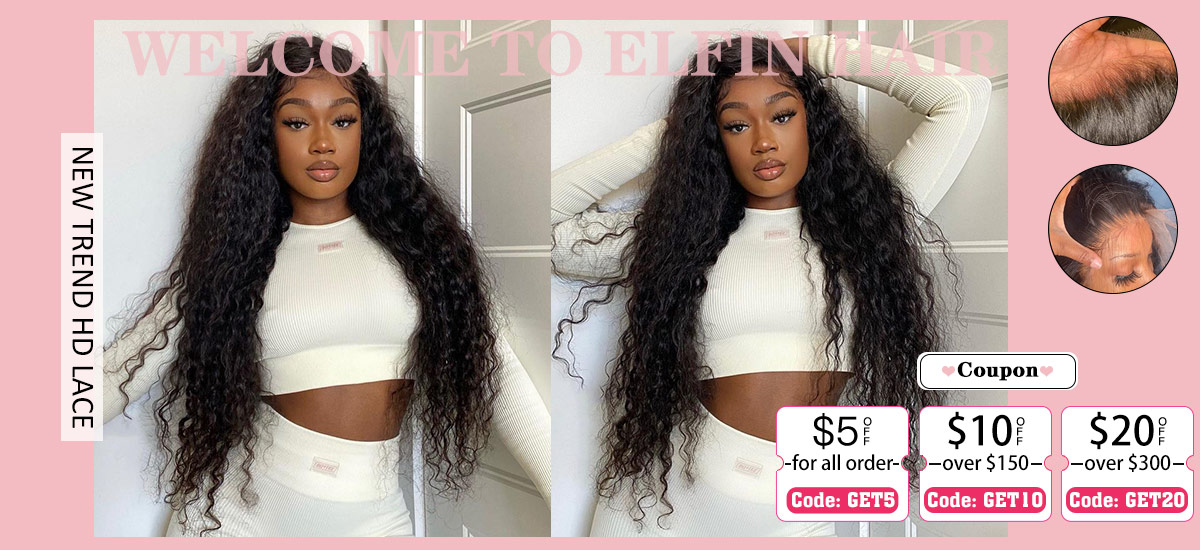 Factors to consider while choosing hair color
When choosing a hair color, there are several factors to consider:
Skin Tone: Your skin tone is an important consideration when selecting a hair color. People with warm skin tones look good with warm hair colors like golden blonde, copper, or honey brown. People with cool skin tones look gorgeous in cool hair colors like ash blonde, platinum, or burgundy. As for black vs. brown hair, which should you go for? Typically, black suits well to all skin tones, while brown hair complements warm skin.
Natural Hair Color: Your natural hair color is also a factor to consider. To achieve a more natural result, it's generally easier to opt for a hair shade that is close to your natural hair shade. The best way to choose between brown and black hair is to opt for the darker shade if your natural hair is black. If your natural hair tends to have a brown undertone, especially under the sun, choose a dark brown or brunette hair shade.
Eye Color: Your eye color can also play a role in choosing the right hair color. People with blue or green eyes look gorgeous with cool hair colors like ash blonde. In contrast, people with brown or hazel eyes can pull off warm hair colors like caramel or honey. Typically, black suits all eye colors, while brown hair is ideal for cool eyes.
Lifestyle: Your lifestyle is also critical to consider. If you work in a conservative environment, you may want to choose a hair shade that is close to your natural hair. Choosing a bold shade of hair that contrasts with your natural hair is a stylish way to stand out and make a statement.
Maintenance: Some hair colors require more maintenance than others. Off-black hair, for example, is normally original, and you don't need to worry about the color fading. If you opt for a colored wig, you'll likely need to touch it up every few weeks. If you don't have the time or budget for touching up, it may be better to choose a hair color that requires less maintenance.
Age: Your age is also a crucial factor to take into consideration while choosing a hair shade. A bold, colored hair shade looks chic on young women. Fortunately, black and brown hair shades suit women of all ages.
Personality: Finally, your personality and personal style are key factors to consider. If you're bold and outgoing, you may want to try a dramatic hair color like bright red or platinum blonde. If you're more reserved, a natural hair color like brown or black may be a better fit for you.
Benefits of getting black hair
There are several potential benefits to having black hair, including:
Versatility in styling: Black hair can be styled in a variety of ways, from braids to twists to straight styles. Its versatility allows for a range of different looks and can help individuals express their personal style.
Suitable for all skin tones and ages:
It's the most classic hair shade that will never run out of style and flatters all skin tones and women of all ages.
Low maintenance: Black hair tends to be thicker and stronger than other hair types, making it less prone to breakage and damage. It can also be less prone to split ends and other forms of damage, which means it may require little maintenance and upkeep.
Cultural significance: Black hair is often associated with professionalism, reliability, and competence. It can give you a confident and polished look that suits different job roles and social situations.
Look healthy: Black hair tends to be naturally strong and healthy, which can make you look healthier.
Benefits of getting brown hair
Here are some possible benefits of having brown hair:
Versatility: Brown hair can be styled in various ways and complement different skin tones. It can also suit different fashion styles, from casual to formal.
Stylish: Brown hair looks more stylish than black hair. All types of clothing can be worn with it and it is suitable for all occasions. Furthermore, black hair can also enhance your facial features and eye color without overwhelming them.
Looks younger: Brown hair works to provide a younger look while black tends to create a natural or retro touch.
Low Maintenance: Brown hair tends to require less upkeep than other hair colors, such as blonde or red. It doesn't need frequent touch-ups, and the color fades gracefully without showing roots.
Natural Look: Brown hair is one of the most common hair colors worldwide, which means it looks natural and effortless.
Brown vs. black hair, which is better for you?
It's difficult to say which one is better than another without further explanation. It's essential to consider skin tone, face shape, and lifestyle when choosing a hair color that complements your overall look. Both brown and black hair can look gorgeous on black women, and the choice ultimately depends on individual style and preference. Ultimately, what matters most is how comfortable and confident you feel with your hair.
Brown hair generally has warmer tones, and it can range from light to dark shades. Black hair, on the other hand, is often associated with depth and intensity. In general, if you are looking for a hair shade that can suit all occasions and complete with all skin tones, then opt for black hair. If you desire a young, stylish hair color with quietly brilliant, brown hair shades should never let you down.
It's imperative to note that hair color does not define one's worth or beauty. Ultimately, choosing brown or black hair varies depending on individual preference and lifestyle. Both brown and black hair have their unique characteristics and appeal to different people.
If you still feel conflicted about choosing between black hair and brown hair, why not experiment with both colors and see which one suits you best? Elfin Hair offers 100% human hair black wigs and colored wigs. You can also consult our online sales for advice and recommendations based on your individual characteristics.
Gorgeous colored wigs you shouldn't miss out
Here come Elfin Hair colored wig selections! It's time to refresh your hairstyle and brighten up your spring style!
Related Posts:
Braids Vs. Twists, Which One Is Better?
All About 613 Wigs | Elfin Hair
27 Hair color vs. 30 hair color
1B Vs. 2 Hair Color, Which is better for you?