Features of the full lace wig & how to install it without glue
What are glueless full lace wigs?
The glueless lace wig is that a lace wig with adjustable straps, small combs, or clips in the wig cap, it allows the wearer to secure the wig on their head without glue or adhesive. The full lace wig is exactly what it sounds like, its hair is all released from a full lace that covers the whole head. Glueless full lace wig features the special no-glue needed design. It can not only add volume and length to one's hair but is also safer and easier to install. The glueless full lace wig is an ideal option for those who suffer from a thin hairline or sensitive scalp.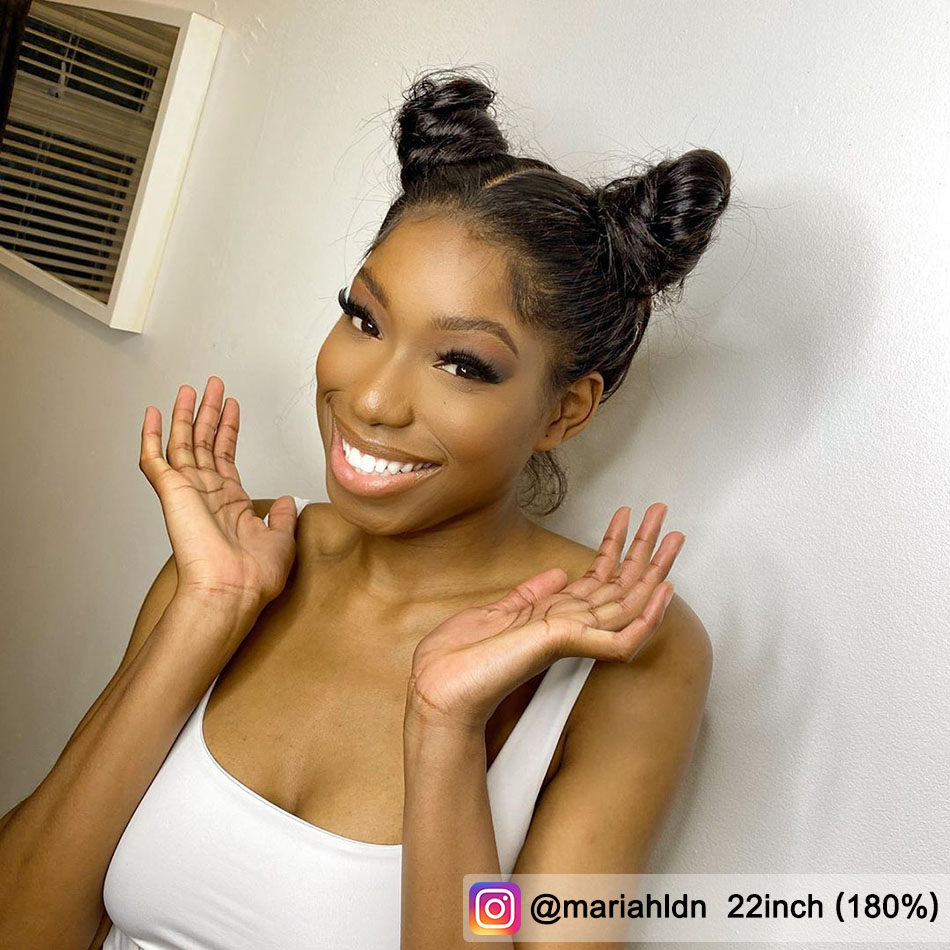 Features of full lace wig:
Natural-looking: Unlike the lace front wig or 360 lace wig, which's lace piece just covered a part of the head, the full lace wig covers the whole head with a whole piece of lace with hand-tied hair strands, creating a more natural and integral appearance.
Breathability: Commonly, the more lace is the more breathable the wig is. A full lace wig with a full scalp lace piece can no doubt that bring premium breathability and comfort to you.
Versatile styling: With a full lace human hair wig, you are allowed to dye, bleach, and prem as you like. With a full lace front wig, you can part anywhere, you can make a high ponytail or low ponytail as you like. With a full HD lace wig, you can also make a full head of braids if you like. It is very versatile in styling.
Hair-saving: More and more people prefer to choose a full lace wig instead of a lace frontal with bundles thanks to its convenience and integrality. A full lace wig is commonly more expensive than a regular lace wig, but it saves bundles, so it is also a cost-effective option.
No glue needed: With a full lace wig, you can install it without using glue or adhesive. A full lace wig can bring you tremendous comfort and convenience.

How to install a full lace wig without glue?
Step 1: Wash your natural hair with shampoo before wearing a full lace wig.
Step 2: Braid your natural hair into small cornrows, make sure the cornrows are close to your scalp. And hide your baby hair and the hairline.
Step 3: Put on a full lace wig with baby hair, secure the wig to your head by the small combs in the side and stretch adjustable strap in the back to fit your head.
Step 4: Trim the excess lace to hide the hairline.
Step 5: Do baby hair and hairstyle you like.
How long does a full lace wig last?
Usually, a human hair full lace wig can be worn every day and can last at least 12 months with correct care.
For long-term wearing, we suggest you only wear the lace wig daily, let your scalp breathe freely at night. Wash the natural hair before wearing a lace wig and keep washing your lace wig once a week. These can help to avoid dirt and lengthen its life span.
Which is better lace fronts or full lace wigs?
Both lace front wigs and full lace wigs are natural and versatile. But human hair full lace wig is more versatile in styling than human hair lace front wigs. And full lace wig can create a more natural-looking since its integrality. Whatsmore, thanks to the big coverage of lace piece, full lace wigs allow more space for your scalp to breathe freely, which is more comfortable for wear.
If you are still tangling about lace front wigs and full lace wigs, click and read our previous article: Lace Frontal Vs. Full Lace Wig: Get the One That Satisfies Your Needs
Best full lace wig for black women:
Getting a high-quality full lace human hair wig at economical prices that lasts longer is not easy. But it is straightforward if you meet Elfin Hair, a trusted online wig store. All human hair wigs and human hair bundles at Elfin Hair are made with 100% virgin hair, smooth, soft, glossy, with a natural shine, no shedding, no tangling, and no split end. There are many options of human hair wigs for you to choose from at Elfin Hair. You can choose from different hair lengths, textures, sizes, hairstyles, and colors. From bold 613 full lace wigs to all-matching curly full lace wigs, Elfin Hair store has got you covered. Elfin hair always aims to offer extraordinary products and services to black women. Click and explore our latest collection of human hair wigs.
Related article:
Lace Frontal Vs. Full Lace Wig: Get the One That Satisfies Your Needs
How to Apply a Lace Front Human Hair Wigs?
Bleached knots on frontals, closures, and lace wigs