How to make side part quick weaves?
Quick weaves is a procedure to glue down hair weave to a wig cap instead of sew-in with thread and heard. Just as its name implies, quick weaves take less time to install. Besides, the quick weave is also cheaper than sew-in. Some may be confused about is that quick weaves bring damage to hair. Actually, quick weaves can damage your hair with improper installation. In this post, we are gonna share with you how to install side part quick weave and how to maintain quick weave properly.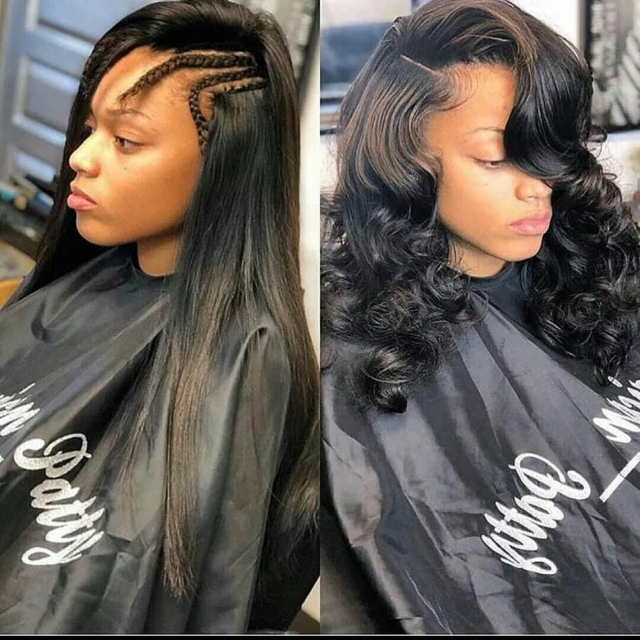 Tutorial: make side part quick weave step by step
Before we dive into this small project, there are some necessaries you need to prepare:
human hair weave, glue, wig cap, glue protector, molding gel, comb
Step 1: Determine where your gonna leave out: quick weave allows you to rock the middle part, side part, or deep side part. Determine a section of hair to leave out later.
Step 2: Prepare your natural hair: If you choose to rock the side part style, leave some hair in the position where you gonna make a side part later, and secure it with a hair rope. Besides, to reach a natural look, you also need to leave out some baby hair alone on your hairline. You can braid your leave out into plaits.
Step 3: Mold your natural hair: Apply some molding gel to your natural hair apart from the leave out. If you have long hair, you can also choose to braid your natural hair into cornrows flatly. Apply some glue protector to protect your natural hair after you have flattened it.
Step 4: Put on the protective wig cap: Put on the wig cap and adjust it to cover all your natural hair apart from the leave out. Apply hair glue on the wig cap. Blow your wig cap until the glue is almost half dry.
Step 5: Glue on hair wefts: Glue on the human hair weave into the wig cap, from the back of the head to the front, circle by circle. Dry the hair thoroughly at a low temperature Until you finish a full head glue down. Cut off the wig cap around the area where you gonna have your part.
Step 6: Loosen your leave out: Loosen your leave out hair and comb your natural hair to make it blend well with the hair strands of the hair wefts. Loosen your font hair alone the hairline, lay down your baby hair and make a natural hairline.
Step 7: Style your side part quick weaves: Human hair weaves allow you to perm, dye, and bleach. You can choose to rock the neat straight or lovely curly.

How to maintain quick weaves?
Quick weaves can be last about 4 weeks with proper care. There are some tips for you to keep your quick weaves in a good condition.
Tip 1: Use a silk scarf to cover your hair up at night to avoid friction. in this way, your hair texture and be protected from tangling and shedding as possible.
Tip 2: Blow your quick weave at a low temperature.
Tip 3: Pick a high-quality glue for quick weave installation.
Tip 4: Avoid oil-based shampoo while washing your quick weave, since the oil material may loosen your weave and lead to slide down.
Tip 5: Avoid scratching your scalp, cause it may also lead to loosening the tracks.
Tip 6: Avoid swimming with your quick weave on!
Tip 8 Avoid overwashing your quick weave. wash your quick weave as gently as possible, avoid scrubbing the roots of the quick weave while washing. Shampoo through sections of your quick weave and rinse it in sections.
Cheapest human hair bundles at Elfin Hair
Discover the cheapest human hair bundles of high quality at Elfin Hair. All our human hair weaves are made with 100% human hair, soft and silky in touches, with a natural luster and appearance. There are multiple textures for you to choose from Virgin hair, Remy hair, Brazilian hair weave, Peruvian hair weave, Malaysian hair weave, etc. And you can also reach us to custom your own wig, you can choose different combinations of color, texture, pattern, length, and density. All our human hair weave can be sewed in and glued down. It's versatile.
Related Posts:
Weave Lengths Guide| How to choose the length of hair weave?
How many bundles do you need for a sew-in?
How To Do A Side Part Closure Sew In
Different types of human hair bundles