How to do money piece hair?
How to make money-piece highlights at home?
We have talked about this money piece highlights trend in our previous post: What is money piece hair?. Some are also interested in how to make money-piece highlights at home? Yes, the charm of this lovely hairstyle requires fewer efforts to achieve. You can go to the salon and ask for help from a stylistic, or you can completely do it by yourself at home.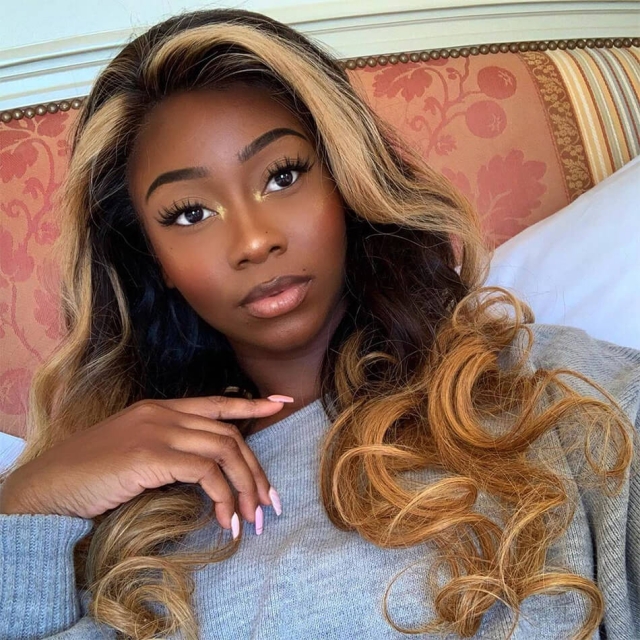 Of course, if you already have an idle human hair wig at home, you can directly make money piece highlights on your wig to protect your natural hair from harmful dyeing products. If you're also interested in this, just keep reading. We are gonna share with you a protective and easy way to add money piece highlights to the hair.
The following guideline also works on making money piece highlights on natural hair, but if your natural hair is fragile, we don't suggest you do so.
Items you need to prepare in advance:
A human hair wig;
A wig stand;
A pintail comb;
Some clips and t-pins;
Bleach and developer;
Mixing bowl;
A pair of gloves;
A brush;
Foil;
A wide-tooth comb;
Soft towel;
Sulfate-free shampoo;
Hair conditioner;
A hairdryer.
Make sure you have all the above-mentioned items handy. And now everything is ready, let's get started.
Step 1: Create the mixture
Put on the gloves. Pour some bleach and developer into the mixing bowl. The specific dosage should follow the guideline on their package. Mix them well with a brush.
Step 2: Secure the wig and section the hair
Comb the wig with a wide-tooth comb to make the wig detangle. Put the wig on the wig stand and use some t-pins to secure the wig on the wig stand. Part the hair as you desire, you can choose to make a middle part, a side part, etc. And pull the face-frame sections apart (where you gonna highlights), and tie up the rest hair with some clips.
Step 3: Apply the bleach
Pick a foil under the hair section which you gonna bleach, and use a brush to apply the bleach onto the hair evenly. If you want to reach an ombre look, start applying the bleach at about 0.5-1 inches from the scalp. Use foil to wrap the bleached hair strands and let it sit for a while. Go ahead and bleach other hair sections until you finish the face frame bleaching. Undo the foil and check the bleached hair every 10-15 minutes to ensure a better result. It's really time-saving, cause you just need to bleach the face frame part instead of the entire wig. Leave the wig to process for about 30 minutes, and double-check if it reaches your expectation.
Step 4: Shampoo and condition
Once the color reaches your expectation, remove the wig from the wig stand and rinse the wig under the tap. Use a mild shampoo to wash the wig, and then use a soft towel to wrap the wig and wring out surplus water. And then apply some hair conditioner on the wig, rinse the wig with flowing water and wring out the excess water with a soft towel again. Put the wig on the wig stand again, blow it dry at the lowest heat setting or let it air dry.
Step 5: Style your wig
Now you can put on your DIY money piece wig. Comb the wig to make it detangle. You can simply leave the face frame highlights on the front to retouch your face shape, pull the rest hair back and make a ponytail. Or you can use a flat iron to straighten your wig and get a neat and personalized hair look. Or you can curl the wig to add a lovely touch to your hair look.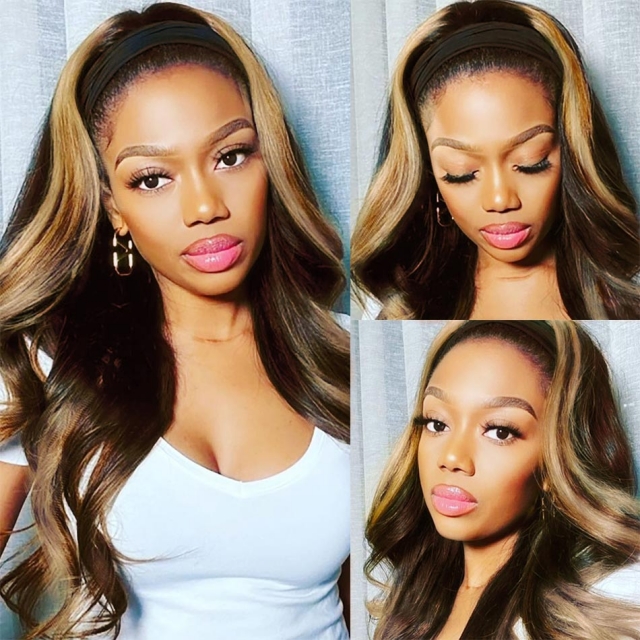 How to care for money piece hair?
Money piece highlights are effortless to care for. Here are some tips to brighten your highlights and repair your strands.
Tips 1: Pick a silicone-free bleach recovery shampoo for daily cleanness. This type of shampoo helps to moisturize and shine back bleached hair strands.
Tip 2: Make a deep condition regularly to keep the bleached hair hydrated.
Tip 3: Comb the wig thoroughly to make it detangle before washing the wig.
Tip 4: Let the wig air dry or blow it dry at the lowest heat setting.
Tip 5: Avoid using too much hot styling tools.
It's quite easy to add money piece highlights to your hair at home since it just involves two sections of face frame hair. But if you desire a more fantasy style, you can choose to go to the salon and ask for help from a stylistic. Or you can directly buy a money-piece wig from Elfin Hair. Multiple hairstyles, colors, and lengths for your choice. No matter whether you are searching for a skunk stripe wig, money piece wig, or a piano highlight wig, Elfin Hair has got you covered.

Related Posting:
How To Highlight A Human Hair Wig At Home?
What Are 99j Wigs? How To Dye Your Wig to Burgundy Color?
Everything you need to know before dyeing a human hair wig