How To Wear, Take Care, And Style A Headband Wig?
If you are the one who is involved in each latest trend, then you must know that the headband wig is a new, easy, and exciting trend to follow. If you exactly don't know what a headband wig is, then read this blog. You will also get to know how to wear a human hair headband wig, how to style it, how to dye and take care of it. So, let's start.
1. What Is a Headband Wig?
A wig having a headband attached at its front is called a headband wig. It is worn on the front hairline or halfway from the front hairline, which allows you to show off your styled edges. It has no lace, like frontal or closure.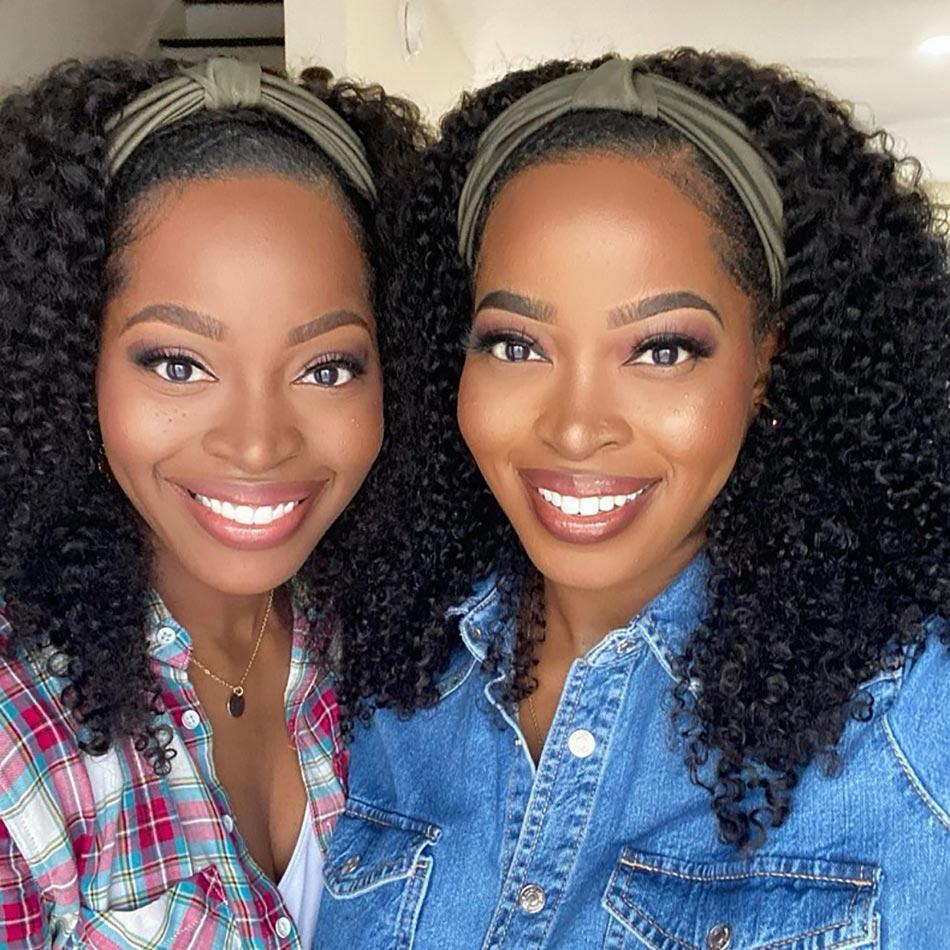 2. Headband Wig Vs. Half Wig:
Usually, a headband wig is confused with a half wig because a headband wig is also worn halfway from the front hairline like a half wig. But these two are different. Let's look at their construction.
The headband wig has a wide elastic headband at the front, while the half wig does not. Half wig has combs in the underside at the very front.
While wearing a headband wig, the front elastic headband, combs, and adjustable strip help you secure the wig on your head. On the other hand, you can secure a half wig with a sequence of combs at the inner front side by sliding them into your natural hair. It also has combs and an adjustable band.
However, both are machine-made and have soft-comfortable wig caps in their constructions. You can add a headband to your head while wearing both of these wigs.

3. How to Style a Headband Wig?
Wearing a headband wig is straightforward and beginner-friendly but still, let us inform you for more clarity.
The headband attached at the front has the Velcro at the nape of the neck and combs at the front, back, and sides of the head.
To wear it, put on the wig cap constructed in it on your head. Tilt the head forward and fasten the Velcro at the nape of your neck. Now go back to normal position and tuck the combs at the desired place in your hair. At last, now, the wig is perfectly worn.
Many women think that they don't have much versatility to make different styles with headband wigs. But in reality, you can make various styles. Let's know some here.
3.1 Different Styles You Can Make with Headband Wig:
3.1.1 Simple Hair Flowing:
When you wear a headband wig, your hair flows freely. To make it look like a chic hairstyle, add a fancy or chunky headband on the wig's band. This hairstyle is perfect for any occasion.
3.1.2 Half-up Half-down:
When your hair is flowing freely, you can part them in two. Take the first section from front to the crown of the head, make a top-knot or ponytail there. This will create a half-up half-down hairstyle.
3.1.3 High Ponytail:
Gather all hair, from front and back, at the crown by tilting your head forward and tying them there will create a high ponytail hairstyle.
3.1.4 High Bun:
When you gather all hair at the crown and make a ponytail, you can transform it into a bun, too, roll the ponytail clockwise and wrap it around the base of the ponytail.
3.1.5 Two Buns:
After setting the wig at the front hairline, the middle part hair on the rest of the head. Make two low or high buns on the sides of the head.
3.1.6 Side-swept Hair:
After setting the wig a little back from hair, scoop out a good amount of hair to create a side-swept hairstyle. Tuck the hair on the back of one ear and secure them. Wear a headband to jazz up the hairstyle.
4. How to Dye a Human Hair Headband Wig?
If you have a blonde headband wig and want to turn in black, you can easily dye it. The relaxing thing is you don't need to care about anything when applying dye as there is no lace that can catch color, just focus on fully covering the hair with dye. Always apply dye to the dry hair. Wait for 20 minutes or as directed on the packaging. Wash the hair, and your best and cheap human hair wig is dyed. Moreover, there's no worry if hair dye is applied to the wig's headband because it will not be shown as it is of black color.
5. How to Take Care of a Human Hair Headband Wig?
The best way to wash your headband wig is to fill up the sink with lukewarm or cold water and mix the desired amount of shampoo in it. Let the wig be soaked for 1 to 2 hours and wash it with gentle hand movements and rinse it. Apply a good amount of conditioner for 10 to 15 minutes and rinse it off.
While, if you don't have much spare time, fill the sink with water. Pour shampoo between your palms, rub it between hands, create foam and apply it to your wig. Wash the connected headband like you wash clothes with your hands. Wash the rest of the wig gently. Keep applying more shampoo whenever needed. After that, apply the conditioner.
If your wig is curly or wavy, comb it when applying conditioner to retain its pattern.
For drying the wig, air-dry your wig if washed in warmer months. If washing in colder months, towel-dry the human hair headband wig and then use a blow dryer with a diffuser to completely dry it.
5. What to Do If the Headband Wig Is Too Small?
If you purchase a headband wig with the zeal, spend money on it and want to wear it and it does not fit and appropriate your head, it really hurts. But if the wig is too small does not mean that your money is wasted. Here is how to make it bigger.
Cut the wig's headband a little far from Velcro, take another fabric headband, and cut the pieces in vertical you want to add to your wig. Sew both pieces from where you cut the wig's headband. After that, sew Velcro pieces on both ends of the headband at the nape of the neck. It will increase the size of the headband.
To increase the size of the wig cap, pick alcohol spray and a Styrofoam head of your size. Spray alcohol on all inner sides of the wig cap. Stretch it in all the directions. It will not hurt the best headband wig because it is machine-made. Wear it on the Styrofoam head and let it dry.
Related Articles:
How to protect your hair under a wig?
Top 5 Wig Colors For Black Women 2022
Best Human Hair Wigs For African American Women
Pros And Cons Of Headband Wigs
Everything you need to know before dyeing a human hair wig