Two Strand Twist With Extensions: All You Should Know
Two-strand twist is not only a protective style that retains moisture, and minimizes frizzy, tangles, and shed, but also looks so fabulous on black women.
What is the two-strand twist?
The two-strand twist is a chic protective hairstyle that splits natural hair into small sections and then wraps two sections of hair around each other toward the ends. Some girls also add hair extensions to their natural hair to create a fuller two-strand twist style. Typically, girls opt for hair extensions that are similar to their natural hair texture and shade. Some girls ingeniously add colored hair extensions to create gorgeous highlight twist braid styles! That's why the two-strand twist is so popular among black women. It looks so fabulous and charming on afro hair or curly hair!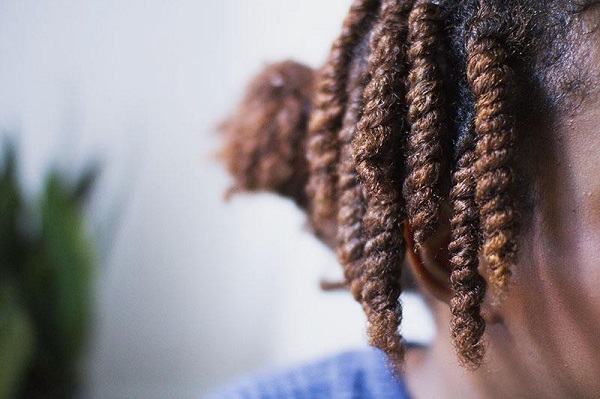 Why are two-strand twists so popular?
Easy to do: There are tons of tutorials on Youtube that show you how to create a gorgeous two-strand twists style. You just need to wrap two strands of your hair around each other! It's so quick and simple to achieve and even a newbie can completely DIY at home!
Low maintenance: A moisturizing environment is created because the hair strands are holding together. Therefore, two-strand twist styles are easy to maintain and keep your hair healthy.
Protective hairstyle: Compared with other braid hairstyles, the two-strand twist brings less tension to your scalp. This hairstyle requires no heat or glue. It not only minimizes tangles and damage to natural hair but also retains moisture.
Convenient: Typically, two-strand twists can last on your head for about 2-3 weeks or even 1 month with proper care. So you don't need to spend so much time styling your hair every morning during this time. What's more, two-strand twists allow you to access your scalp conveniently so your care routine can be carried out smoothly.
Never slide-out: If you add hair extensions to a stunning twist hairstyle, it will always remain firmly twisted. You will never have to worry that the hair extensions will fall out.
Versatile in styling: 2-strand twist is also very versatile when it comes to styling! You can pull all the twits into a ponytail, a bun, or even braid them into a thick plait. You can opt for a chunkier twist style by adding hair weave. For those who desire a sleeker look, adding blonde hair extensions or other lighter shade hair extensions to create a chic highlight hair look is also a smart idea.
How to do two-strand twists?
Some items you need to prepare in advance:
A mild shampoo and conditioner;
Hair-dryer;
Soft towel;
A wide-tooth comb & a rattail comb;
Some hair clips;
Hair extensions (optional);
Step 1: Prepare your natural hair
Before diving into the twisting process, ensure your natural hair and scalp is clean so that the twist style can stay longer. Comb your hair to remove shed hair and detangle your natural hair. Then, shampoo your natural hair thoroughly with a mild shampoo. And apply some hair conditioner to your hair and let the conditioner sit for a while. And then rinse out the conditioner with lukewarm water. Let your hair air dry or blow dry with the lowest heat setting. Detangle your hair with a comb again.
Step 2: Part your hair
Use your fingers or a rattail comb to section your hair horizontally into several even sections. Exactly how many parts you should divide your hair into depends on how thin and thick your twists would be. Typically, we recommend starting at about 1-1.5 inches above your nape and horizontally parting your hair into 6 even sections. Use your hair clips to clip them up so that they will not disturb you.
Step 3: Twist your hair
Remove the clip on the bottom part and split the hair into several small sections. Apply some edge control to the roots of the hair to prevent frizz and add a polished touch.
Twist two small strands of natural hair around each other, cross left over right. As you do with the box braids.
If your natural hair is thin or you desire a fuller twist style, you can add hair extensions in this step. Split a small section of hair into two strands, grab a strand of extensions fold it into two equal parts, and then wrap the extension around two small strands of natural hair so that they blend. Continue wrapping each strand of hair around the other.
When you get to the hair ends, apply a small amount of hair gel to the ends. Wrap the ends around your finger to create a curl and hold the twists. A two-strand lock is already finished and you can also choose to add beads to hold the twist in place.
Continue to split your hair and twist it into 2-strand twists until you finish full head twists. When you finish the full head two-strand twist look, apply a small amount of hair oil to the twists to add a shiny touch.
Step 4: Style your twists
You can have the twists down, have them be kind of half-up half-down style, make two ponytails in the front, or just pull them into a ponytail, etc. You can rock tons of different styling options as you desire.
Watch our girl twist from short to long in this video! She rocks gorgeous two-strand twists with extensions!
Two-strand twists FAQs:
Q: How long do two-strand twists last?
A: They typically last for 2-4 weeks, or even longer, depending on how well you keep your scalp and hair clean. You can clean out and condition your hair roots if they tend to be frizzy and itchy, and then retwist them.
Q: How long does it take to install two strand twists?
A: The whole process typically takes about 30 minutes to 3 hours depending on how thin the twists are and the results you desire. For example, if you embellish the twists with beads, the installation should be more time-consuming.
Q: Can you wash two-strand twists?
A: Yes. To maintain your twists in good condition, we recommend that you shampoo and condition your twists every 2 weeks and dry wash in between.
Q: Do two-strand twists damage hair?
A: It depends on how you twist your hair and how well you maintain it. If you twist your hair too tight, it may result in hair damage. But with proper installation and maintenance, two-strand twists can moisture your natural hair and minimize hair tangles and shed.
Q: Why are two-strand twists so frizzy and dry?
A: It is likely that you did not use moist hair care products to maintain your twists, such as natural oils or a spritz of water and conditioner. Or you didn't properly twist.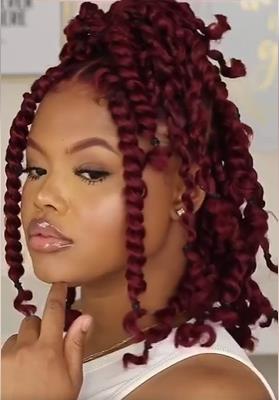 10 Easy ways to maintain two-strand twists
Here are some useful tips for you to better maintain your two-strand twists:
Tip 1: Make sure the twists are not too tight. Twisting too tight will bring too much tension to your scalp which may damage your hair.
Tip 2: Ensure your natural hair and scalp are as clean and fresh as possible beforehand. This can help to prolong the duration of twists.
Tip 3: Applying some edge control at the roots of your twists while twisting can not only prolong the duration but also minimize frizz.
Tip 4: Before heading to sleep, clip your twists up and wrap them with a silky scarf or wear a satin cap to protect them from frizz.
Tip 5: Pull all your twists up into a top knot or a loose ponytail, and firm your roots with a band before the gym.
Tip 6: To refresh your twists, you can spray some water to dampen the ends, retwist the loose twists, and apply a small amount of hair gel to reposition the twists.
Tip 7: Keep your strands moisturized by applying a small amount of hair oil or a mixture of water and conditioner to your twists regularly, concentrating more on the tips.
Tip 8: Unravel your two-strand twists in time. We highly recommend you unravel your twists and wash your natural hair thoroughly every two to three weeks after installation.
Tip 9: You don't have to add hair extensions while creating two-strand twists. Cause hair extensions that are of poor quality can tangle with your natural hair and even lead to hair shed.
Tip 10: Never sleep with wet twists. Cause sleeping with wet hair may destroy the twist style or even lead to hair frizziness and tangles.
Conclusion:
The beautiful two-strand twist is the easiest and safest style that looks so gorgeous on black women. If you are already tired of your old style, give two-strand twists a try, and you will be drawn to its charms. Explore hair extensions for twists at Elfin Hair!
Related Posts:
Gorgeous hairstyles for v-part wigs 2022
Top 5 Wig Colors For Black Women 2022
Which type of hairstyle fits your face best?