How to Put In Tape-In Hair Extensions?
How to Put In Tape-In Hair Extensions
One of the hairstyles that are rapidly becoming trendy in the hair world is tape-in hair extensions. Many people opt for this extension because it is lightweight, comfortable to wear, and easy to install. In this article, we will discuss what tape-ins are and how you can install them.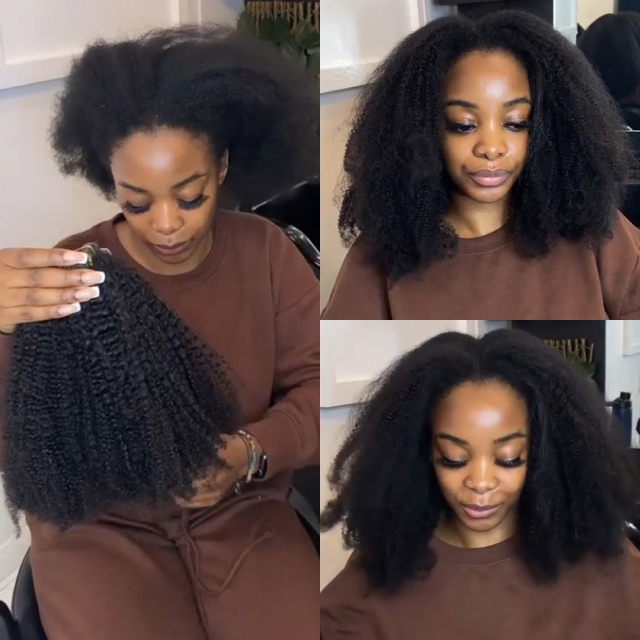 What are tape in hair extensions?
Tape-ins are a 4 cm wide weft of hair attached to a sticky tab. The adhesive used on the sticky tab is like that used in plasters. The adhesive is covered with paper, which you will remove when you want to install the tape-in extensions. One of the beautiful things about tape-ins is that you can reuse them. You only need to buy another pack of the sticky tab, which is available at hair stores around you. Tape-in hair extensions are available in different types, textures, and lengths.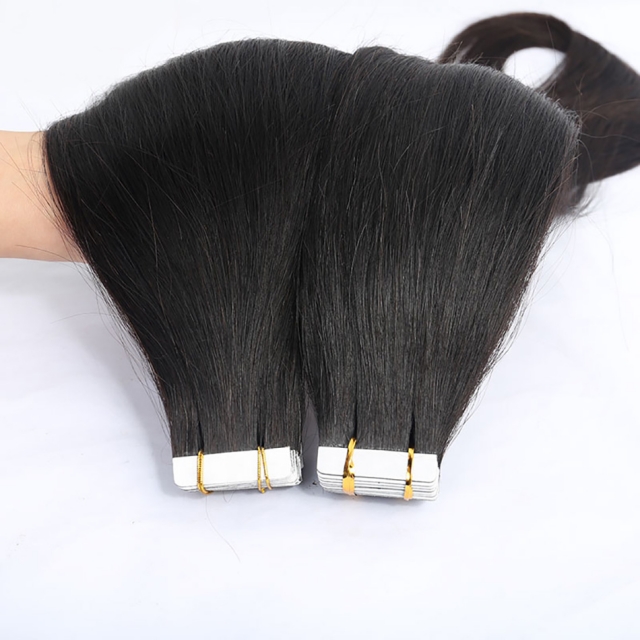 Tape in hair extensions: pros and cons
You now know what tape-in hair extensions are. Yet, many people are still in doubt about whether tape-ins can damage their hair. You can be sure it will not damage your hair. But there are some pros and cons you should know before setting an appointment with your stylist:
The pros of tape-in hair extensions
Here are some benefits you will enjoy from using tape in hair extensions:
Its styling is versatile.
One thing about tape-ins is that they offer versatility when it comes to styling. If you are the type that loves being inventive when it comes to coloring, you can add color to your tape in human hair extensions in diverse ways. For instance, you can go for highlights, balayage, skunk stripe, and so on. You can also create some fun styles with your tape-ins. You can create long braids, sleek ponytails, etc.
It is lightweight and easy to hide.
One thing that makes many women run away from extensions is that they think they will gain a lot of weight. But, not all extensions are heavy on the head. Tape-in hair extensions are lightweight, so they do not add any tension to the root of your hair. On the other hand, they are quite easy to disguise. You can wear it every day and night, and no one will notice that you are wearing hair extensions. Thus, the tape hair extensions are invisible.
It is easy to install and remove.
Another benefit of tape-ins is that they are quite easy to install and remove. Although you have to visit a stylist to install your tape-in hair extension, it does not take much time. Within 45 minutes to 1 hour, you are done with its installation. On the other hand, it is also easy to remove. All you need to do is to apply tape hair remover to the tape-ins, and leave them for a few seconds for the tabs to loosen. After that, you can gently pull it off.
Cons of tape in extensions
You now know the benefit of using tape in hair extensions. It is time to discuss the drawbacks or disadvantages of tape-ins.
A little bit on the high side
Compared to other types of hair extensions, tape-ins are on the pricey side. But, it is definitely worth the splurge as it lasts a long time. The best tape-in extensions to get are those made with 100% human hair. It will last longer, so you will receive the value of your money.
High maintenance
Another disadvantage of tape in extensions is that they are high maintenance. Unlike other types of extensions that do not need too much care, tape-ins need daily care. This way you will be able to enjoy wearing them for a long time.
Might be uncomfortable if the tape-ins are too much
One of the reasons why a professional stylist should install your tape-ins is so they can work with the right proportion of hair. If you install it yourself, you might add more tape-ins than is needed. And this will not only pull your hair but also make you feel uncomfortable. So, ensure that you visit a professional for the installation of your tape-ins.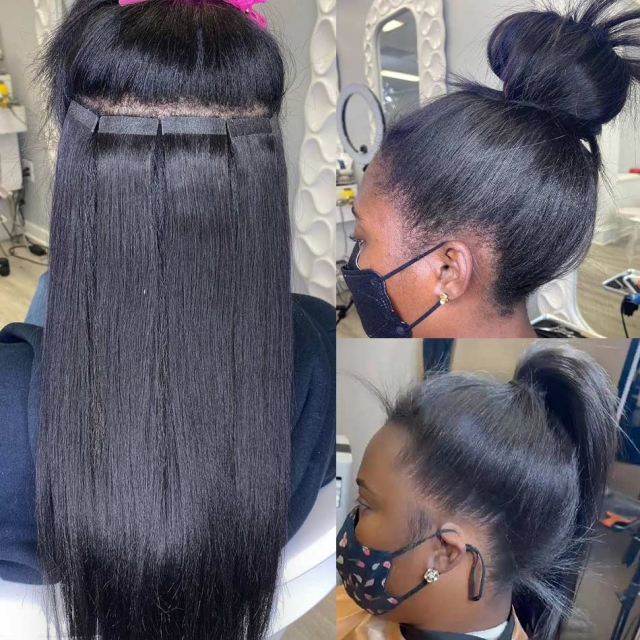 How to tape in hair extensions
There are a lot of articles online that advise against installing tape-in hair extensions yourself. But, you do not necessarily have to turn to a professional before you install this extension. Yet, this does not alter the fact that it could damage your hair if you apply it incorrectly. Below is the step-by-step guide on how to tape in human hair extensions:
1: Start with clean hair
The first thing to do before installing tape-ins is to ensure that you wash your hair with shampoo. This will help you get rid of product build-up, sweat, and dirt in your hair. However, you should avoid using conditioner after washing your hair with shampoo. This might cause product build-up in your mane.
2: Section your hair
Section your hair about 1 inch above the nape of your neck. This part will cover the tape-ins at the back in case you want to create styles like a high ponytail on your hair. The next step is to section the part that you want to work on. Then hold the remaining portion of your hair with a sectioning clip.
3: Fix the tape in extensions
After sectioning off the part you want to work on, the next step is to remove the paper covering the sticky tab. Place it below the hair you have sectioned out. Then, place another tape-in hair extension above the hair and stick it together with your hair sandwiched in the middle. Repeat that process until you cover the hair on the line of the part you have parted out.
4: Move to another section
After you have finished tracing that line, remove the sectioning clip. Then section out another part of the hair to cover the installed tape-ins. After that, cut out another part and install the tape-in hair extensions. Continue with this process until you are almost at the front of your hair.
5: Finish up and style
Do not apply tape-ins to the front of your hair. This is because the tape in human hair extensions will be visible at the front. So, cover the extensions with your front hair to make them invisible. Then spray with a finishing spray. There you have it, your invisible tape hair extensions.
Final thoughts
Our guide on how to install tape-in hair extensions is intended to help you the next time you install them. The next question on your mind now will be where can you get the most affordable tape-in hair extensions. Look no further! Here at Elfin hair, we sell high-quality tape-in human hair extensions. Why not browse through our latest selections of tape-in hair extensions and pick up the type you want?
Related Posts:
Clip-in hair extensions pros and cons
Difference between Brazilian and Peruvian Virgin Hair Extensions?