Should You Get a U-part Wig or A Sew-in Wig?
Many types of wigs are present in the market that can be worn in different ways, but it confuses a beginner. So, in this blog, we are going to explain a few most anticipated questions by beginners. This will include U-part wig vs. sew-in, vs. full lace, and vs. t-part wig. Basically, our major focus is the U-part wig. So, let's get to know them.
1. What Is a U-part Wig?
A wig with a U shape cut at the front is called a U-part wig. That U-shape opening starts from the crown of the head to the front hairline. It means the U-shape is placed on the top of the head, but you are not needed to place it in the middle of the head; you can place the wig on the sides of the head. In other words, you can place it where you want to make a partition line.
Before installing a human hair U-part wig, clip the decent amount of hair on top of the head where U parting will be placed. After installing the wig, you can unclip the hair to have natural parting by adding volume to your hair. Installing a U-part wig will save you from additional sew-in wigs installed.
Another name for the U-part wig is ¾ wig.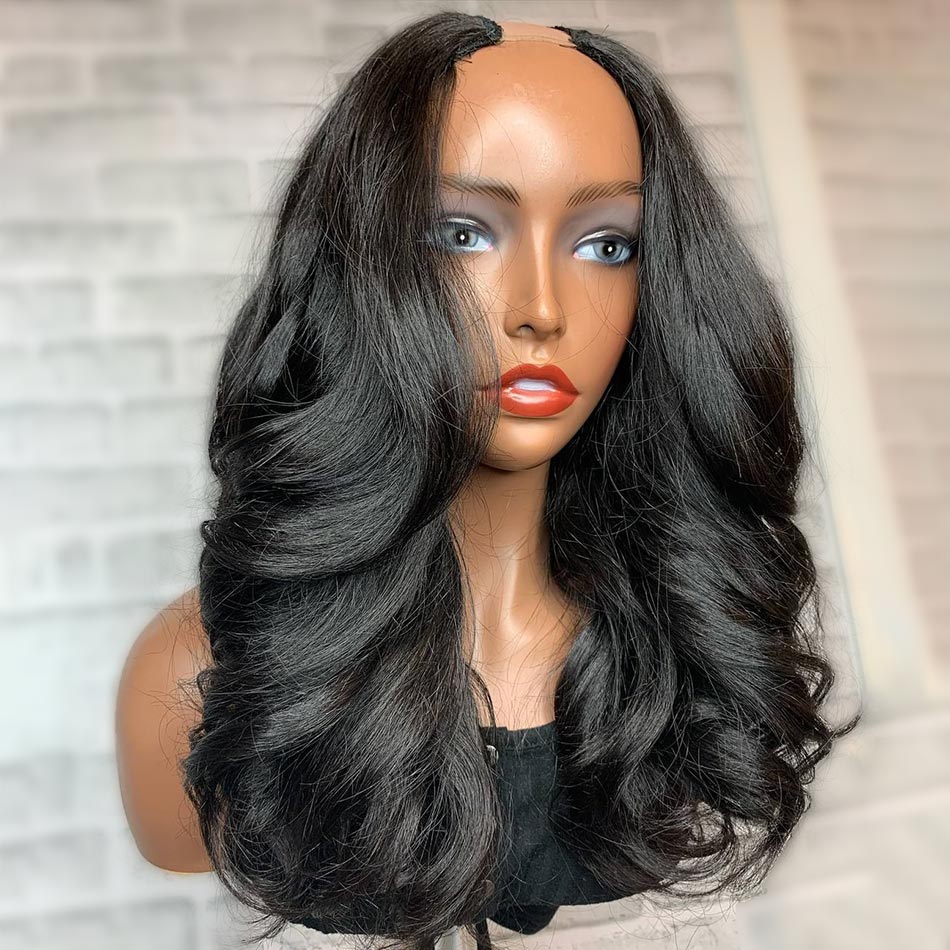 2. Features Of U-part Wig:
2.1 Versatile:
When it comes to sectioning your hair with an amazingly natural finish, nothing can beat the versatility of U-part wigs. You can fully style your edges in the way you want. Moreover, it's a great protective hairstyle that can easily blend with your leave-outs.
2.2 No Glue Needed:
The U-part wig includes sheer mesh fabric (at the U-part and should be cut before installing it) and clips, elastic cap, and adjustable straps underneath. These features help you install a U-part wig without any glue. Furthermore, there is also no need to sew it.
2.3 Time-saving:
As you just read, no glue or sewing is required, which means you only need to pop it on and off when you want to wear a wig. There is no hassle of bleaching the knots or applying makeup on the parting to match your skin color because your natural skin will be visible there.
2.4 Breathable:
The cap material in the construction of the U-part wig is soft and thin, allowing the wearer's scalp to breathe fully. This will not cause any suffocation in hair or scalp that can be bad for your natural hair growth. Furthermore, it is more comfortable because it saves you from having any sew-in weaves.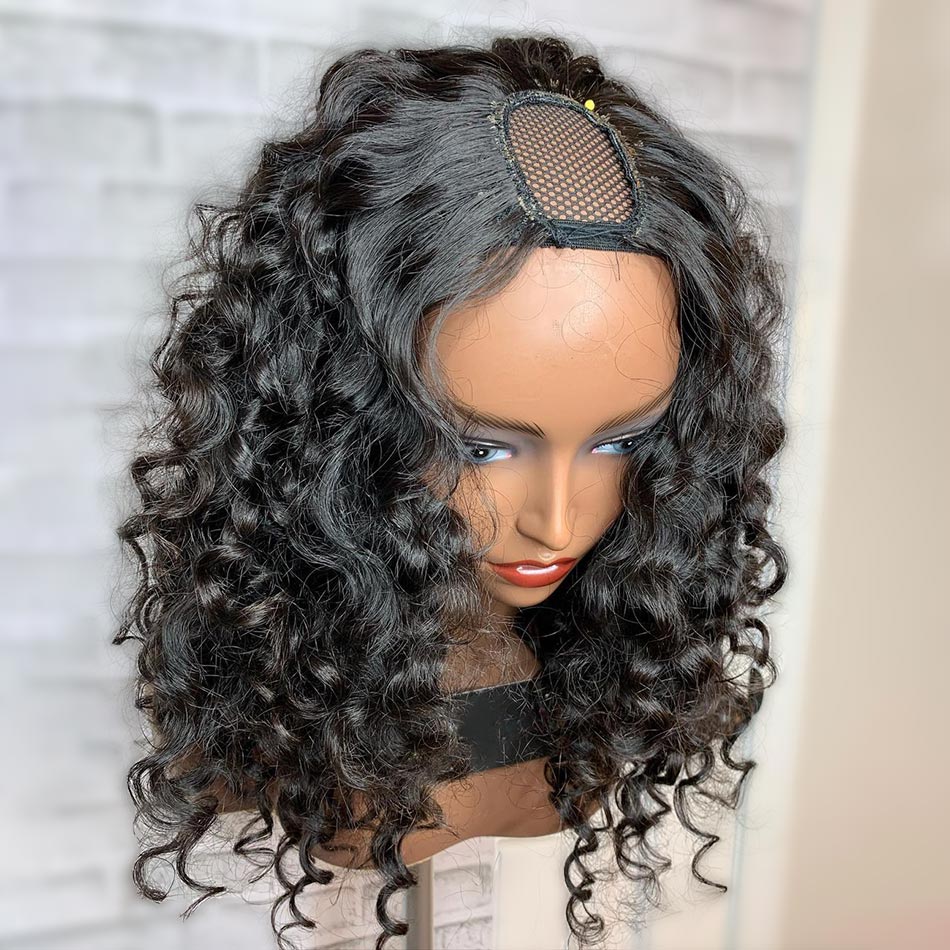 3. U-part Wig Vs. Sew-in Wig
Some ladies also get confused at this point when choosing between U-part and sew-in wigs. As you don't know what these are and the impact they can make. So, let's look at them.
First, now you know everything about U-part wigs by reading the above explanation. Now, let's talk about sew-in wigs.
If one's hair is braided down in cornrows, then a wig is sewn in cornrows called sew-in wigs. The wigs used in sew-in are not specific. One can sew in waves, bundles, or wigs they like. Wigs are sewn in depending on the hairstyle the wearer wants.
3.1 Pros and Cons: U-part Vs. Sew-in Wigs
Either with a U-part bob wig or U-part clip-in wig, you can change parting anytime to left, side or middle by just placing the U cut on the desired place. While, with sew-in wigs, you can't change the parting when you desire until you redo the sew-in.
As the sew-in is sewed in your natural hair, you can't take it off when you want. On the other hand, human hair U-wig is just clipped in your natural hair; you can unworn it by unclipping it in a few minutes.
The biggest risk of hair damage with sew-in wigs is your hair getting tangled and shed a lot. So, it needs a lot of care to stay managed. In contrast, a U-shaped wig does not get tangled or shed because it is not sewn in your natural hair.
As you can take off wherever you want, it means you wash your wig or natural hair when you want. On the other hand, as you can't unworn sew-in wigs when needed, it means you can't wash your wig or natural hair when needed until you undo it.
U-part wig is more affordable in price than sew-in wigs. Moreover, you can install a U wig on your own, while for installing a sew-in wig, you need a stylist. So, the installation cost is saved in a U-part wig.
4. U Part Wig Vs. Full Lace Wig
A full lace wig has only lace in its construction, and to install it, you need to glue the lace down all around the perimeter.
4.1 Pros and Cons: U Part Wig Vs. Full Lace Wig
Full lace and U wig both are extremely versatile to create any hairstyle. But when it comes to parting the hair, if you need two-plus parting, a full lace wig can help you better.
Full lace wigs are not good for you if you are allergic to glue. On the other hand, a U-shaped wig is best regardless of your skin type and its sensitivity.
As compared to a U-part clip-in wig, a full lace wig needs skills to melt the lace and is time-consuming to wear.
Full lace wigs are completely hand-tied, while U shape wigs are machine-made. Therefore, a full lace wig is more expensive than a U-part wig.
5. T Part Wig Vs. U Part Wig
T part wig, as the name indicates, has already created a partition in T. The lace in it is 13 inches wide that sits on the front hairline and 4 to 6 inches long that covers the area from the crown of the head to the front hairline.
5.1 Pros and Cons: T Part Wig Vs. U Part Wig
Both U-part wig and T-part Wig have the same characteristics or features and benefits. But there is a little difference when styling and wearing a T-part wig.
While wearing a U-shaped wig, you leave some hair at the U opening. On the other hand, you don't leave any leave-outs. Therefore, you can say U-part wigs offer more naturalism in the partition line than T-part wigs.

6. How to Put on A U-part Wig with Thin Hair?
If you have thin hair, we suggest you leave a good quantity of hair that can hide the sides of the U shape. Some women don't keep good volume leave out, thinking that it is best for blending a wig with natural hair, but this is not the case. Just have a good amount of leave-out hair, and there will be no hassle of blending hair.
7. How to Fix a U-part Wig If It's Too Big?
If a U-part wig is too big to fit on your head, you can attach an elastic band to it. For this, measure and cut the headband that can fit from the ears to the nape. Attach it to the inner side of the U-part human hair wig where the ears can be and put it on the nape of the neck when installing the wig.

Be a trendsetter this season with Elfin Hair. Discover the latest selection of u part wigs, v part wigs, and I part wigs. Unlike other lace wigs that take you a lot of time and effort to install and remove. These u part wigs break the game, they are easy to handle while bringing you an extremely voluminous and natural hair look.
Related Articles:
How long does a human hair lace front wig last?
Closure Wig VS Frontal Wig | Elfin Hair
Features of the full lace wig & how to install it without glue
Lace Frontal Vs. Full Lace Wig: Get the One That Satisfies Your Needs
HD Lace Wig Complete Guide: Is It Better? Swiss Vs. Transparent Vs. HD Lace