Must-Have! Gorgeous curly wigs you shouldn't miss
What are curly hair wigs?
The curl hair wig typically comes with tight or irregular curls, extremely full and bouncy in appearance. This fluffy and versatile wig style always works to add length and volume to one's hair look and boost their charms. It is one of the most popular wig styles that has earned a great preference among black women. Cause curly wigs look extremely natural on most black women.
There are various types of curly wigs for your choice in the market, but Elfin only supplies those best.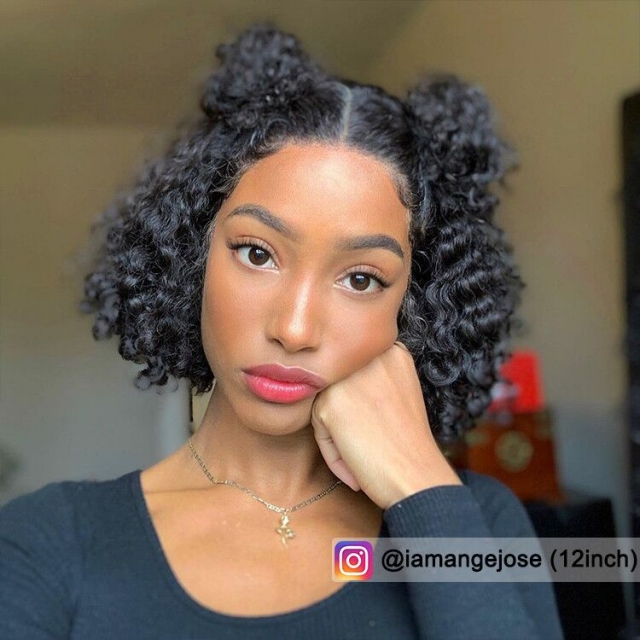 Top-selling curly human hair wigs at Elfin Hair
Elfin Hair offers various curly human hair wigs in a variety of textures, lengths, and densities. From beginner-friendly curly glueless wigs, Natural-looking curl lace front wigs, to extremely full kinky curl wigs, Elfin Hair has got you covered. Here we are going to list out the latest hot-selling curly wigs at Elfin Hair so that you will never get lost! Be a trend-setter this season with Elfin Hair!
Curly Lace Front Wig 200%/ 250% Density Free Shipping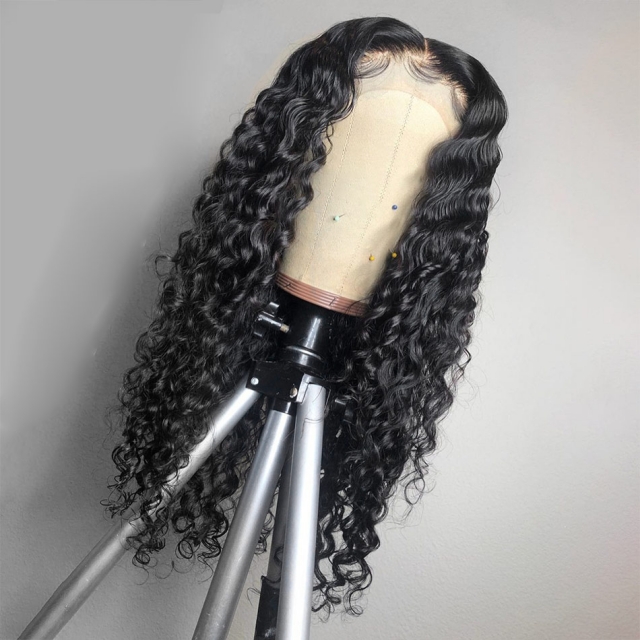 This high-density lace front wig comes with bouncy curls, looks full and thick. The hair strands of this curl wig are individually hand-knotted into the lace mesh. This curly lace front wig gives a natural hairline and creates an illusion that the hair strands are growing from the wearer's scalp. You can freely choose from different lace types, lace sizes, and hair lengths.
Curly Glueless Wig With Bangs 10-30 Inches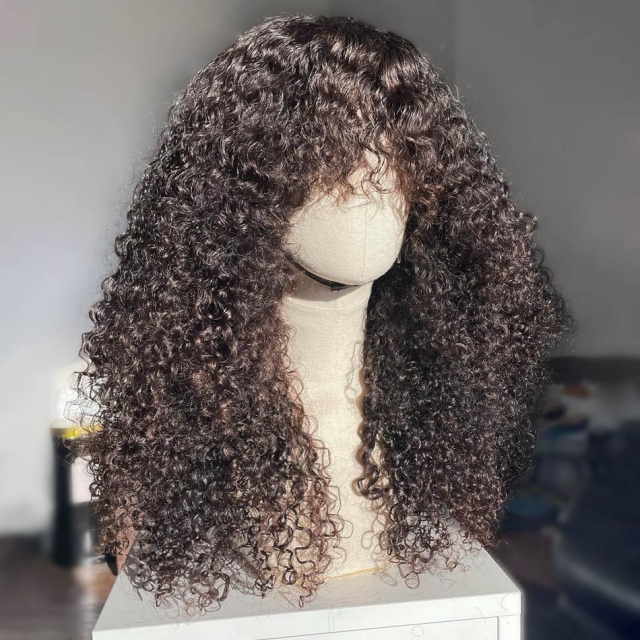 This curly human hair wig is soft and breathable. It requires no glue or adhesive, which makes it an ideal option for those who are allergic to glue. This glueless curly wig has been featured with combs and clips inside the cap, so it can firmly fix on the head. This curly glueless wig also looks natural and voluminous.
Curly Bob Wig 250% Density Lace Frontal Wig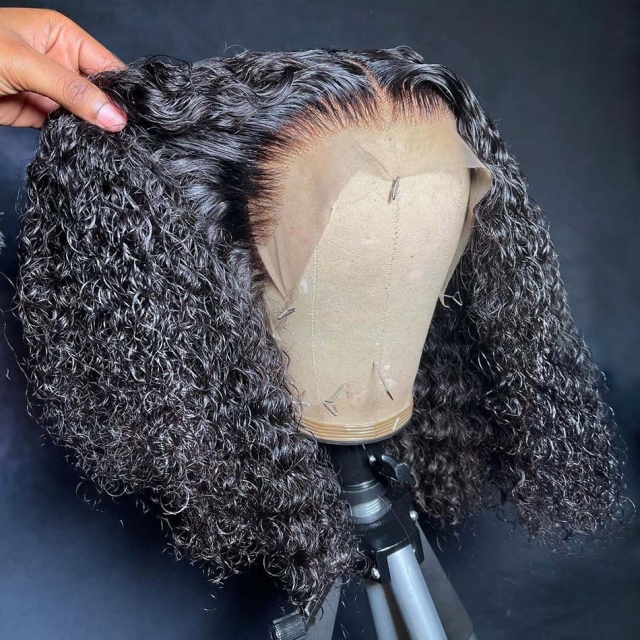 When it comes to the most mega-hit hairstyles, the curly bob will always be on the list. It's so lovely and versatile, and can perfectly match all occasions and clothes. This curly bob wig comes with full and bouncy kinky curls, making it a perfect combination of sexy and lovely.
Pre-plucked Curly Lace Frontal Wig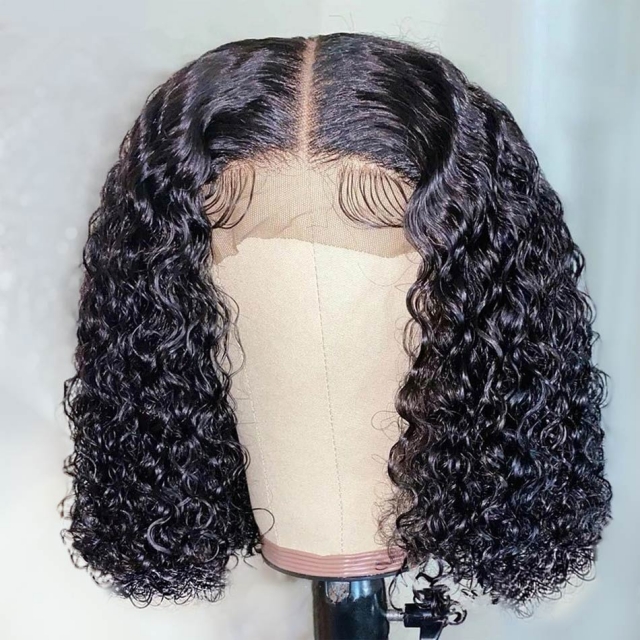 This curly lace frontal wig has been pre-plucked, so its hairline looks extremely natural. It comes in a lovely shoulder-length bob style, with hair lengths from 10 inches to 14 inches for your choice. HD lace and Transparent lace are available. HD lace frontal wigs can blend well with all skin tones. While transparent lace frontal wigs more suits for fair skin.
Afro Curly Wig Transparent Lace Bob Wig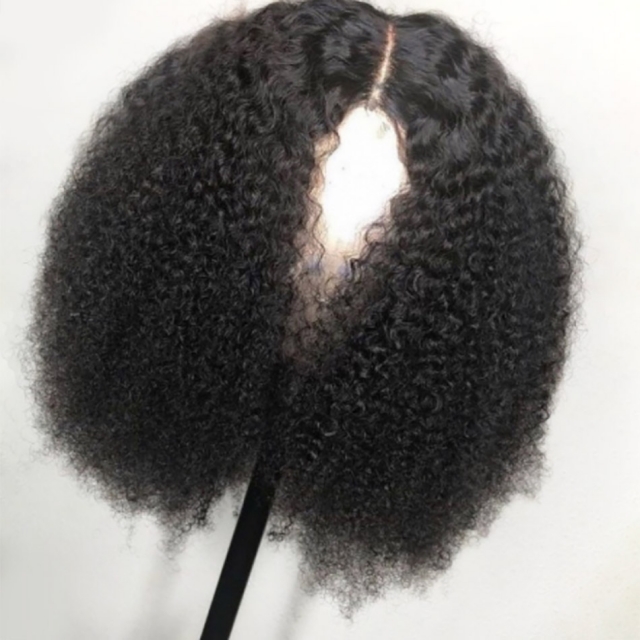 If you desire an extremely full and thick hair look, you should miss out on this afro curly wig. This afro kinky curly human hair wig is made of cuticle-aligned human hair. This afro curly wig comes with tight or irregular curls. It's full and thick in appearance, soft and bouncy in texture. It can be dyed, permed, and bleached as you desire, very versatile in styling.
Kinky Curly Headband Wig No Glue No Gel Wig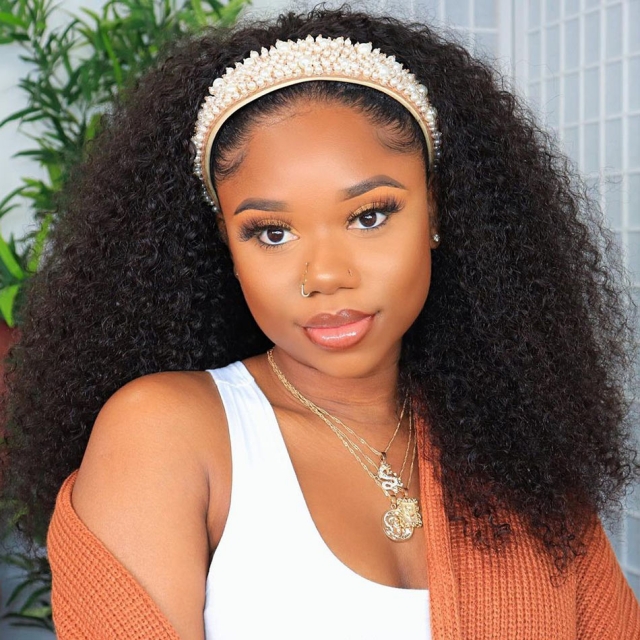 This kinky curly headband wig is not only full and voluminous in appearance but also easy to handle. It can be installed and removed within several seconds. It's an ideal option for those lazy and busy girls.
Explore more affordable curly human hair wigs (under $120!!) at Elfin Hair. Our curl wigs are made of 100% human hair, soft, silky, bouncy, has a natural luster. They are all made with cuticle-aligned virgin hair, with no split ends, no smell, no tangling, and no shedding.
Curly Wigs FAQs:
Q: How to style curly wigs?
A: Curly wigs that are made with 100% human hair, allow the wearers to dye, perm, and bleach as their desire. You can simply pull all the hair back and make a ponytail or buns with a curly lace frontal wig.
Q: How long do curly wigs last?
A: Our curly human hair wigs can last for about 1-2 years with proper care.
Q: How do you sleep with a curly wig?
A: We highly suggest taking off the wig before going to bed so that your scalp and natural hair underneath can have a break. Or you can choose to wrap your wig with a silky scarf to protect it from frizzy and shedding.
Q: How do you curl a wig without heat?
A: You can choose to plait your hair or roll your wig with foam curlers overnight.
Q: How to maintain curly hair wigs?
A: Here are some tips for you:
1. Detangle your curly wig regularly with a wide-tooth comb;
2. Pick specific shampoo and hair conditioner for curly hair;
3. Avoid washing your curly wig too often;
4: Make a deep condition regularly;
5. Let the curly wig air dry after washing and store the wig on a wig stand.
Related Posts:
Jerry Curl Hair: All basic you should know
How To Revive A Curly Headband Wig?
Three Ways To Curl Virgin Malaysian Hair Extensions Without Hair Curler?