How To Wear Red Highlights On Black Hair?
Highlights are one style that is trendy in the hair world nowadays. But, those with black hair struggle with getting the perfect highlight for their hair color. And this is because most colors do not complement the black tone. But there is one color that pairs well with black hair, and that is red. Red is a stylish and vibrant color. You might be wondering how to wear red highlights on black hair. Well, wonder no more. This article will discuss various ways to wear red highlights on black hair. However, before then, what are the highlights?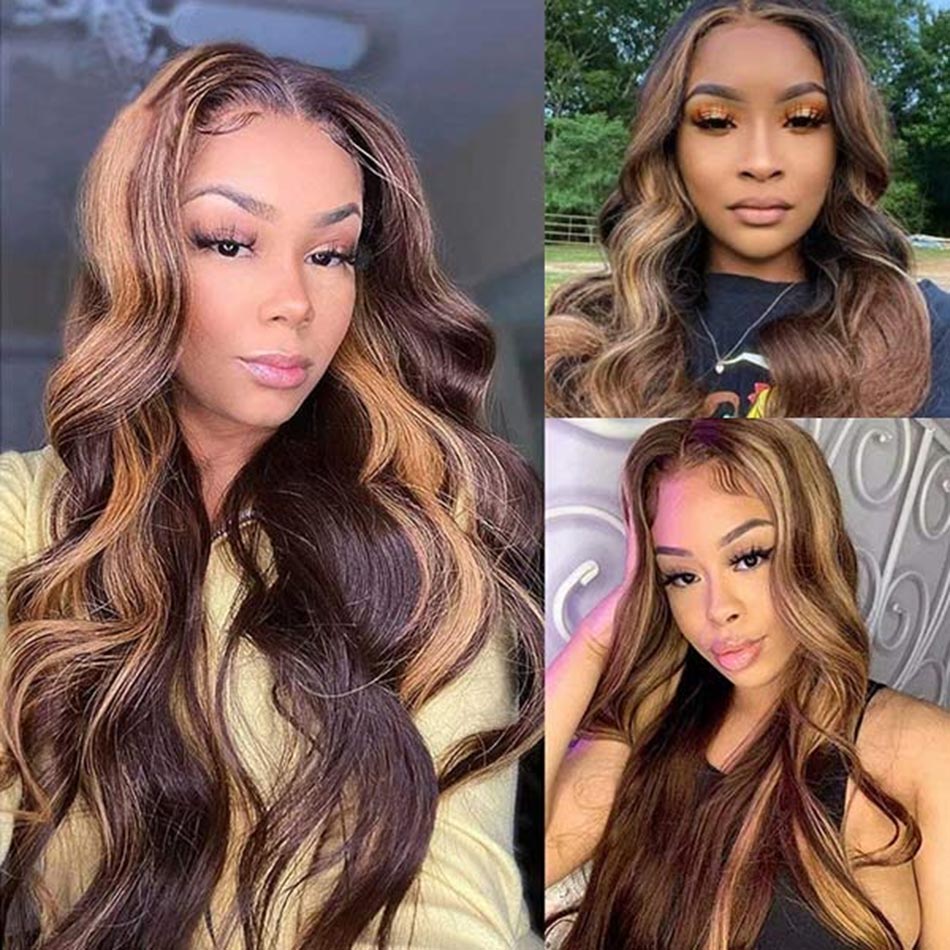 What are hair highlights?
Hair highlights mean applying a different color that contrasts with the tone of your natural hair. Sometimes, people highlight their hair with two colors, one as a base color. Then another color that is lighter than the base color. But some people prefer bolder and more vibrant colors such as red. You can get highlights in your hair in various ways. For instance, some people highlight only tiny or thick strands of their hair. Some even highlight only some parts of their hair. These styles not only add fun to your look but also improve the texture of your hair.
How to wear red highlights on black hair?
Before you highlight your black hair, you need to bleach the part you want to highlight first. This will help bring out the red highlights. Mix the bleach with a developer, and apply the mixture to the portion or strands you want to highlight. As you are applying bleach to the strands, make sure you wrap them in foil paper. This will ensure it processes well. Besides, the bleach won't mistakenly touch other portions/strands you are not highlighting. Leave it for the designated time. Once the time is up, wash the bleach off and apply the red dye to the bleached area.
But, if you do not want to bleach your hair before applying the dye, you can mix the dye with a volume 30 developer. There are different ways of wearing black hair with red highlights. Below are some of the red highlights on black hairstyles and how to achieve them:
The slicing technique
For the slice technique, the red highlight and your black hair will alternate with each other. This method is suitable for those who want to highlight chunky hair strands. This technique requires you to secure all your hair at the crown of your head with an elastic band. Then section out a portion at the nape of your neck. Part out about 1 to 2 inches of hair strands (or whatever size you are aiming for) and apply bleach to them. Wrap up the strand of hair and move to the next strand.
Skip a section of hair that is about the same size as the one you bleached. Then move to another section and bleach. This way there will be a bleached part and an unbleached portion in an alternate form. Leave the bleach on for the designated time and then wash it off. Then apply red dye to your hair. Do not worry about the dye touching your black hair as the dye will only stain the bleached part of your hair. Once you are done, leave it for a while and wash off the dye. After washing, it is only the bleached portion of your hair that has absorbed the red color.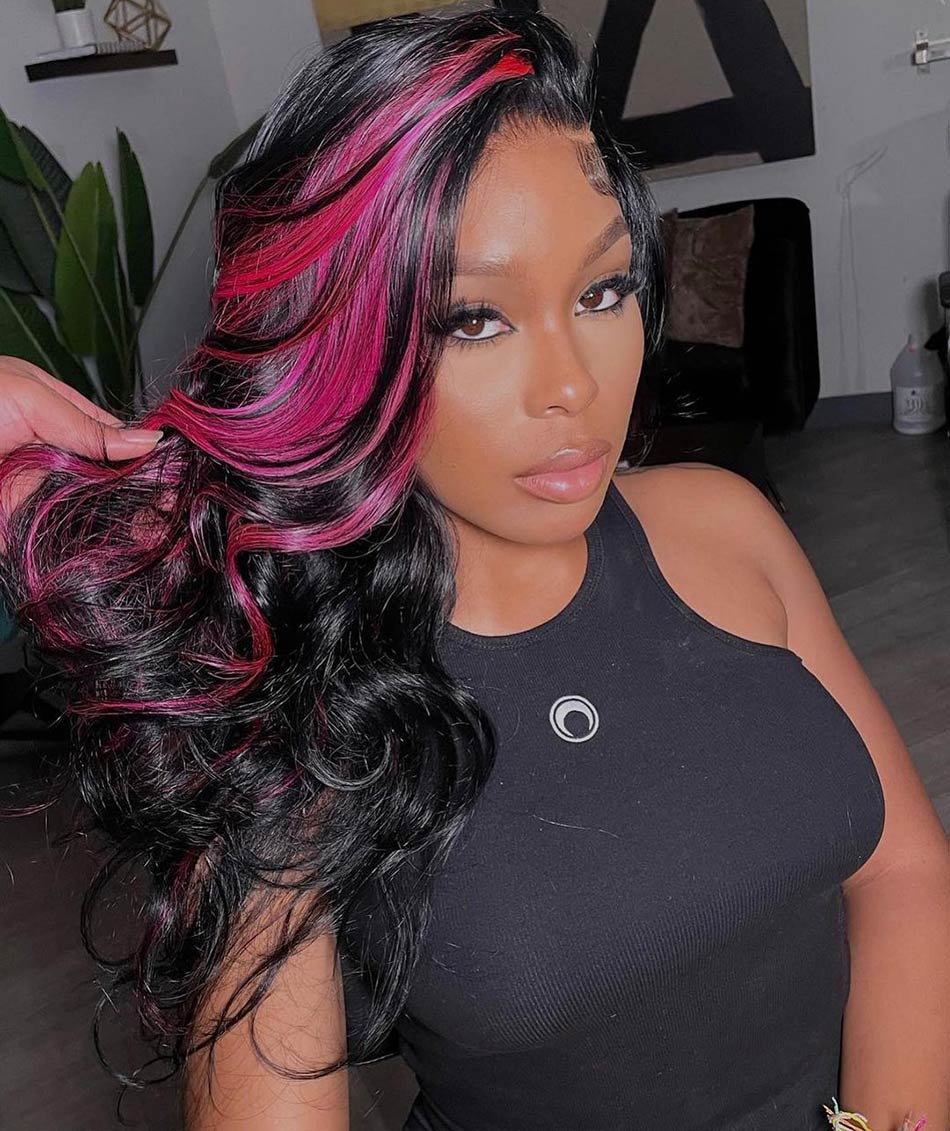 Balayage
With the balayage technique of dying black hair with red highlights, you create a subtle look of progression from dark roots to light ends. This means that you will dye the roots lightly and apply a lot of dye to the ends. To get a better result, start dying the hair lightly about 1 inch from the root. To start with, part your hair into three or four sections depending on how dense your hair is. Then section out a thin layer at the nape of your neck. Apply your dye lightly at the root. Then, as you get closer to the end, apply more dye so it brings out a deeper color than the root.
Repeat this process until you have covered the entire section of your hair. Leave the dye for a while to process, then wash it off your hair. Bleach your strands first if you want more pronounced vibrancy. However, you will need a different volume of developers for this. For instance, you can mix a volume 10 developer with bleach for the roots. Then use a volume 30 developer for the ends.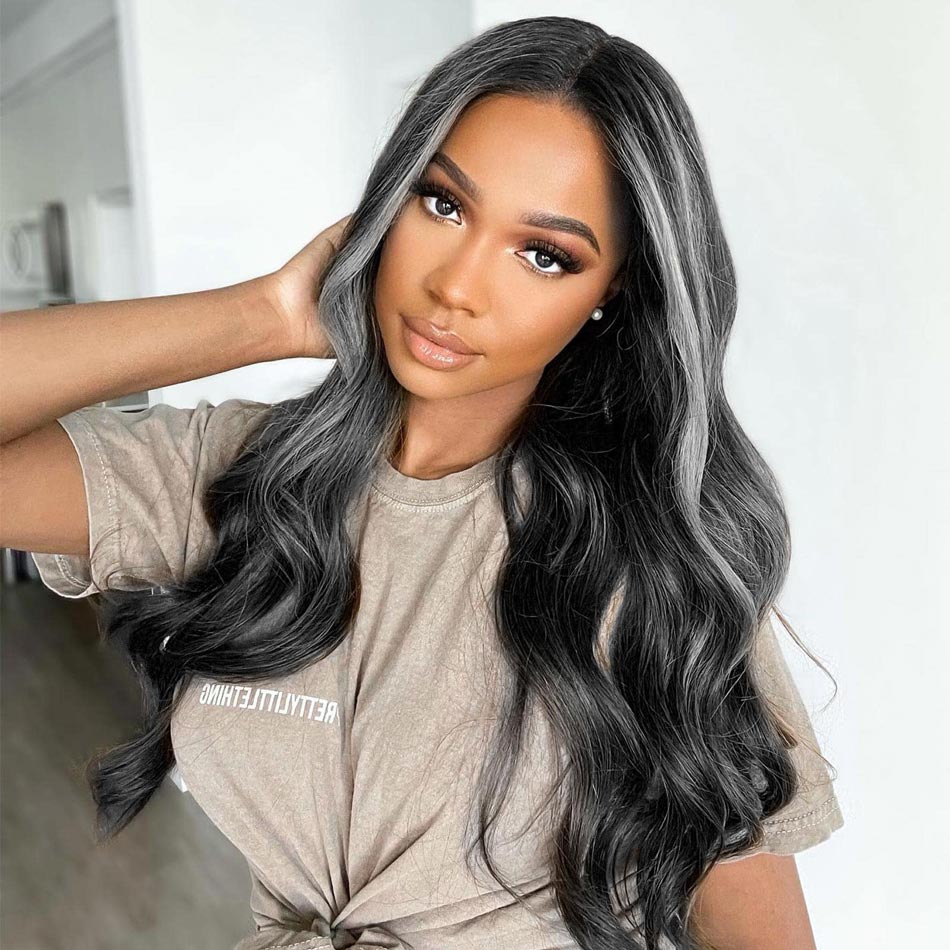 Rogue streak
Rogue streak is a popular method of highlighting black hair with red streaks. It is a trend that was around in the 90s but recently resurfaced in the last two to three years. For this technique, you only need to highlight the portion of your hair that frames your face. Creating this highlight style is simple and fast. To start with, part your hair into two in the middle. Then section out the portion of your hair that frames your face on both sides. Bleach the area you separated. Leave it for the designated time, then rinse it to wash off the bleach. Then apply your red dye. Voila! You have successfully added a rogue streak to your hair. The beautiful thing about this style of black hair with red streaks is that you can combine it with other styles. For instance, you can combine the rogue streak with the slicing technique.

Peekaboo
This style of highlights for black hair is trending and stunning. With this style, the highlighted part will be hidden under your natural black hair. The red highlights will only show when you pack your hair into a ponytail. This is especially suitable for you if you want to dye but also have to hide it in official settings. To create this look, part your hair into two horizontal sections, one at the front and the other at the back. Secure the front section with an elastic band. Bleach the back section, leave it for a while, wash off the bleach, and dye it red. Wash off the dye and leave the hair to air dry. Then, style as desired.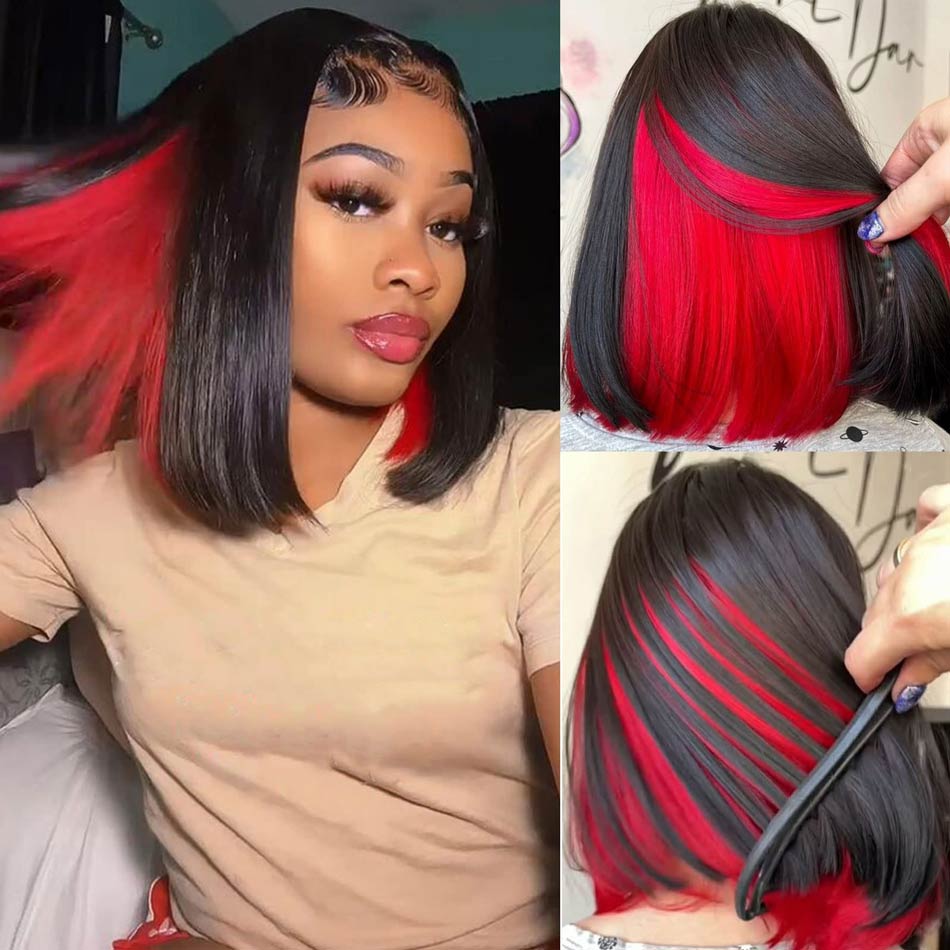 Final Thoughts
Whether you want to be inventive with your hair or add more life to your tresses, the perfect solution is red highlights on black hair. You will always get that chic and stunning look. However, if you do not want to tamper with your hair, you can try highlighted wigs. You can get your highlighted wigs at Elfin Hair. At Elfin Hair, we have highlighted wigs of different colors, styles, and even lengths. Make sure you check us out today.
Related Posts:
How To Create Bantu Knots With Weaves?
Tutorial: Quick & Easy Jumbo Box Braids!
4C Hair guide: How to identify 4C hair & How to care for it?
Top 10 High Ponytail Hairstyles For Black Women