How Long Is An 18 Inch Wig?
18-Inch is a popular wig length due to its practicality, versatility, and low maintenance. It's long enough wig length to create volume and texture, but not so long that it becomes difficult to manage. It's a length that looks as natural as your real hair and works well for a variety of hairstyles.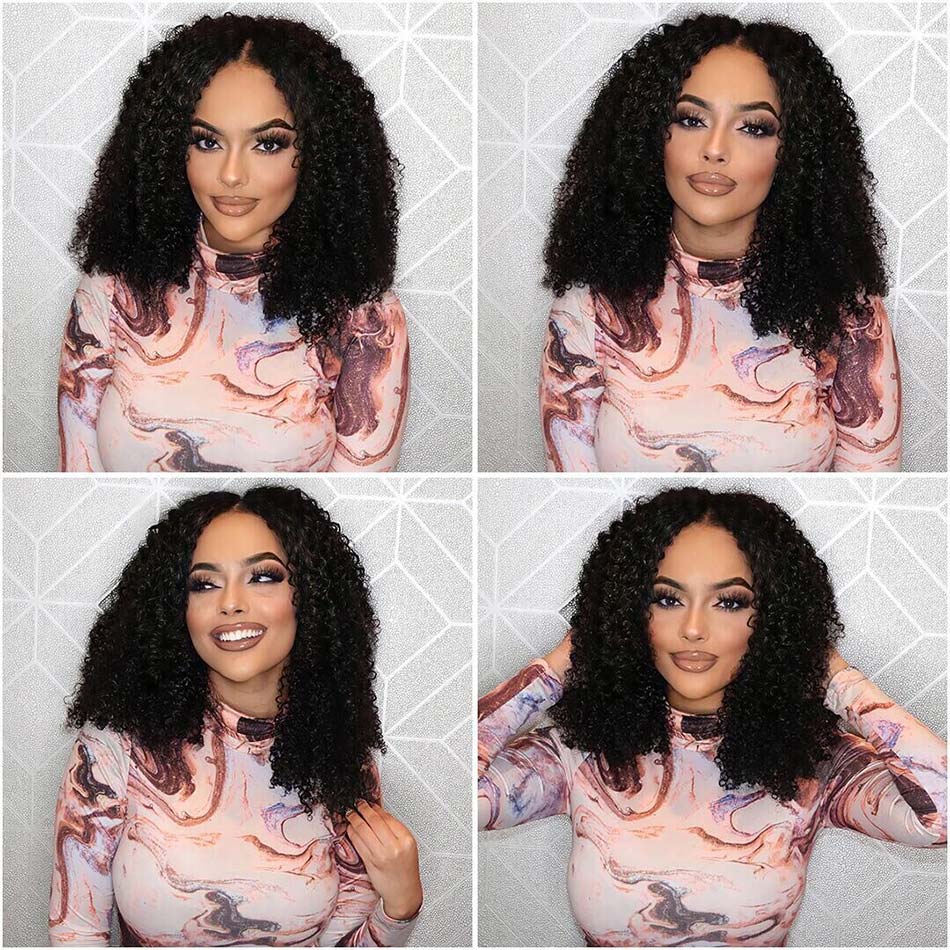 However, How long exactly 18-inch wig is? How to correctly measure the wig length? What factors that you need to consider while buying an 18-inch wig? If you also have these confusions about 18-inch wigs, keep scrolling! We're going to share all you need to know about 18-inch wigs in this post.
What does an 18-inch wig look like?
Let's start from the very base, an 18-inch wig would typically fall just below the shoulders, with the ends grazing the upper chest. The length of an 18-inch wig is equal to 45 cm. To give you a better idea, the length of the wig would be your mid-back. It would be long enough to provide a sleek and stylish appearance, but not too long that it becomes difficult to manage or style.
When worn, an 18-inch wig would likely have a natural flow to it, with the strands moving and swaying as the wearer moves their head. The length would be perfect for those who want a hairdo that is both stylish and practical, as it can be easily styled for a variety of occasions.
Overall, an 18-inch wig is a versatile and popular choice for those who want a medium-length hairstyle that is easy to maintain and looks great.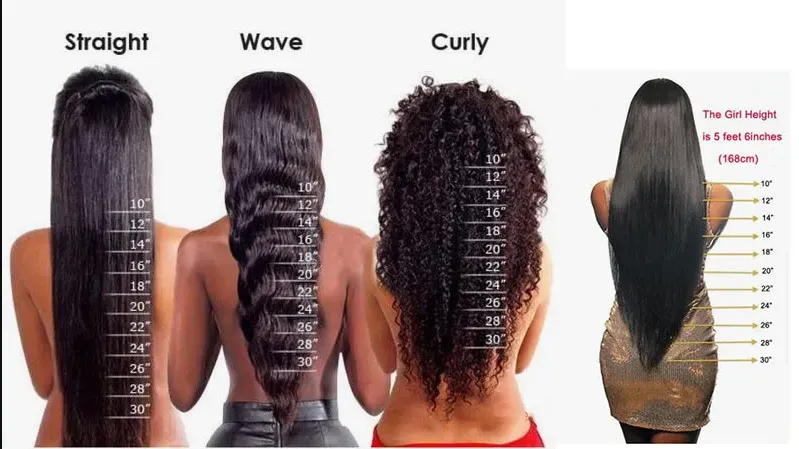 Why does the length of the wig vary on different hair textures?
The length of wigs can vary on different hair textures because each hair texture has unique characteristics that affect the way the hair falls and the overall appearance of the wig.
For example, if you compare a wig made from straight hair to one made from curly hair, you will notice that the length of the wig will appear different. This is because straight hair tends to lay flat and hang straight down, which gives the impression that the hair is longer than it is. In contrast, curly hair has a lot of volume and bounce, which means that the length of the wig will appear shorter due to the curls taking up more space.
In summary, the length of wigs can vary on different hair textures due to the unique hair textures.
Wig Measure Method
Thus, it is necessary to correctly measure a wig length so that you can ensure that the wig you buy is actually 18 inches. To measure the length of a wig, you will need a measuring tape, a wig stand or mannequin head, and a comb.
Here are the steps to measure the length of a wig:
Step 1: Place the wig on a wig stand or lay it on a flat table to keep it in place. Detangle your wig with a comb to ensure the hair is not bunched up or tangled.
Step 2: If your wig is straight, comb the hair straight down so that it falls naturally. If your wig is curly or wavy, gently stretch the hair to straighten it.
Step 3: Place a measuring tape at the roots near the crown and pull it down toward the ends of the hair.
Step 4: Finally, record the length of the wig for future reference.
It's important to note that wig length can vary depending on the density and textures of the wig.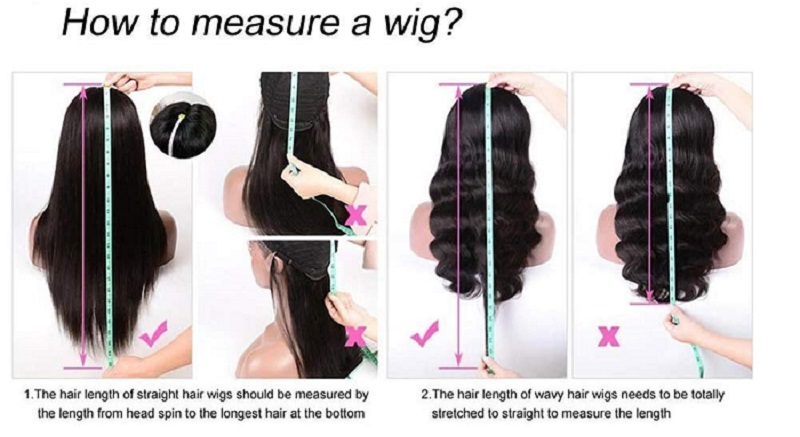 Factors that you need to take into consideration before buying an 18-inch wig
Choosing the right wig length can be a personal preference, but there are some factors to consider that can help you make the right choice. Here are some things to keep in mind when choosing a suitable wig length:
Face shape: The length of the wig should complement your face shape. For example, if you have a round face, longer wigs may help elongate your face. If you have a heart-shaped face, shorter wigs may help balance your features. Fortunately, 18-inch hair can perfectly complement all face shapes.
Hair texture: Consider your natural hair texture and how it will affect the way the wig will look. For example, if you have curly hair, a shorter wig may look shorter than intended because of the curls. 18-Inch straight hair is about to reach the middle of your back, while 18-inch curly hair may look 2-3 inches shorter than 18 straight hair.
Lifestyle: Think about your lifestyle and how the wig will fit into it. If you are active or spend a lot of time outdoors, a shorter wig may be more practical. If you have a more formal or professional lifestyle, a longer wig may be more appropriate. Ultimately, choosing a wig length that reflects your lifestyle will make you feel comfortable and confident.
Occasion: Consider the occasion you will be wearing the wig for. A shorter wig may be more suitable for everyday wear, while a longer wig may be more appropriate for formal events. Fortunately, 18-inch hair is an all-matching hair length that is easy to manage and suitable for all occasions.
Maintenance: Longer wigs may require more maintenance and care than shorter ones, so make sure you are willing to put in the effort to keep the wig looking its best. The 18-Inch wig is a middle-length hair length that is easy to manage and take care of, ideal for busy girls and lazy girls.
In summary, when choosing a suitable wig length, it is important to consider your face shape, hair texture, lifestyle, and the occasion you will wear the wig for. 18-Inch hair length provides a lot of versatility in terms of styling options. This hair length requires little maintenance and looks natural as your real hair.
Gorgeous 18 Inch hairstyles you shouldn't miss out
Certainly! There are so many chic hairstyles that can be achieved with 18-inch hair. Here are some options to consider:
Middle part layer long cut: This timeless hairstyle looks stunning on medium-length hair. The middle part is a classic hairstyle and can work well for many different face shapes. The layer haircuts add texture and dimension, giving the hair a natural-looking flow and movement. The 18-inch middle part layered cut hairstyle would be a beautiful and versatile choice, perfect for anyone looking for a low-maintenance yet stylish look. It would work well for a variety of occasions, from casual days out to more formal events.
Voluminous texture curls: 18-Inch voluminous curls hairstyle is an absolutely stunning hairstyle that will turn heads and make a bold statement. The long, flowing locks are full of bounce, body, and movement. The stunning full and voluminous curls add a touch of glamour to any occasion. Whether you're heading to a special event or just want to feel fabulous on a night out, this look is sure to impress!
Sleek straight ponytail: This type of ponytail is characterized by its smooth and straight texture, which creates a sleek and polished look. The 18-inch length of the ponytail adds volume and body to the hair, making it perfect for those with fine or thin hair. It is a timeless and stylish hairstyle that is perfect for those who want to add volume and length to their hair while maintaining a polished and sophisticated look.
Braided Ponytail: For a chic and effortless look, try a braided ponytail. Braid your hair starting at the nape of your neck and then gather it into a high ponytail. The resulting braid is typically thick and lustrous, with a length of around 18 inches. This length allows the braid to fall gracefully down the back, adding a touch of glamour and sophistication to any look.
Half-Up Top Knot: This style is perfect for when you want to keep your hair out of your face but still want to show off your length. Simply gather the top half of your hair into a high knot and leave the rest of your hair down. This hairstyle is both playful and sophisticated - the perfect combination of casual stylish. The knot sits high on your head, drawing attention to your beautiful face. At 18 inches, the knot is sizable, making a bold statement that says you're confident, stylish, and not afraid to take risks with your look.
Chic Bantu knots: Bantu knots are a popular hairstyle that is striking and versatile, an ideal option for those with natural curly or coily hair. This style involves dividing the hair into sections and twisting each section into a tight knot, creating a unique and textured look. It's also a great protective style, helping to keep hair healthy and protected from damage. Click and explore our previous tutorial to

create stunning Bantu knots

!
Burgundy long waves: The color burgundy, with its deep red hue, is absolutely stunning and adds a touch of stylish to any look. When the sun hits those waves just right, they shimmer and gleam like a thousand rubies. It's almost as if the hair has a life of its own, dancing and shining in the light. And when the wind picks up, those waves become even more lively and playful, creating a dynamic and exciting look that is sure to turn heads. 18-Inch burgundy long waves are a masterpiece of style and beauty. It's hard to imagine anything more striking or unforgettable.
Low Bun: For a sophisticated and stylish look, try a low bun. Gather your hair at the nape of your neck and twist it into a bun, securing it with bobby pins. You can leave a few pieces loose for a softer look or go for a sleek, polished finish. This type of hairstyle is perfect for formal occasions such as weddings, or any other special event where you want to look sophisticated and polished.
Side-Swept Bangs: Side-swept bangs can flatter any face shape. And when you pair them with 18-inch hair, you get a beautiful, face-framing effect that is both flattering and modern. The 18-inch hair length of hair itself gives it a lot of body and movement, allowing you to play with different textures and finishes. Make this hairstyle a great combination of versatile and stylish. Whether you opt for loose waves or a sleek, straight style, this look is sure to turn heads and make you feel confident and beautiful.
Messy Updo: For a relaxed and casual look, try a messy updo. Gather your hair into a loose bun or twist and pin it up haphazardly. Pull out a few strands to frame your face for a carefree vibe. An 18-inch hair messy updo can be a stunning and effortless hairstyle that exudes both chic and casualness at the same time. It is a versatile hairstyle that can be worn for any occasion, from a wedding to a day at the beach. It is a perfect choice for those who want to add some volume and texture to their hair without spending hours styling it. It's a simple yet stylish hairstyle that can be dressed up or down.
I hope these ideas inspire you to try something new with your 18-inch wig! For more stylish 18-inch wig styles for your next hairstyle inspirations, feel free to reach our sales consultants online.
Elfin Hair 18-inch wig collection
Elfin Hair provides various types of 18-inch wigs in a variety of colors, styles, and textures. All Elfin Hair 18-inch wigs are made of 100% human hair, soft, textured, and bouncy. These 18-inch wigs behave like your real hair, so they're easy to style and look more natural. Furthermore, these 18-inch wigs offer a versatile length that can be styled in a variety of ways. You can wear it straight, curled, or in a ponytail, depending on your preference.
Related Posts:
Gorgeous Hairstyles For 14-Inch Hair
180% Density Wig: Is 180% Density Good For A Wig?