Microlinks Vs. Tape-ins
Tape-ins and microlinks are becoming more and more popular these days. Some girls are confused and don't know which one to choose. This post is intended to compare these two hair extensions so that girls can make a more informed decision when choosing them.
What Are Microlink Extensions?
Micro-links, also known as micro-beads or micro-rings, just as the name implies, this type of extension comes with a small silicone bead or tube on the top. Micro-link extensions are installed by threading the tiny beads or tubes through small hair strands. The installation process requires no glue, no tapes, and no chemicals.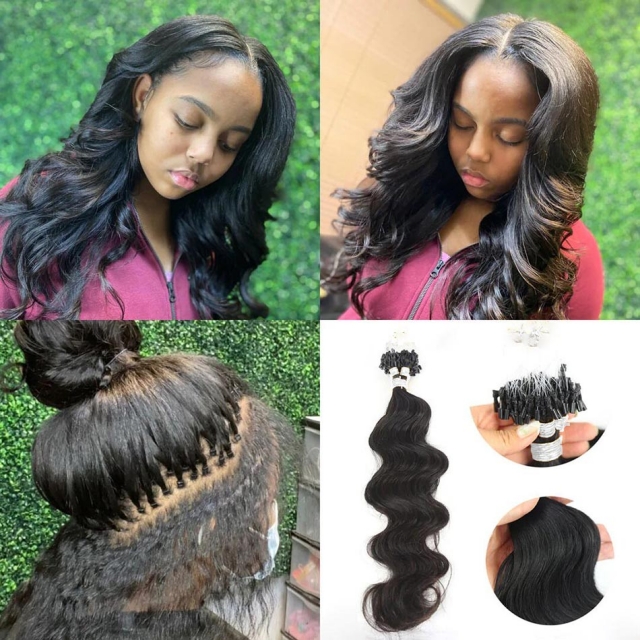 What Are Tape-In Hair Extensions?
Tape-in hair extensions are about 1-inch wide hair weft attached to a sticky tab that features medical-grade adhesive. Girls just need to peel away the tabs and sandwich two pieces of tape-in extensions together with a thin strand of natural hair in between. It requires no special tools, no heat, and no glue during its installation. It's a safe and quick way to lengthen and plump one's hair without being noticed.
We have made a more detailed description of tape-in hair extensions and how they are put on in our previous post: How to Put in Tape-In Hair Extensions? Click to read more.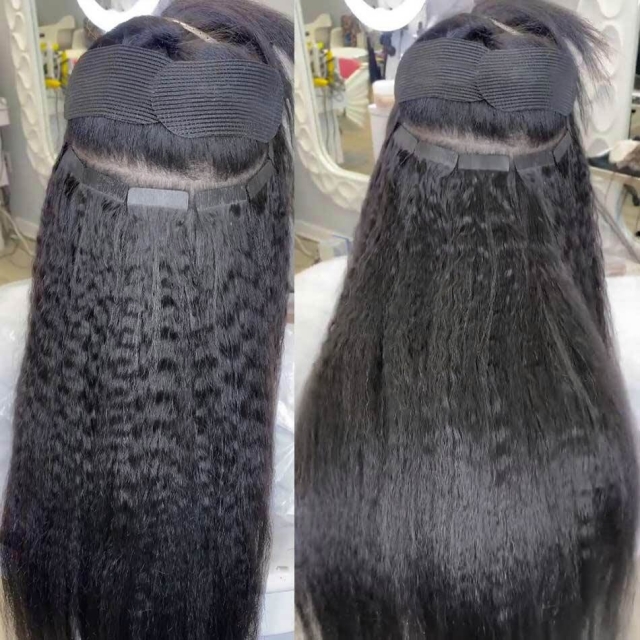 Pros And Cons Of Tape-In Extensions
Pros:
Realistic and seamless hair look: You just need to make sure that your tape-ins are made of 100% human hair, and leave out the natural hairs around the hairline and edges while installing tape-in extensions. As a result, your extensions will blend seamlessly with your natural hair. It's difficult for someone to notice that you are wearing extensions even if you pull all the hair up into a high ponytail.
Easy to install and remove: Installing and removing tape-in extensions are quite easy and take less time than microlinks. The stylist just needs to peel away the tab on the sticky tape and sandwich two pieces of tape-in extensions together with natural hair in between.
Never harm your natural hair: Some say that tape-ins can irritate the scalp and damage natural hair, which is really a myth. The adhesive on the tape is medical-grade, which is safe for natural hair and scalp. Tape-in extensions will never harm your natural hair. Only improper maintenance and installation can lead to hair damage.
Cost-effective: Compared with other hair extensions, tape-in extensions are typically more affordable. Moreover, they are cheaper to install and remove than micro links.
Can be reusable: The most wonderful benefit of tape-ins is that they can be reusable several times with proper maintenance and removal. You just need to peel away the old tape and apply a new one.
Cons:
More suitable for short-term use: Tape-in extensions should be taken off or reinstalled every 6-8 weeks after installation.
Not suitable for short hair and oily hair texture: If you sweat a lot or your natural hair is oily, tape-ins are not a wise option for you. Due to constant contact with oil and sweat, the tape can loosen and may lead to slip-off. If your natural hair is very short and can hardly hide the tape, tape-in extensions will not be a suitable choice for you.
We have made a more detailed description in our previous post: Tape-in Hair Extensions Pros And Cons. Click to know more.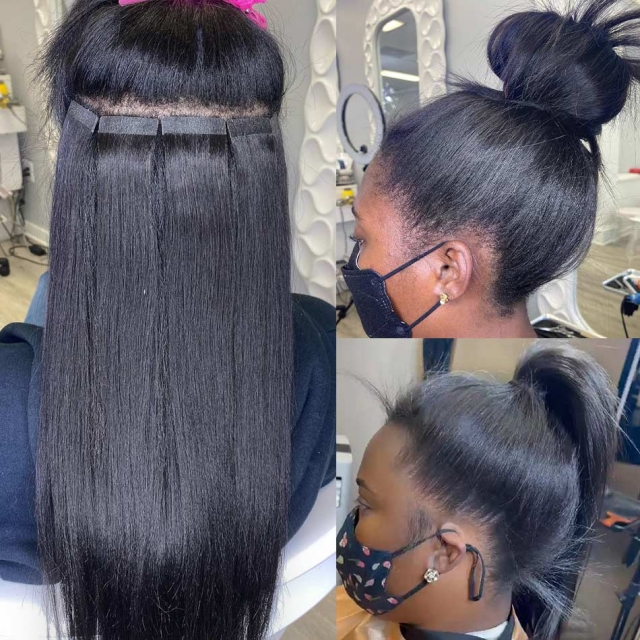 Pros And Cons Of Microlink Extensions
Pros:
Easy access to your scalp and natural hair: To install microlinks, you don't need to braid your natural hair into cornrows, your own hair is left out. This easy access to your natural hair and scalp makes it convenient for you to carry on daily maintenance.
Require no glue, no tape, no chemicals: The installation and removal process of micro-links requires no glue, no tape, and no chemicals, which makes it a wise choice for those who have a sensitive scalp.
Longer-lasting: With proper care and maintenance, microlinks can last around 10-12 weeks, which is longer-lasting than tape-ins and clip-ins.
Cons:
The installation process takes more time: In total, the whole install process typically requires about 1-3 hours, depending on how many microlinks extensions you prepare to install. You also have to spend more time finding extensions that perfectly match your natural hair before the installation process.
Have to be professionally installed and removed: The removal of micro-beads requires specific tools. And the extensions have to be removed strand by strand, which takes a longer time than other hair extensions. So you'd better get it done by a pro to protect your natural hair and scalp.
Require some upkeep: Because your natural hair keeps growing and the dirt keeps building up while the microlinks are on, you have to visit the salon to upkeep the extensions regularly. Micro links require professional maintenance every 6-8 weeks to reposition the beads and to detangle the ongoing growth hair.
Tape-In Vs. Microlinks, Which One Is Better For You?
Your personal preference and lifestyle determine which hair extensions you should choose.
If you desire to slay different hairstyles every day, microlinks may not be a wise choice for you. Since microlink extensions tend to be visible in some hairstyles.
If you have oily hair texture, or you have a plan to dive into the swimming pool with your extensions on, tape-ins should not be a suitable choice for you. Since the oil and chlorine in the water may cause slippage and tangles. If you wear a swim cap with micro-bead extensions, you can enjoy swimming without worrying.
Tape-in extensions can be put on and taken off at home, while micro links have to be done by a pro. So if you desire to DIY, tape-ins or clip-ins should be a better choice for you.
No matter which type of hair extensions you are planning to invest in, make sure they are made of 100% human hair (cuticle-aligned human hair, not Non-Remy hair) so that the hair extensions can last longer and achieve a more natural result.
So where can you buy high-quality micro-link extensions at an unbeatable price? Hey, my sweetie, you are already in the right place. Elfin Hair offers 100% human hair extensions in a variety of textures, colors, and lengths. No matter if you are searching for throw-on-and-go-away clip-in extensions, or you desire long-lasting microlinks, Elfin Hair has got you covered. All hair extensions provided by Elfin Hair are made of 100% cuticle-aligned human hair. They can be dyed, permed, and restyled as you desire. They are soft, silky, textured, come with a natural luster, and can perfectly blend with Afro hair textures. What's more, since Elfin Hair has its own factory in China, our hair extensions and wigs are typically 20%-50% cheaper than other hair vendors! Click to explore the latest selections of affordable microlink extensions.
Related Posts:
All The Basics You Need To Know About Microlinks
Tape In Hair Extensions Frequently Asked Questions
Tape-in Vs. Clip-in Extensions