What is the 13x1 wig and how to install it?
13x1 Lace wig, also named t part wig, is a cost-effective lace wig that is especially suitable for those who don't wanna spend too much on lace wig. Just as its name implies, the 13x1 Lace wig comes with a 13x1 lace base to cover the hairline from ear to ear. It has a similar look to the lace frontal wig, so it is also available to create a natural hairline.
The 13x1 lace wig comes with multiple benefits. We have a specific description of its pros and cons in our previous post: T Part Wig (13x6x1 Wig): Its Description and Contrasts from Other Wigs. In this post, we are going to share more details about this affordable human hair lace wig. We hope that this post can be helpful for you while choosing a lace wig.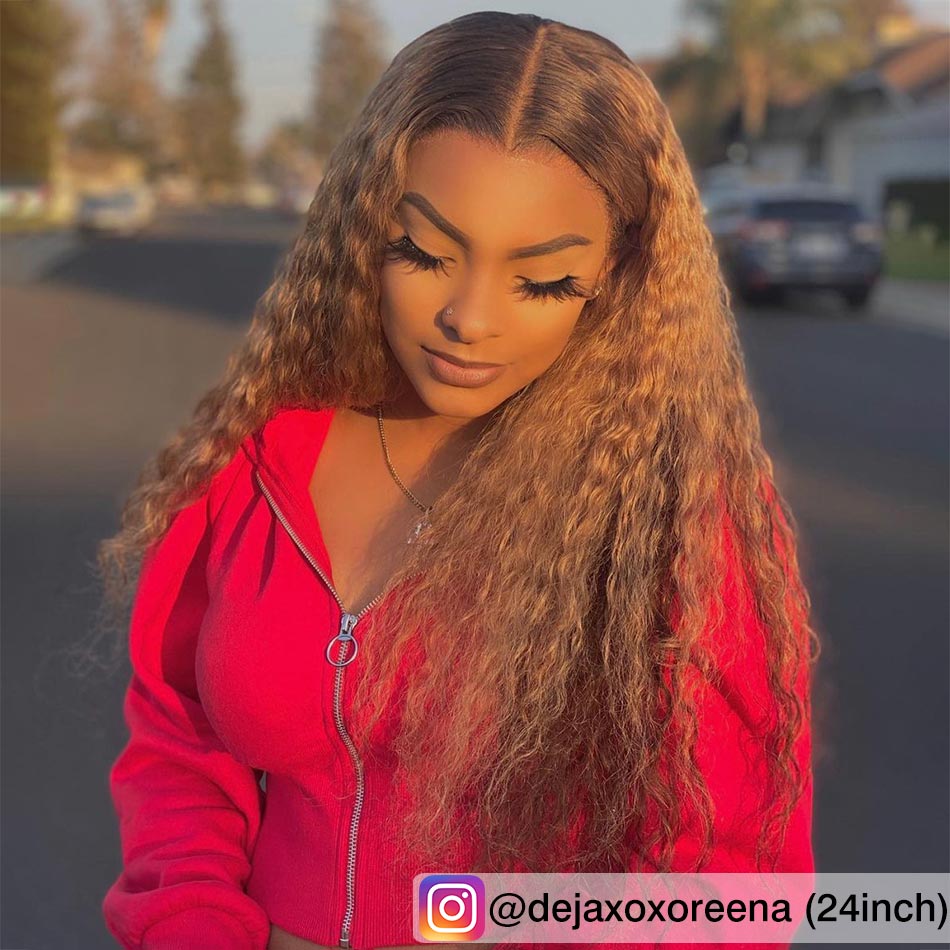 13x4 Lace Front Wig Vs. 13x1 Lace Wig
Both 13x4 lace front wig and 13x1 wig provides a full natural hairline. Both then can be put into a low ponytail. Both human hair lace front wig and human hair t part wig allow you to perm, dye, and bleach. Besides, the 13x1 wig is also a cost-effective option for those who searching for affordable human hair lace wigs. There are some differences between lace frontal wigs and t part wigs:
Breathability: A 13x4 lace frontal wig has a larger size lace base than a 13x1 lace wig, so it's commonly more breathable than a t part wig.
Price: Typically, the more lace is, the higher the price is, therefore, a 13x4 lace front wig is commonly more expensive than a t part wig of the same density and length.
Partition area: The t part wig is limited in the versatility in the parting area. You can only part on the partition area it comes. Or you can shift the t part wig to get a side part or a deeper side part if you desire, but it's very limited with the parting space. However, with a lace frontal wig, you can part anywhere you like.
How To Install A 13x1 wig?
It's pretty easy to put on a t part wig. It may only take you no more than 30 minutes to install a 13x1 wig.
Step 1: Prepare your t part wig: If it's a complete new t part wig that hasn't been plucked, you may need to pluck the wig before applying it. Pix the wig on a mannequin head and use a squeezer to pluck some hair between the hairline and the baby hair.
Step 2: Prepare your natural hair: Shampoo your natural hair and make it dry thoroughly.
Step 3: Braid cornrows: Braid your natural hair into cornrows and make it as flat as you can.
Step 4: Put on the wig cap: Put on the wig cap and stuff all your natural hair under the cap.
Step 5: Apply the wig: Place the wig on your head and adjust to find out a position that looks natural. If your t part wig comes in a middle part style, you can slightly shift the wig to get a side part or a deeper side part if you desire. And then apply some glue along the hairline and glue down the wig. Finally, use scissors to cut off the excess front lace.
Step 6: Style the t part wig: Lay down the baby hair and make it looks tidy. If you wanna make the lace look more natural and invisible, you can also choose to apply some power along the hairline. Finally, style the t part wig as you like.
Affordable T Part Lace Wigs At Elfin Hair
Shop cheap t part lace wigs of 100% human hair at Elfin Hair. All our t part wigs come with a textured appearance and silky touches. There are multiple options for you to choose from, for example, curly t part wig, straight t part wig, highlight t part wig, blonde t part wig, burgundy t part wig, and so on. Explore affordable t part wigs human hair at Elfin Hair.
Related Posts:
T Part Wig (13x6x1 Wig): Its Description and Contrasts from Other Wigs
Should You Get a U-part Wig or A Sew-in Wig?
Everything you need to know about v part wig
Gorgeous hairstyles for v part wigs 2022