How to remove glue from lace wig?
Wig glue helps a lot to fix the wig firmly and provides a more natural-looking. Once a lace wig is glued down, everyone feels amazed at the natural and undetectable illusion it brings. But for some new to the wig game, removing wig glue safely is still a challenge for them. In this post, we are gonna show you how to remove wig glue effectively and safely.

How to remove wig glue?
Items you need to prepare in advance:
Wig glue remover
Cotton balls
A mild shampoo
Hair conditioner
A wide-tooth comb
A wig stand
A soft towel
Step 1: Pull all the wig hair back and make a ponytail to expose the edges of the wig.
Step 2: Douse some cotton balls with glue remover and rub gently into your lace sheer along the edges of the human hair wig to soften the wig glue.
Step 3: Let the wig remover sit for about 3-5 minutes. And then gently peel off the lace sheer. If you feel hard to peel it off, apply more wig glue remover into the lace.
Step 4: Tug gently to remove the wig from your head bit by bit.
Step 5: Remove the wig cap.
Step 6: Spray some glue remover along your hairline to remove glue residue from your natural hair. Shampoo your natural hair and blow it dry at the lowest heat setting.
Step 7: Turn your lace wig inside out. Put it into a sink and rinse out the residue glue on the lace sheer with rinse water. Apply a little quantity of shampoo and rub the wig gently. Rinse out the residue glue under the tap water.
Step 8: Apply a few pumps of shampoo to the wig and rug the wig gently with your finger. Rinse out the shampoo. Wrap the wig with a soft towel to absorb the excess water. Take out the wig again and apply some hair conditioner to the wig to moisturize the wig, let the hair conditioner sit for about 3-5 minutes. And then rinse out the hair conditioner thoroughly under running water. Absorb the excess water off the wig with the soft towel again.
Step 9: Store your wig in a wig stand and let it air dry or blow it dry at the lowest heat setting. Use a wide-tooth comb to detangle the wig.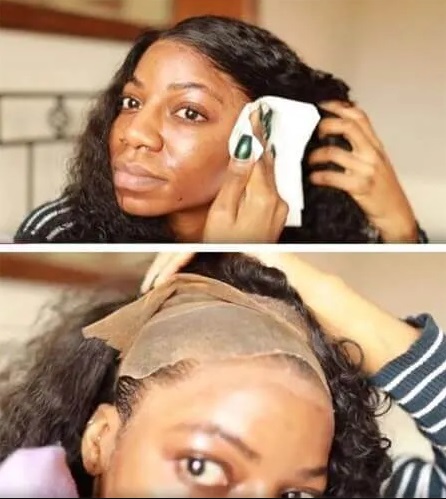 Alternatives of wig glue remover:
If you didn't have any wig glue remover at home, the following items can also be available to work as alternatives.
DIY lace glue remover: warm water mixture
Mix a small amount of salt and soda (olive oil) in warm water and blend them evenly. Spray the mixture along the edges of the wig and put on a wig cap for about 5-10 minutes. After successfully removing the wig, rinse out the residue thoroughly from your natural hair and the wig.
Vaseline is not only a skincare product but also an effective glue remover. Simply apply some Vaseline into your lace sheer and keep it sitting for several minutes. The Vaseline can also dissolve the glue.
Some emollient oil, such as hair oil and skincare oil can also dissolve the wig glue and are gentle options to remove a lace wig. Similar to the Vaseline, you just need to apply the emollient oil onto the glued-down lace sheer and keep it for a few minutes, Then use a soaked towel to remove the oil and repeat this step several times until you can easily peel off the lace sheer and remove the wig.
We're sure that following the above tutorial can help to remove your wig glue safely and effectively with no damage to the lace wig or your natural hair. If you still feel confused about how to remove lace glue, feel free to reach our consultants.
New launch: No glue wigs at Elfin Hair
If you are already tired of spending so much time handling the annoying wig glue, why not try a no glue wig? Discover the latest selection of no glue human hair wigs at Elfin Hair. From thrown-on-and-go headband wig, no sew-in U part wig, to no leave-out V part wig, Elfin Hair has got you covered.
Related Reading:
How to stop the lace wig from lifting?
How to remove quick weaves with no damage?
How To Install And Care For A U Part Wig?
How To Revive A Curly Headband Wig?